I might've been a Marvel kid from jump without realizing it. The first action figure I clearly remember was given to me for my sixth birthday by my mother. The toy was Storm from the X-Men rocking all black with a gold lightning bolt on her chest. Years later I still rocks with Ororo, but you know who I've been stanning for that's finally got her come up? Misty "You wanna go night-night?" Knight.
Misty originally stemmed out of the whole blaxplotiation and Kung-Fu wave from the 70's and has been a supporting character in Luke Cage and Iron Fist's series (Heroes For Hire, Power Man and Iron Fist) for the longest. Misty's been staying on that fine line located on the outskirts of Comic Book Limbo but ya girl been busting through to the forefront over the past few years now, and she's been earned her time. Marvel has been trying to do the work with diversity and representation, and it hasn't always been dead on; however, writers Rick Remender and Nick Spencer been doing right by ya womans and dem, M. Knight no Shyamalan.
In the past we've seen Misty as part of a duo with her long-time ride or die Colleen Wing running a new formation of Heroes For Hire, and then leading an all-woman Defenders, plus becoming a valkyrie warrior. So what's your girl been doing more recently? Misty's been training and saving the ass of Captain America, Sam Wilson.
Your girl Misty has been Sam Wilson's king's hand, right hand, right bionic strong arm during his tenure as Captain America. Misty has not only been watching Sam's back, she's literally been pulling his ass out the fire repeatedly. During Sam's first mission taking on Hydra, Misty was undercover and instrumental to the mission's success. Y'all don't understand how hype I was when Rick Remender had Misty hop on the track, and then to see Nick Spencer take over writing then keep her and Sam on their Meth and Red (in Da Rockwilder video) duo shit consecutively. Misty isn't seen as Sam's sidekick, she's his partner or "muscle" as Luke Cage said best. We saw her let that be known from 21 jump street, Black street?, I'm just reaching for the pun now, jump w n Sam unwittingly had her fly out to handle a situation (that he could have handled) and left her to do damage control.
"But let's get one thing straight, dig? I am not your secretary. I am not your sidekick — and the googly eyes I occasionally make at you are mostly just an attempt to insert a little excitement into my day. Because, point is, Captain Wilson, you run the high risk of getting me bored. And trust me — you wouldn't like me when I'm bored."
Misty let it be known that she will be treated with the utmost respeck put on her name. Fuck yes, that's the comic book panels I'm talking 'bout! Misty ain't playing around. The dope game portion of their partnership is that Misty is getting Sam's hand-to-hand game stepped up. That's how you know this ain't the typical pairing. Sam's good with shooting the one but our girl Misty is that much better. This right here? This that art imitating Black women in real life. We keep seeing Misty get her hands dirty as she spars with Sam while simultaneous being his confidant and getting him to face when he may be taking on too much.
Or burying his feelings of sharing the title of Captain America with Steve Rogers.
Yeah, in case you were ever wondering "who gon' check me, boo?" Misty Knight will. She's the perfect person to confide in. Misty will have you getting your head out your ass and realizing your full damn potential. Partnering with Sam Wilson has put Misty in more the limelight, however Misty isn't defined by her partnership with Cap (ironically, as Sam Wilson has pointed out with himself and Steve) or her now previous relationship with Iron Fist, Danny Rand.
Misty Knight has always been a well rounded, capable, hilarious character. Period. She got more personality and confidence than whoever's your fave right now. She's squared up with the likes of street criminals to gods needing to stay in their lane. *Claps With the syllables* Misty? done ? did ? the? most? as not only a Black woman but a Black woman with a disability.
Misty has a cybernetic arm (as you've noticed) and we've seen how it affects her self-image sometimes (shout out to Jeremy Whitley's pen game on "Secret Wars: Secret Love") at personal moments, however Misty stays owning her disability. In "Secret Love" we saw her without her cybernetic arm, just lounging (which is a rare sight). She also stays empowering others with disabilities too. Don't you dare half sleep on Misty Knight, yo. Her name deserves to ring out just as heavy as Storm's or Monica Rambeau.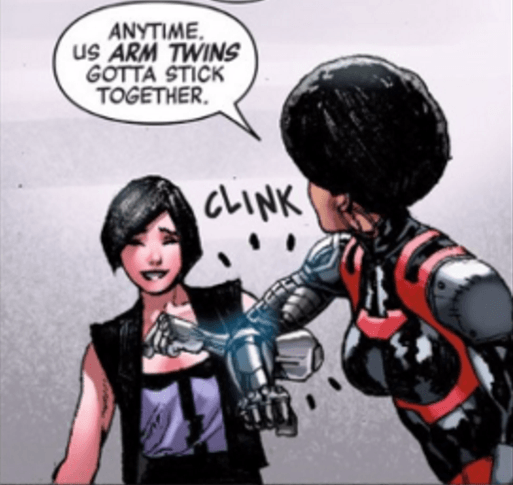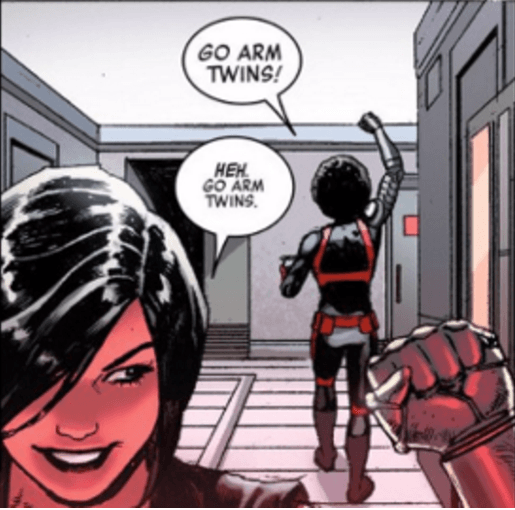 Now we talked about Misty representing for women and making disabilities visible, and we got into her partnership with Captain America, so now we can get into her relationship with Sam Wilson because as you should know by now, Misty Knight is bae as all hell. Plus in this relationship, we can see her influence is what's making Sam Wilson a better man and a better Captain America. Also, the last time we saw Black love at Marvel was when Storm and Black Panther were married. Seeing Sam and Misty together gives us that representation, and it came about organically and not rushed either. I ship. I ship this oh so hard.
Those lil' moments we get to see between these during the crazy superhero life they both lead has been enough to melt your heart into cotton candy. When Jim Rhodes died we saw them navigate through mourning together and with other Black heroes as well. We then saw Misty tell Sam, on some real shit, like it is and not how important him being Captain America as a Black man is and the depth of the meaning in that when he didn't think he should be the one delivering the eulogy for Rhodes. She let 'em know, "You are not so pretty that you can afford to act this stupid."
Come on, man. Come oooon, fam. Talk that shit, Misty. I love this scene, as we not only see Misty get Sam in the proper headspace but let 'em know, aye, I'm just as qualified to be Captain America too so don't slip. Being able to see Sam open up, Misty be the one on solid ground leveling Sam out again, and then the both of them share a small moment of joy amongst such sadness, is such an important visual. Especially amongst the current state of affairs of things in the real world. Comic books (especially in the modern age) often take the happenings of the world into their art and reflect a lot of the horrors going around through social commentary, but in this instance it was so relieving to come and see Misty being strong in her own right and also getting that respect, joy, and true appreciation from Sam — not as validation of them being together but as them being equal partners both in work and their relationship (Lord knows Black women don't get it enough in art or life).
This right here? This the real MVP of relationship goals, y'all. I'm talking checks and balances right here. I'm talking "we fight crime together, we respect each other's boundaries together, good guys for life." Again, I want to reiterate how much of an important team member Misty has been in Sam's life but it's those aspects of her character that make her such a strong influence. Misty's been deserving this shine for the longest. Seeing her get her due on page is incredible, plus we'll see her flourish on TV as Simone Missick will be portraying her live-action debut in Luke Cage on Netflix. Your womans and dem Misty Knight is out here living her best life and being unapologetically Black and glorious about it.
Are you following Black Nerd Problems on Twitter, Facebook, Tumblr or Google+?