Well it's October, and you know what that means, right? Trick or treating? Nah. Pumpkins and Halloween decorations? Nah, son. October is meant for horror anime, or at the very least weird and creepy ones. October will be forever known as SpookMonth — a month filled with scary skeletons and all the anime that go bump in the night, so to start off SpookMonth we have a short and sweet show (well, more like a short and bitter limb-ripping, blood-dripping show) called Corpse Party: Tortured Souls. If you couldn't tell by the description in that last sentence…viewer discretion is advised.
Corpse Party: Tortured Souls is a 4-episode OVA (Original Video Animation) based on the Corpse Party game series. Each episode runs for just about 30 minutes, so you can realistically finish this series in 2 hours if you get hooked on it. A lot of Corpse Party fans say this series doesn't really do the games justice, but I haven't played the games myself. I can say that after watching this series I want to give the games a try, and I'm interested in the story after watching it. I know the games have multiple endings and add more backstory that the OVA, so that might be a reason why the fans find the story hard to adapt.
Speaking of the story, this one is a little cliché, but I think they pulled it off in a unique way. Basically an extremely horrifying, deadly event occurred at the Heavenly Host school, and the school was razed in an attempt to erase the event from everyone's mind and wipe it from history. Although it was a good attempt, another school called Kisaragi Academy was built in its place.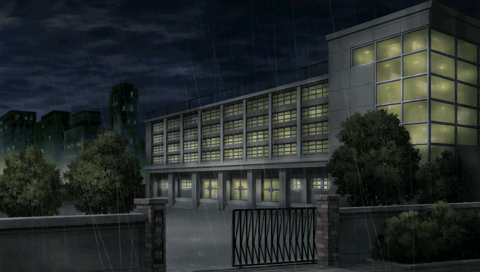 You can see where this is going, right? Fast forward a little bit and a group of friends are chilling out, telling ghost stories, and scaring the shit out of each other — you know, just a normal day. They decide to perform a charm that will make them stay friends forever, and it was a cute gesture until the charm opens a hole in the floor and they are transported into a world where the old Heavenly Host School still exists, and ghosts, the undead, and loneliness all hit them harder than they could have ever thought was possible. Now they must try to solve the mystery of Heavenly Host School while trying to survive the nightmares the school puts them through.
So that was a spoiler-free summary all of that happens in the first 20 minutes or so, so I think we're fine on the spoiler department. Now in case that summary didn't get you in the SpookMonth mindset then check out this trailer for the series. Remember, viewer discretion and all that.
The thing that really hit me with this story is that the reason why it starts: because of a friendship charm. They wanted to make sure they all stayed friends, but instead their lives get tangled in something so horrific and gruesome that it makes you feel sorry for them. The horror aspect to me is how something so innocent can turn into something filled with so much evil. It's tragic, to say the least.
I'll warn you that this show isn't for people who can't stand blood, gore, an eyeball getting ripped out, and limbs being cut and/or ripped off. If you've made it this far and you're willing to watch it then you might have a hell of a time like I did. Corpse Party isn't perfect by any means, but it's entertaining, especially if you know little about the series and don't know what to expect. It's a horror mystery that's sure to get you on your way to a spectacular SpookMonth.
Are you following Black Nerd Problems on Twitter, Facebook, Tumblr or Google+?