Colin Kaepernick has officially been added to Time's 100 Most Influential People in the world list. Dare I say it? I'm flabbergasted. To have the confidence, bravado and wherewithal to give 2 gigantic middle fingers to the NFL is ballsy and commendable AS FUCK. No abbreviation folks. You gotta understand, football runs America. Sure soccer runs every continent outside of North America, but we ain't talkin bout what's going on across the pond.
We talmbout big bad corporation reliant America. We bend over backwards for our Coca Cola, Facebook, Apple and McDonald's. We shake our heads, shed a tear then chuckle when a multi-million dollar lawsuit is handed out as victims are silenced and shelved for eternity, mostly because we know there isn't a damn thing we can do about 90% of the happenings of the business world. But Kaep? He took the road less traveled. He took the road taken by a select few and even smaller few who double as polarizing athletes, on top of being a human who wants to stand up..or kneel for what's right.
"Colin Kaepernick was alone in his early protests last year when he boldly and courageously confronted perceived inequalities in our social-justice system by refusing to stand for the national anthem."
My road to this article started a few weeks ago when I damn near spit out my milk while eating Wheaties (more like Cinnamon Toast Crunch). I was chillin, then I heard the New Orleans Saints were taking a serious look at Johnny Manziel as a potential backup QB option. Johnny fuckin Manziel. Johnny Blackouts. Johnny Highway Assaults. Johnny No Show. Johnny drunk floatin on a giant swan in the middle of the club. Blonde wig rockin, glued on mustache reppin, Vegas loving, rehab hating, abusive ass Johnny Fucking Manziel. That's who NFL teams are looking at over the accomplished Kaepernick! Yes, his game has slid exponentially since that playoff run and Superbowl game, BUT COT DAM.
And don't get me wrong, I like Johnny Manziel. Cuz I'm a savage and would party my ass off as a superstar college quarterback. But this is the NFL. You don't party away your livelihood. Take a guess how many games Manziel won in his brief 2 year NFL career. Don't worry, I'll wait (Katt Williams voice). Google it. 2 games. Guess how many touchdowns he threw. Don't worry, I'll wait. 7. Think he threw less interceptions than that? Nope. 7. NFL owners and GMs have the audacity to pass over a man who has willed his team to a SUPERBOWL birth?! Disrespectful. Did he win the Superbowl? No. But I could name 5 first ballot hall of famers right now, who never even got a taste of the Superbowl. Kaep did dat. But that insanely athletic 29 year old will (likely) never play another down in the NFL. He got Tim Tebowed. You command an insanely passionate following? Sign that man and use his Social Media to promote our team and push our agenda. You command an insanely passionate religious following? Ex-Communicate that Jesus freak. Kneel during our national anthem? You've disrespected our troops, veterans, flag and shit in our cereal. Don't you dare consider signing him to a contract.
All because a man decided to fight for what he believed in and peacefully protest. Nobody was hurt. No birds were flipped. No crotches were grabbed. A knee simply touched the ground whilst an anthem played. I bet they don't know the Pledge of Allegiance was written by a Socialist. I bet they don't know Kaepernick has been pledging warship boatloads of cash (and actually following through on his promises) to those in need and charities of his choice. I bet they don't know Kaep has been handing out professional suits outside parole offices. Stand up and you will be silenced one way or another.
That's the message the NFL is sending and we hear you loud and clear. But there's a message that the NFL needs to hear, and it could not have been penned by a more appropriate, unconventional, heart driven individual; JIM HARBAUGH, the former coach and author of Colin Kaepernick's 'Time 100' Bio.
"I thank Colin for all he has contributed to the game of football as an outstanding player and trusted teammate. I also applaud Colin for the courage he has demonstrated in exercising his guaranteed right of free speech. His willingness to take a position at personal cost is now part of our American story."
Colin, you have joined the ranks of legends who will never be forgotten. You make the likes of Jack Johnson, Joe Louis, Jesse Owens, Kareem, Arthur Ashe and Jackie Robinson proud. Tommy Smith and John Carlos, the polarizing duo behind the black power fist raise at the 1968 Olympics, have already publicly defended Kaep and given him the OG slow nod of approval. One could only imagine Muhammad Ali smiling down from above, coming up with brand new and amazing slick one liners for Kaep and that majestic afro. The NFL may continue to ignore Colin Kaepernick as a legitimate QB option, but he will continue to be acknowledged and appreciated by the rest of us as an activist and iconic athlete.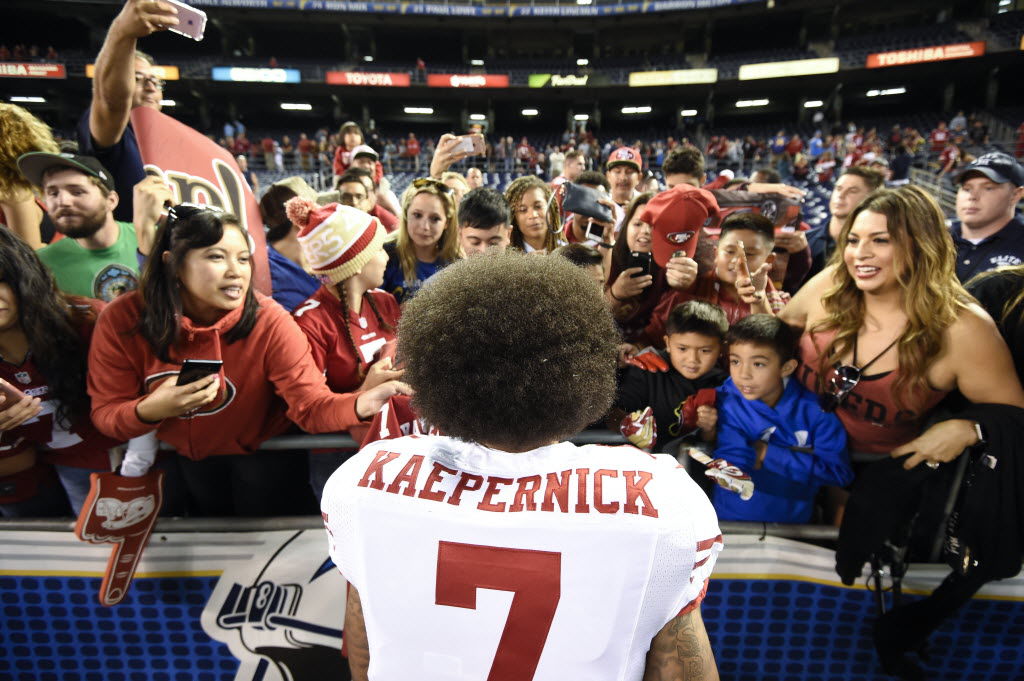 Are you following Black Nerd Problems on Twitter, Facebook, Tumblr or Google+?