Writer: Jeff Lemire / Artist: Dustin Nguyen / Image Comics
Dearly beloved, we are gathered here today to review the final issue of Descender. On July 25th, 2018, the series ascended into a future where machines are no more, and magic rules the galaxy…
…but what really happened?
Once and for all, humankind proved that they were incapable of growth. The machines reacted with a divine intervention, resulting in a near-extinction level event across the galaxy.
What I enjoyed about this issue is that it constantly kept you on your toes. The pacing is rapid as hell. You never get a chance to sit with or process what's going on until there are no more pages left to turn. There's not much time to reflect when it's the end of the universe as we know it. That's what makes the character moments so strong. You're in this scene with them, but it's fleeting — both you and the people on the page know there isn't a thing anyone can do about it.
Something really refreshing was how the events of this issue were all told in the past tense, as if they happened years ago. The narration felt like a tale that was passed down through oral tradition. It really framed the story in a new and interesting light. Framing the narration like this made these characters feel larger than life. We've seen everything happen in real time, but to read it from a perspective that was seemingly inspired by these characters added another layer to the story.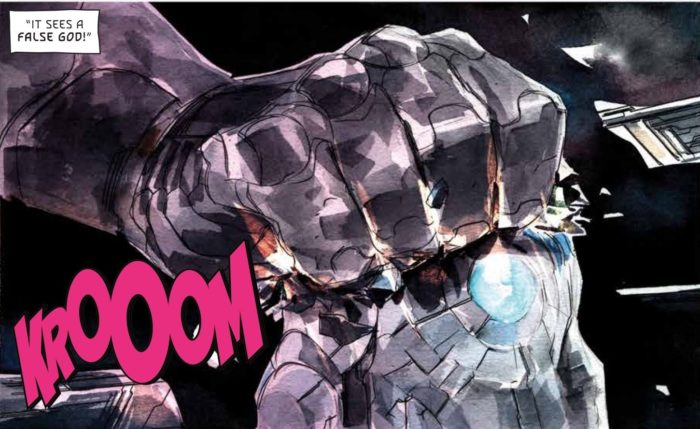 As Descender ties up loose ends and answers all the questions, a new page is turned. Just like that, we're thrown 10 years into the future. Here, we meet a new character named Mila, the narrator of this issue. There's an immediate shift in aesthetic as Dustin Nguyen uses different stylistic choices available to him in a world without machines. It's a reminder of just how talented he is. We're so used to him drawing a certain way that these new landscapes and characters feel much more distinct.
As much as I've been captivated and obsessed with Descender since I first picked it up, I have to admit the plot always seemed to be heading to its most logical conclusion. While that's not necessarily a bad thing, you want a series like this to go out just a strong as it came in. Seeing how it's probably going to end so far in advance would inevitably leave a reader with a little to be desired. It would be a little underwhelming if this was indeed the final look into this universe. Instead, knowing that this is just the end of a chapter rather than the end of the book allows me to appreciate what was done in this final issue while looking to the future. What the creative team is doing with Ascender breathes new life into the universe. This not only continues the story we've all come to know and love over the years, but expands upon it in unexpected ways. No matter how much changes for the characters — all the way down to the look of the book — the one constant is that this is a story that's rooted in hope.
Ascender starts in early 2019, so it won't be too long before you can jump back in.
Descender may be gone, but it delivered a solid finale. Questions it posed and answered will lead us into the future of Ascender. You won't be disappointed with this final issue, but you will be sad… because from here on out, everything changes.
9.5 Stupid Hrrrmans out of 10
Reading Descender? Find BNP's other reviews here.
Are you following Black Nerd Problems on Twitter, Facebook, Tumblr or Google+?