Hotel Transylvania 3: Summer Vacation flips the script, Dracula first learned to accept that his daughter loves a human, then he learned to love humans himself, now it's time for him to take his own journey of love. And that journey is a fast-paced, insane trip that doesn't always hit but is a fun ride nonetheless.
Adam Sandler reprises his role as our "bleh bleh bleh" Dracular. While he enjoys running his hotel and spending time with his family, he's lonely. He doesn't believe in having a second "zing," the monster equivalent of love at first sight, and has pretty much resigned himself to being alone. Though this doesn't stop him at a poor attempt at monster tinder. Mavis (Selena Gomez) mistakes this for him being overworked and decides to take everyone on a family vacation with a monster sea cruise. It's there that Drac lays eyes on Captain Ericka (Kathryn Hahn) and zings. It's up to his buddies Frank (Kevin James), Wayne (Steve Buscemi), Griffin (David Spade), and Murray (Keegan-Michael Key) to get Drac's game up. Unbeknownst to them, Ericka is really the great-granddaughter of Abraham Van Helsing (Jim Gaffigan), on a mission to not only kill Drac but all the monsters on the cruise.
Genndy Tartakovsky, best known for Samurai Jack, returns as the director. Honestly, I'm not sure if it was directed by him or the Wacky Waving Inflatable Arm-Flailing Tubeman. The characters have always been animated long, stringy, and eccentric, but I feel like the third movie cranked this up to 11. Almost every frame of this movie has somebody flailing about or doing some sort of sight gag, and that isn't always a bad thing. It's part of the charm of Hotel Transylvania, it's bright, it's funny, and it's always moving. It is as if Olive Oyl had a baby with an old black and white Looney Toons' skit and that baby is hopped up on sugar and Mountain Dew, and it surprisingly works. If a joke didn't land, give it 2 seconds and another scene with another joke will kick in. Again, this is a fast-paced film, like Sonic the Hedgehog. Some might think it moves a little too fast. There are times where it works for the betterment of the film and other times where it could have seriously used some more world or character building.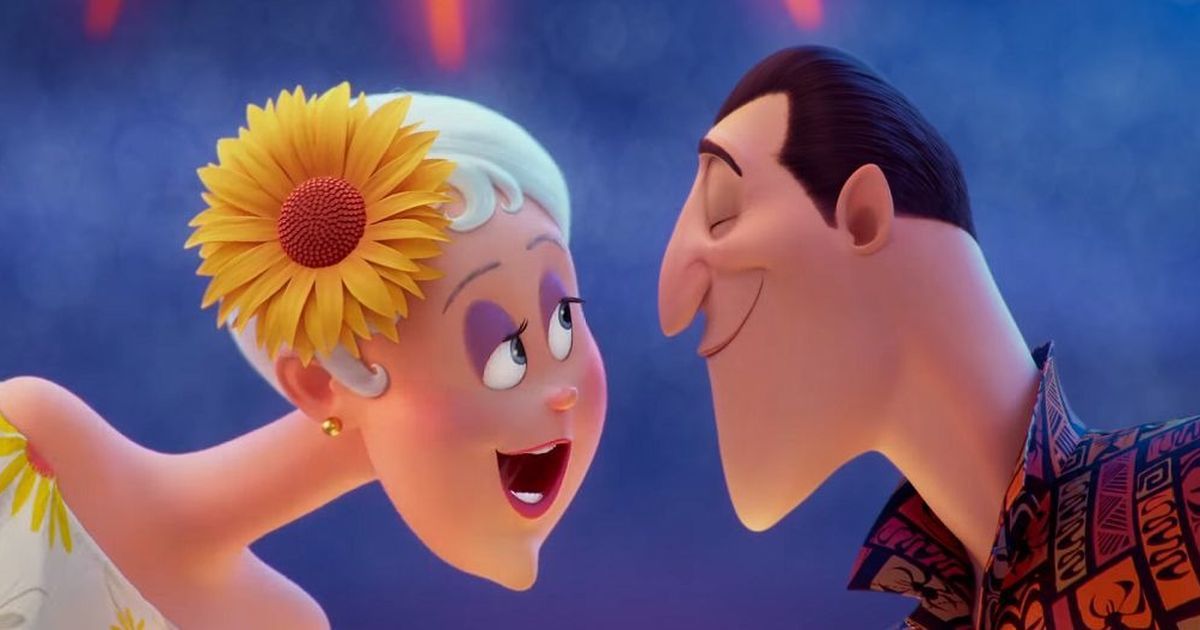 I would have liked to have gotten a little more about the whole concept of zinging. For the past two movies, we were always hearing about how important a zing is. That it's a once in a lifetime thing and once it happens you have to go with it. Of course, there's a nice little message about learning to respect the past but move on to something new. Drac thought he'd never have another Zing after his wife died but there he is experiencing another one and struggling with what he's feeling vs how he thinks he's will react. But it seems like for monsters it's not just love at first sight, but a physical response to finding your mate. I wished we got more of that, but this is a kid's film.
The only other aspect of the film I could say hinder it is the same thing that makes it good, it's pace and it's wacky animation. When you get joke after joke after joke, it helps that if a joke doesn't land that you don't have to wait long for another one. The issue here though is when you get a few jokes in a row that don't land. Many times we'll get a few random sight gags that don't really go anywhere and don't add to the story. It just sorta leaves you hanging. Compared to the previous movies, this one at times can feel a little uninspired. On the flips side when they work, they work! My favorite sequence of the film was a Drac struttin his bad self down the deck with Blobby while Ericka fails to kill him. It was a fun sequence that really shows off the peak of the animation.
Overall, this is a fun movie, but it leaves a little to be desired. It's definitely the weakest of the three films but the kids will still love it. It moves fast enough to keep their attention while the parents and adult fans can still get a good laugh out of it. You don't need to rush out, but if you have been enjoying the first 2 movies you should watch this one as well.
Want to get Black Nerd Problems updates sent directly to you? Sign up here!
Follow us on Twitter, Facebook,Instagram, Tumblr, YouTube and Google+.