Writer: Greg Rucka / Artist: Michael Lark / Image Comics
As the Poison arc ends, it basically coroneted the legend of Forever Carlyle. Forever, back from the grave, is basically the Solid Snake of the comic book game. She continues to lead the Anvils squad deeper into Hock occupied territory with hopes of taking out a strategic military bunker that will turn the tide of the war. All the incredible and badass things we've seen Forever do over the course of this book culminate here, as she throws her body into an almost certain death in order to obtain her goals.
Of course, there are other situations at play, namely Johanna taking the coveted seat as the head of the family when it comes to dealing with their shaky allies. We also get closure on the Poppa Carlyle saga as he has been slipping into darkness for the entirety of this arc. It plays out in a logical and intelligent way while highlighting Michael Barrett as a worthy stable to the characters inside the family moving forward.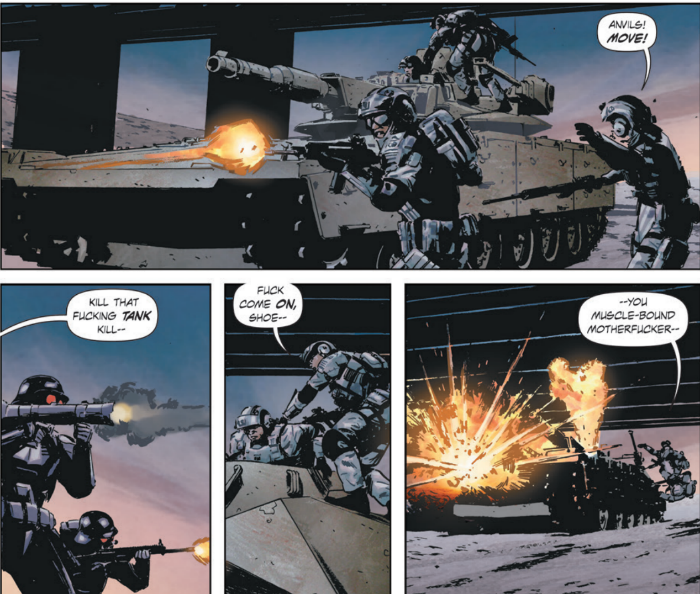 How dope is Michael Lark? THAT dope, is what. He had himself an issue with this one. The action sequences in particular are spectacular. There's such a cohesion between the action and subtext going on and he does it effortlessly. Also, shout-out to Owen Freeman on the cover and that great allusion to Johanna in the JFK pose.
Hey, nothing has changed, Lazarus is still one of the best books on the shelves. The "Poison" arc ends in bombastic fashion and simultaneously sets the stage for some insane plot developments for next arc in the last pages. Since the book will be on hiatus for a while, now is a great time to get caught up on the whole story if you're not already.
9.3 Frontal Tank Assaults out of 10
Are you following Black Nerd Problems on Twitter, Facebook, Tumblr or Google+?