This is it people, the day we've all been waiting for. As we all know Peter Parker is an important character within the Marvel Universe boasting over 50 years of history as well as an integral piece to future films in Marvel's cinematic line-up. Well I am happy to announce that after a well documented series of disasters and fuck up's Sony finally came up off those Spider-Man rights and allowed Da Gawd Kevin Feige the honor and privilege of introducing Spider-Man into the Marvel Cinematic Universe.
Under the new deal Spider-Man will be introduced to the MCU in a future film (If you have to ask yourself "What film?" it's obvious you've never read a comic in your life.) Mark your calenders because on July 28, 2017 Sony Pictures will be releasing the next installment of the Spider-Man franchise. There's no clue at this time whether Andrew Garfield will be reprising the role but the presser does refer to the Web Crawler as "the new Spider-Man" so it will be a safe bet to expect someone new to fill the role. The film will be co-produced by Feige and Amy Pascal who recently stepped down as co-chair of Sony Pictures Entertainment to launch a new major production venture at the studio nearly three months after the controversial and now infamous Sony Hacks.
Pascal's career at Sony spans 20 years, 13 of those years were spent overseeing the $4 billion Spider-Man franchise. The pair will collaborate on a new creative direction for the Web Head as well as exploring opportunities to integrate characters from the MCU into future Spider-Man films. Sony Pictures will continue to finance, distribute, own and have final creative control of the Spider-Man films.
Walt Disney Company Chairman and CEO; Bob Iger said it best. "Spider-Man is one of Marvel's great characters, beloved around the world. We're thrilled to work with Sony Pictures to bring the iconic web-slinger into the Marvel Cinematic Universe, which opens up fantastic new opportunities for storytelling and franchise building." This deal seems to be a step in the right direction in terms of getting the Spider-Man franchise back in order, getting Sony some much needed positive p.r. and for Marvel to make the already great MCU an even bigger and more successful spectacular than fans could've ever imagined. Watch your back Fox, We're coming for X-Men and the Fantastic Four next!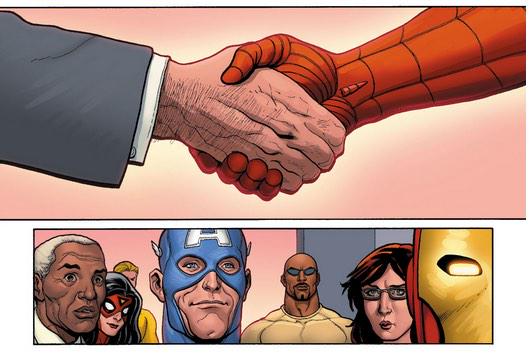 Are you following Black Nerd Problems on Twitter, Facebook, Tumblr or Google+?