Writer: Brian Michael Bendis / Artist: Oscar Bazaldua / Marvel Comics
I'm conflicted with this series, man. I'm seeing Aaron Davis is back but is this the 616 Aaron Davis or did the Ultimate one come back? I dunno, but I'm guessing the former. Let's say the former. Yeah, I'm rocking with that. I'm liking the rollout for Aaron Davis. The last issue when he informed us that the reason we haven't heard of him is because he's that good of a cat burglar, I said, "I'm fucking with this dude." 616 Aaron is a methodic, criminally well-intentioned (toward his word to the team), and informed thief.
I really like how Aaron Davis came cross here. Davis was scouting the S.H..I.E.L.D. Helicarrier they planned on stealing and selling. He doesn't tell the team too much but is upfront about his intentions assembling them. It all seems too good to be true for Sandman, but Davis comes across as a true professional conducting business and about his word.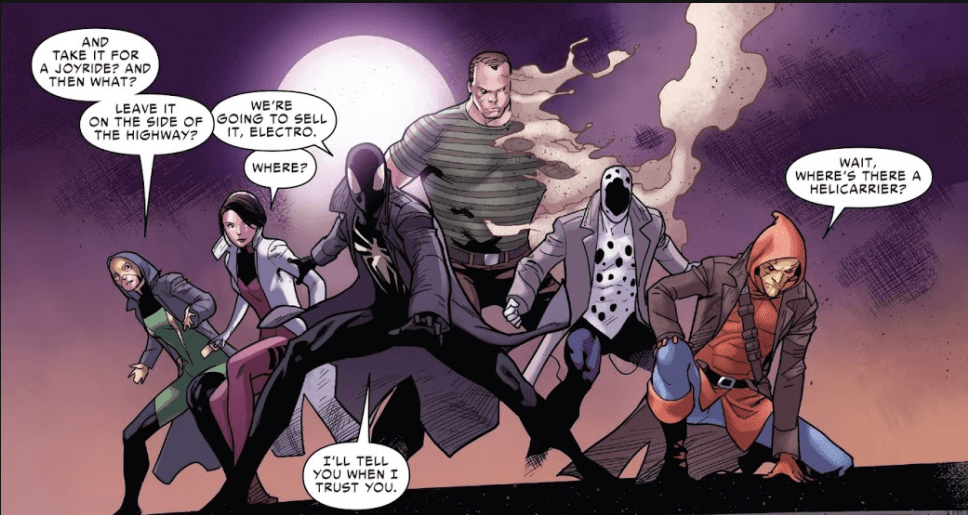 Stop Listening to 'Mask Off' Miles!
Aaron Davis' prep, knowledge, and confidence in his abilities make a big difference when comparing him to other villains. Miles this issue, I'm… not rolling so much, man. Bombshell coming back to get Miles and inform her of what her mom's into is cool. I get the figuring out who he is outside of Spider-Man. Alright. No web-shooters? Alright, make it work. New manipulation for the venom blast? Getting hard to dispel the overpowered complaints with that, but okay. But the whole "going out in just a hoodie like it's season one of Arrow"? Leaving the costume in a bookbag on some rooftop? Fam, you are not moving like a hero should move to protect that secret identity. They really got 'em out here being wild reckless with his identity, man. Suffice it to say, I'm glad he'll be masking up again.
Oscar Bazaldua's art does the series service. He draws a very young looking Miles which makes his costume-less decisions seem real based on his age. I really liked the gym class scene with everyone looking relaxed and casual. Bazaldua gives the book a real teenage genre feel (much like Humberto Ramos in Champions). That atmosphere for the book makes Miles and his friends feel more realistic.
All in all, it felt like Aaron Davis shined this issue. If this were a rap track, he outshined Miles, which is fine. We need that in order for us to care for Aaron as a character and credible as a villain.
7 "So How Are We Moving This Big Ass Helicarrier?" questions out of 10
Reading Spider-Man? Find BNP's other reviews of the series here.
Are you following Black Nerd Problems on Twitter, Facebook, Tumblr, Instagram, YouTube or Google+?