Writer: Peter J. Tomasi/ Artist: Carlo Barberi, Art Thibert / DC Comics
Live Fast, Fly Young!
Damian Wayne and Jon Kent have one final arc as the World's Soon-To-Be Finest. The Super Sons have had a fun-filled romp through all sorts of shenanigans and it's amusing to think how they couldn't stand each other at the start of the series. Of course, Damian's snark would try and convince you that they still can't stand each other, but it's easy to see how close the two have become as they hang out in their underwater headquarters.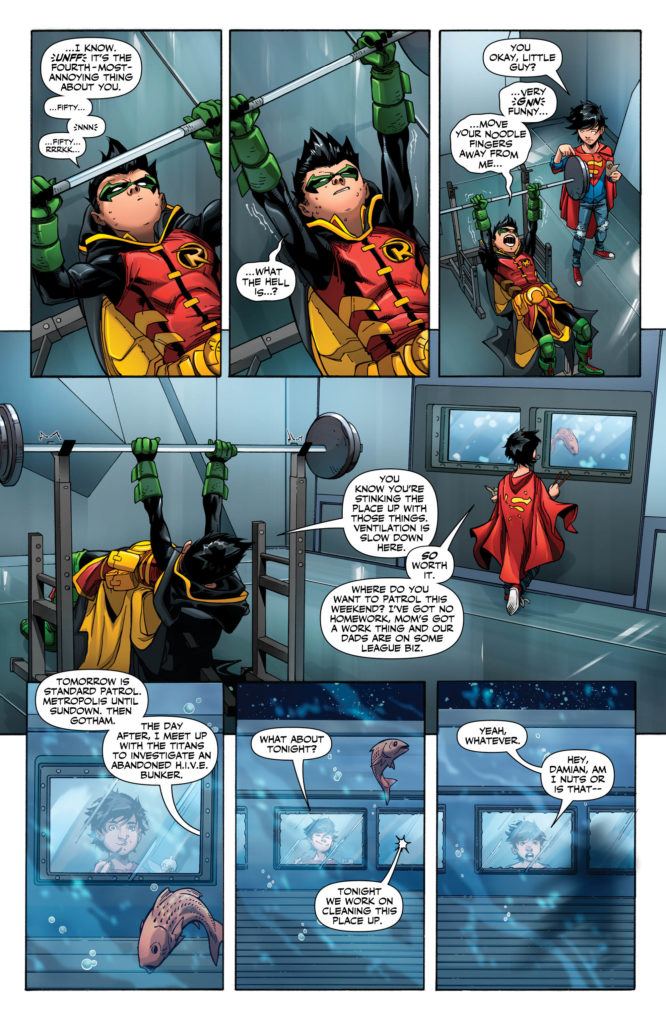 Return of Kid Amazo
Tomasi decides to bring the story full circle by reintroducing the first antagonist Damian and Jon went up against as their last adversary. Kid Amazo's grand entrance sets the stage for a fun, energetic end to the Super Sons' adventure. Tomasi has a deft mastery over the voice of these teenage heroes and villains, and their frantic banter captures the duality of playfulness and gravitas that Damian and Jon bring to the table. Although not to be outdone, Kid Amazo's is every bit as terrifying as he was when he was first introduced.
Barberi and Thibert's art direction continues to be pure eye candy. The action feels explosive, the emotions continue to be heavy and heart wrenching, and the panels just pop off the page in a visual spectacle.
Super Sons has always been a simple outing. It's never been more complicated than the Son of Batman and the Son of Superman getting into all sorts of shenanigans as they try to figure out how to become better versions of the parents. Yet, it has always been an endearing story and Tomasi's final arc promises to be the only thing we could ever want: Superboy and Robin rising to the occasion.
Super Sons #15 gets 9.1 "Marriageable Noodles" out of 10
Are you following Black Nerd Problems on Twitter, Facebook, Tumblr or Google+?