Writers: Adam Glass & Robbie Thompson/Artist: Eduardo Pansica/ DC Comics
Maybe it's the anime fan in me, but there's something about teenage heroes that just feels really relatable. Especially when they've all got their own emotional baggage that you can identify with on different levels. That's precisely why issue #40 of Teen Titans works as a great jumping in point for the team.
The issue kicks off with the team trying to figure out how they can get to purgatory to track down Djinn, a member of the team who's been taken. As my uncle once told me, the quickest path from one point to another is a straight line. Unfortunately, the straight line from the land of the living to purgatory goes straight through hell.
YUP. Time for a bunch of teenagers to halfway die and travel through the valley of death.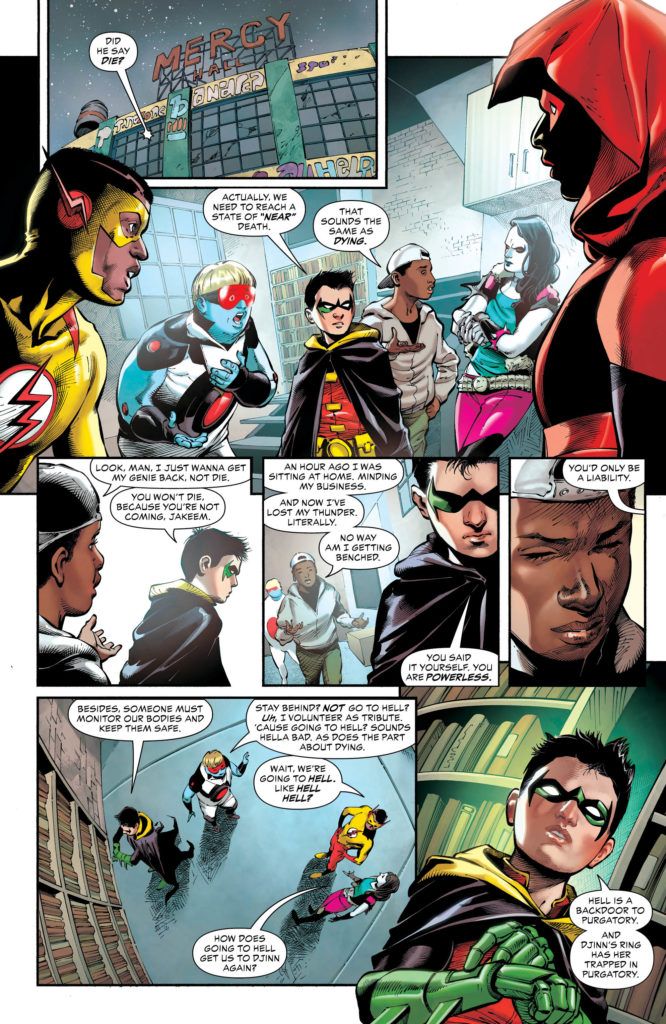 After some tough love from Damian, who knows no other kind, the crew eventually ends up in Hell with Jakeem staying behind to revive them all before the 30-minute deadline. As they're walking through a maze, Damian admits to the group that he knows his way around Hell because it's where he went when he died.
…. Dark.
After that sad, awkward moment is over, the team gets split up and faces off against each of their greatest fears. This is when we get to know them all on a deeper level, whether you know the characters' backstories or have some gaps in your encyclopedia: which is expected given how new some (all?) of the characters are.
The only downside to this issue is that it pulls on a lot of familiar comics tropes. It's essentially throwing a fresh coat of paint on a used car. But, it still drives and gets you from point A to point B.
8.0 out of 10
Reading Teen Titans? Find BNP's other reviews of the series here.
Want to get Black Nerd Problems updates sent directly to you? Sign up here.
Follow us on Twitter, Facebook and Instagram.