Omar: Jordan and I joked around one night about how expensive it is to live in New York City (rent's gone up so much you basically have to barter portions of your soul) and we got on the topic of how nerd expenses are the some of the worst expenses.
Jordan: This life costs money, fam. This life makes me 100% unreasonable in my financial choices. Being a nerd isn't in the DSM-V as a mental condition, but it damn well should be based on what I willingly pay for. I'm still waiting for the day I come home to a banner that says "Intervention" with 3 concerned friends and that 1 acquaintance I really don't give a shit about telling me my financial decisions are ruining my life. I got loans. My bank account stay in critical condition.
Omar:We're giving you a break down of each vice and the wrestling maneuver it puts on your bank account. It should be understood that our wrestling commentator voices are done in the stylings of Color Commentating legend amongst men, Good Old "JR" Jim Ross.
T-Shirt Porn
[divider type="space_thin"]
Omar: T-shirts are a hell of a guilty pleasure, man. And when you can get them via amazing artists? Dude! I sat at work collecting mad t-shirts into the online shopping cart. For weeks, man. You can never have enough dope ass shirts — that is, until you see that check out price! Woooooooooo, Lord. That's when it's crunch time. Do I really want the Captain America North Face shirt? I do, but them Power Puff Girls doooooe. There's a sliding scale, and if you got self control then you're okay, and even when you go overboard, it ain't breaking you too badly. The pricing here on your wallet is basically a Hurricanrana. It's annoying, but not Deathly Hollows-dire to the bank account. It'll catch it off guard and leave it disoriented though.
WWF Wallet Finisher: Hurricanrana
Omar:
No! No! Don't risk it! Think of your budget!
Jordan:
FROM THE TOP ROPE! HE SAID DAMN THE BUDGET AND PUT IT ALL ON THE LINE!
New Comic Book Day
Jordan: Every Wednesday, yo. EVERY WEDNESDAY. New Comic Book Day is death by paper cuts for my bank account. $2.99 here, $4.99 there, and then suddenly I find myself feeling like I just dropped dope money on this brown paper bag I need to hide in my jacket on the way out. Oh, just one more of this won't hurt. Oh, just one more from the dollar bin, it'll be fi– NOTHING IS FINE AND MY DEBIT CARD IS SCREAMING. It whimpers when I swipe it. It cries out, it BEGS, yo! But the shit don't stop till it taps out and I act surprised when the ref says "I'm sorry, there might be a problem with your card."
WWF Wallet Finisher: Walls of Jericho
Jordan: He's turning him! He's turning- That's a leather wallet, it can't take much more of this!
Omar: Oh my god, he's gotta tap! JUST LET IT GO! IT'S NOT WORTH IT, SON!
Movies
Omar: Yooo, this shit is kinda outrageous. I love that comic book movies are the new spaghetti westerns, but IMAX and 3D ain't ever loved us, man. That shit gets too real. I was once dating a girl and we went to see The Dark Knight, and it was a late viewing so we ate something beforehand. BIG MISTAKE! She was falling asleep during the movie, yo. Now I already saw it, but she wanted to go, so I'm not even going lie, I kept nudging to wake her up to the point she was like "JUST LEMME SLEEP," to which my response was "yo, this was damn near thirty dollars! For that much money there's going to be a quiz after this." More recently I took my friend's kids to see Ant-Man and only 3D was playing, and it was fifty-two something for the three of us. Dude, and they wanted snacks too? UGHHHH… that shit just waits in the corner and builds up momentum. I saw Shawn Michaels at the concession stand stomping his foot as he pumped out the butter on my popcorn *…sigh…* and I already knew what it was.
WWF Wallet Finisher: Sweet Chin Music
Jordan: The band is tuned up! They're chanting. His pockets are wiiiide ooopeeeeeeeeeen!
Omar: GAWWWW — SWEET CHIN MUSIC! RIGHT IN THE POCKET! RIGHT IN THE POCKET! GOOD NIGHT!
Video Games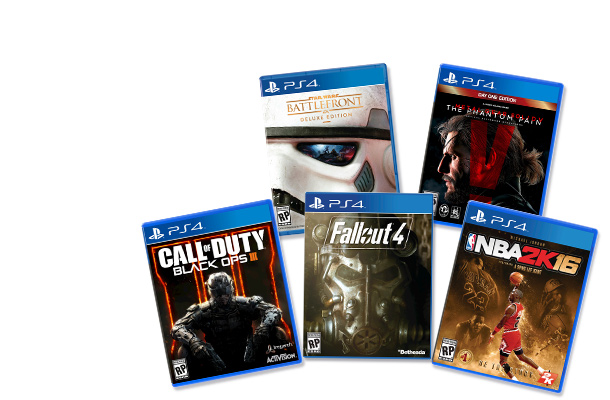 Jordan
: This is the heavy hitter, son. Ain't no $2 here and $5 there — that new system drops at the 7-foot retail price of fuck-up-your-bank-account and the match is
done
. And we talkin' games, too? New releases at like $60 a pop?! That $500 purchase feels like somebody slammed your limp, desperate body against a bed of spikes from
Sonic the Hedgehog
and all the coins came bursting out that ass. And the worst part too is that I see it coming. That shit grips me the moment I see the release date. When I was a kid it was all cool — I didn't know about budgets, or bills, or the sweet taste of Chipotle at lunch time — I just cried for the shit until I got it or got threatened to get something worth crying about. But now that I got my own guap? I know the hit is coming, but I also know I ain't stopping it. I just close my eyes, and hope this is the 1-in-4 times I manage to be Diamond Dallas Page and flip the Diamond Cutter from the top rope. If I don't — and let's face it, I usually don't — that shit spells devastation for the wallet.
WWF Wallet Finisher: Choke Slam
Omar: OH I DON'T EVEN BELIEVE THIIIIIIIIIIS!
Jordan: NO! NO! GUAP ISN'T SUPPOSED TO BE DRILLED LIKE THAT! SOMEBODY STOP THIS! THIS IS MADNESS!
Omar: GET IN THERE REF!
Jordan: COME ON REF, DO YOUR DAMN JOB! THAT GUAP HAS A FAMILY!
Computers
Omar: I'll tell you something about me right now: I'd rather get left at the altar than have something happen to my computer, straight up and down. I've been having issues with a comp and my friend actually suggested I get a Mac because "it's still noobish, but it'll be good for you." I didn't even wanna go and see my niece cause my computer situation, man. I can't go out in the world with that on me (my sister actually told her that, to which she responded, "I understand.") Computers are freaking expensive, man. And switching over to Macs? I was looking at the prices online and pulled a hamstring just looking at it. That shit said the 12-inch Macbook Pro is going for $1,599.00. That shit is just savage any way you look at it. You know how many piggy banks you gotta slaughter for that bread? Let's see where that lands us with the finishers.
WWF Finisher On The Wallet: 3-D (Dudley Death Drop)
Jordan: Good gawd almighty! NO DUCKETS SHOULD BE FORCED TO GO THROUGH THIS!
Omar: Those duckets aren't moving Jordan… EMT's are out here now.
Joradan: Awww, aww naw. Those duckets might never be able to write a check again.
Conventions
Jordan: For a nerd trying to save money, comic conventions are like when the villain tells you to go somewhere, and it looks like a trap, and it smells like a trap, and your partner is like "yo this is clearly a trap," and your comic-book-reading ass balls your fists and squints and says "I have to go anyway." What happens from there is a series of unfortunate events. Them vendors smell it in the air: they literally close their eyes, lift their nose to the sky, and take a deep inhale while they kick you into position. And then it gets started. You pass one booth and flinch as it goes by, you pass another and you know it's almost over, then you come up on that booth with the expensive ass print you were looking for, or that book you're almost done collecting, or that t-shirt you never saw coming. And just like that, game over, the inevitable happened, and your wallet just got fucked all the way up. You get carried off all woozy but still sorta happy because you're honored you got rocked by something that good.
WWF Wallet Finisher: The People's Elbow
Jordan: There go the sunglasses!
Omar: He threw the sunglasses!
Jordan: I mean this move is only hurting you psychologically, really. 
Omar: Oh mos def', it cripples the whole spirit of your bank account!
Having Children Into All This Stuff As Well
*Jordan & Omar's fathers take their microphones*
Mr.Calhoun: We got this one.
Mr. Holmon: What do they say now? ah, yeah, "Bruh".
WWF Finisher On The Wallet: RKO Mr. Calhoun:
FROM OUT OF NOWHERE!!!!!!!!!!!!!!
Mr. Holmon:
RKO! RKO! RKO!
Are you following Black Nerd Problems on Twitter, Facebook, Tumblr or Google+?