Writer: Becky Cloonan / Artist: Steve Dillon / Marvel Comics
Frank Castle is on a controlled rampage. On his hunt to take down the organized drug cartel and mercenary group named "Condor" Frank is going up the organization's ladder step by step, leaving nothing but bodies. Like the cover says, this book is not for kids, and has shown itself consistently violent in a predictable way. I say "predictable" in a good way, the same way Fast & Furious movies exceed expectations by exactly meeting them… in the words of Coach Denny Green, "They are who we thought they were." In that way, Becky Cloonan's The Punisher is reliably thrilling page after page.
This book isn't cute; it doesn't look to confuse or baffle you, at least not yet – no, The Punisher is Man on Fire playing the long time, a series of carnage following a man on a mission. The appeal to tactical strikes and sheer badassery make The Punisher one of the most honest books on shelves – you get exactly what you expect, and exactly what Cloonan wants as an action comic that is what we thought it was. This is quintessential Punisher.
Issue #3 follows the same formula as the ones before it: Frank stalks his prey, murders them, and finds the next bridge in his game of connect-the-dots, all the while staying ahead of the cops who remain one step behind his carnage. The cops are almost the series' narrators, or the closets thing to it, as they piece together insights that Frank doesn't give us himself. How little do we get from Frank? His word count in this issue might be the highest we've seen yet. Average sentence length: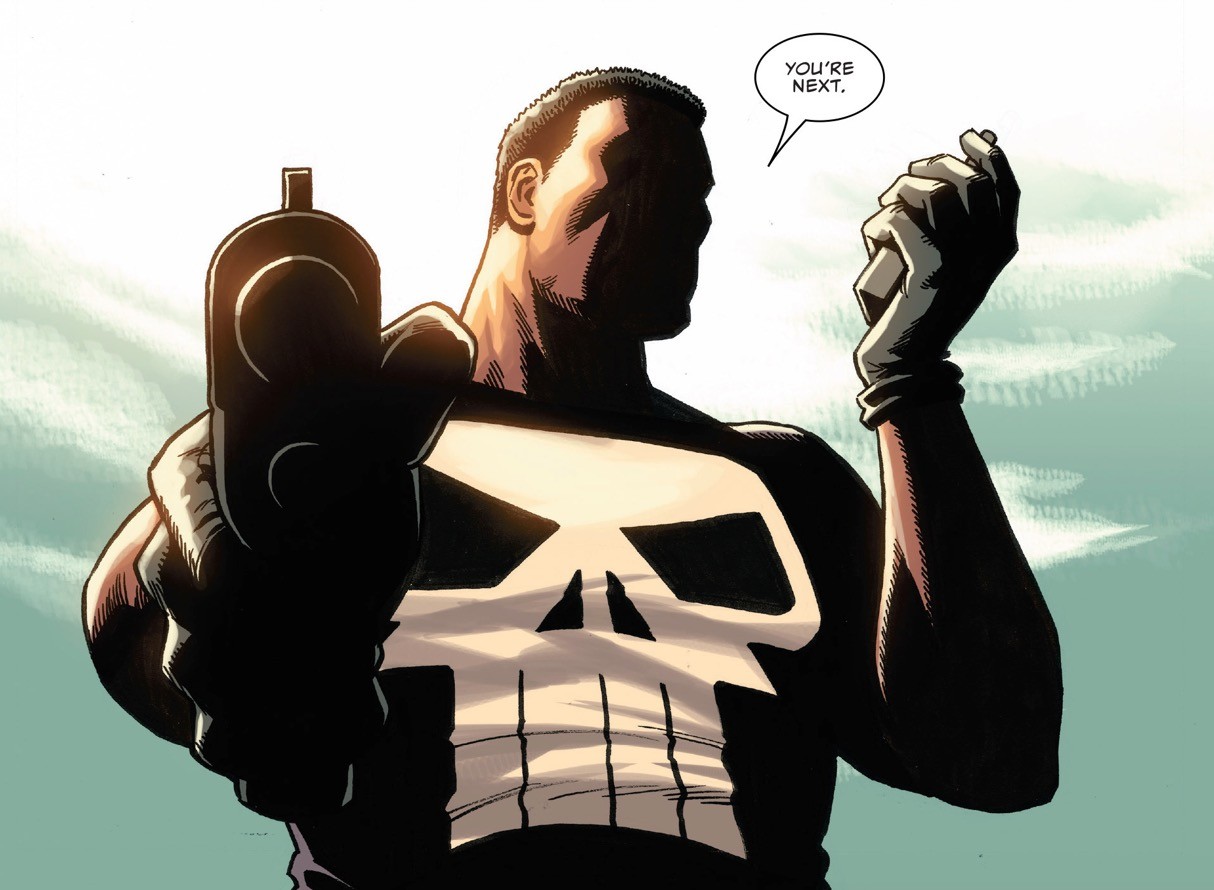 No talk, all business. The formula works for now, and Frank will likely continue taking out nameless goons until he reaches the top of that ladder and the cops catch up with our vigilante. The question is less about how that will happen, but now more what role will Frank's new tagalong play in the action. The Punisher has a kid with him, the daughter of a mercenary riding shotgun after he was sent to see God. Frank was once a father himself, a family man, so it's hard to imagine him dropping this kid off to fend for herself, yet it's equally hard to imagine him slowing his righteous campaign for justice to find her a proper home. Léon: The Professional, anyone?
9.3 Hitman Prodigies out of 10
Reading The Punisher? Catch up on preview reviews here.
Are you following Black Nerd Problems on Twitter, Facebook, Tumblr or Google+?