Writer: Gene Luen Yang / Artist: Sergio Fernandez Davila / DC Comics
In all this time, why has no one told me that DC has a series that features a black superhero couple leading a team through a series of wibbly-wobbly, timey-wimey adventures??
In no way is it remotely my fault for not being informed of this, even if it is my job, and the blame rests entirely on the shoulders of all of you for not telling me!
Anyway…
I checked out The Terrifics #23 on a whim. When I first started reviewing comics for BNP a long five years ago, I was reading The New 52: Future's End every week — still shaking that one off, if I'm being honest. But one takeaway I had from that series was an appreciation for the genius that is Mr. Terrific. So, it was refreshing to see that he's leading his own team-up series that's a whole 23 issues in.
When I started the issue, my first thought was "Oh no… Bizarro!" Because reading a comic with Bizarro-speak can be a real test in mental fortitude and could possibly leave you with a feeling that you've developed a mild, temporary case of dyslexia.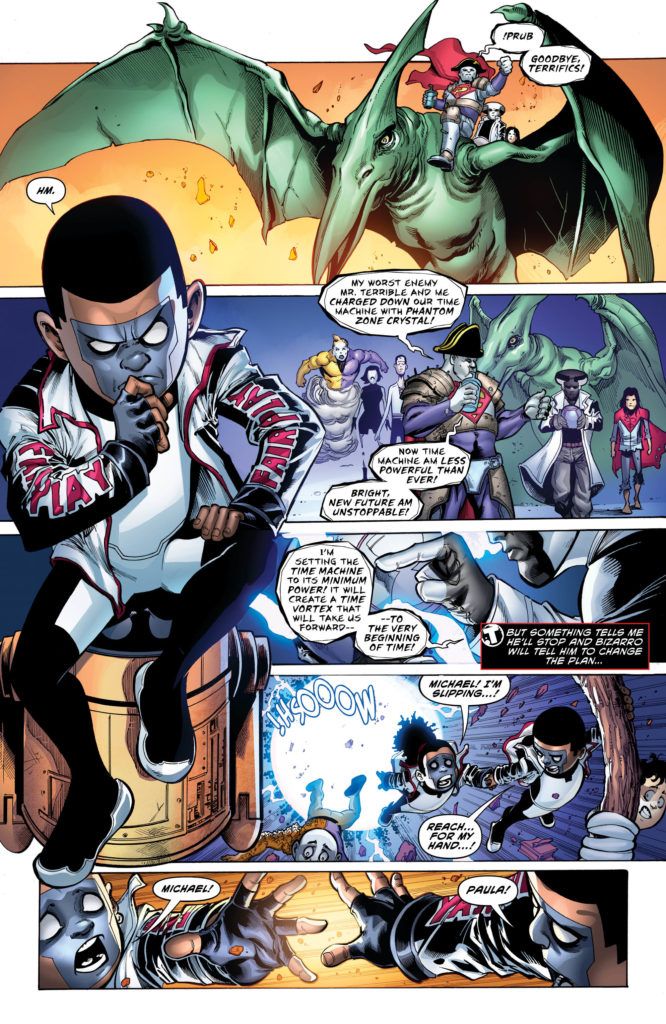 But Gene Luen Yang knows this. So the conversations ran smoothly and bounced back and forth and even included a couple jokes as to how absurd the whole opposite language thing is. It's all in good fun.
As far as emotional notes go, this story caught me by surprise. It opens up with Bizarro's son telling us how he's ultimately conflicted by his father's decision to live in a time loop where he constantly tortures The Terrifics. But this is also his only way to spend time with him.
We then get more emotional resonance as Mr. Terrific gets a reminder that not every problem can be solved with logic, alone. Sometimes, you need to just feel things out. That's when we get hit with some pretty good sci-fi, which is all you hope to get when you introduce complicated plot vehicles like time warps and such.
Overall, this was a good jumping in point for this series, and I'm going to stick with it for a while.
8.5 out of 10
Reading The Terrifics? Check out BNP's other reviews here.
Want to get Black Nerd Problems updates sent directly to you? Sign up here!
Follow us on Twitter, Facebook and Instagram!