If you haven't watched Fooly Cooly (FLCL) before, then you are truly missing out. Airing in 2000 in Japan and 2003 in America, FLCL is a coming of age story about a cynical 12 year old Naota Nandaba who's desperate to be mature yet hates the adult world around him. His mundane life is flipped upside down with the arrival of Haruko Haruhara, the mysterious Vespa riding live-in housemaid. Mary Poppins this is not. Ultimately, this 6 episode series is about an adolescence dealing with what it means to be mature in a world where those who are "mature" are really nothing to aspire to. Oh, and did I also mention this show is bat-shit insane? Because this show, is bat-shit INSANE, and yet somehow still grounded.
"Nothing amazing happens here. Everything is ordinary." The inner monologue of our "hero" Naota who's so blasé about life it's almost painful. He hangs out with his older brother's 17 year old (ex) girlfriend, Mamimi Samejima, who he left to pursue baseball in America, and yes, they do fool around. Though it's hard to tell if Naota is even into it, more like it's just something to do. While they are out, Haruko shows up out of nowhere and runs over Naota with her Vespa. Seeing that he is not dead, she proceeds to strike him on the head again with her base guitar, opening a portal in which all sorts of crazy creatures crawl out. And that's the beginning of Naota's crazy adventure filled with pre-teenage angst, sexual innuendo, and pop culture references. There's even a South Park joke if you can believe it.
What's great about FLCL is that at its core, it's just about a kid yearning to be an adult while simultaneously despising the ones around. Naota is a pretty sharp kid who no one really takes seriously. Adults treat him like a little kid, his friends rag on him every chance they get, Mamimi uses him as an emotional anchor, and Haruko just wants to use him to get a special power (no spoilers). And yet, all this is what teaches him not only to live but to love. FLCL makes no bones about being off the wall to tell its story. It's ambiguous and out of this world, and if you don't get it, the story doesn't care. There are enough clues for you to figure out what's really going on but still leaves just enough for your own imagination.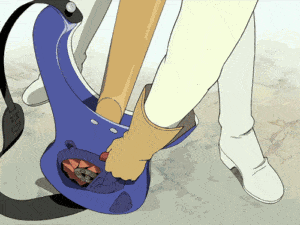 And can we talk about the awesome music!? Because man, the music goes hard in FLCL. The Pillows, a Japanese band, does the music, and it is great. After the first time you hear the ending theme, "Ride on Shooting Star" you'll be hooked. Outside of Cowboy Bebop, I'd argue that FLCL has the best anime soundtrack around. Fight me on it but if you've watched the show you know I'm right. Musical cues kick in at just the right time to drive home the emotional feeling of each episode. The Pillows almost passed on this show too, not having done music for anime before. And even they say this was the best thing to happen to them.
If you are a long time fan, or you just read this and ran out to watch the show and now are a fan, you'll be happy to know that after 18 long years, FLCL is finally getting another season. Beginning on June 2, Toonami on Adult Swim will air the second and third season of FLCL. I'm stoked for the continuation of this crazy off the rails story. We will be reviewing each episode as they air so look forward to it!
Want to get Black Nerd Problems updates sent directly to you? Sign up here!
Follow us on Twitter, Facebook,Instagram, Tumblr, YouTube and Google+.