Its been over 25 years since T-Boz, Left-Eye, and Chili (TLC) asked "What About Your Friends?". Two decads later, a pair of beloved arcade game characters look to answer the question in Disney's animated family comedy Ralph Breaks the Internet, a fun, fast-paced sequel to the 2012 hit, Wreck It Ralph.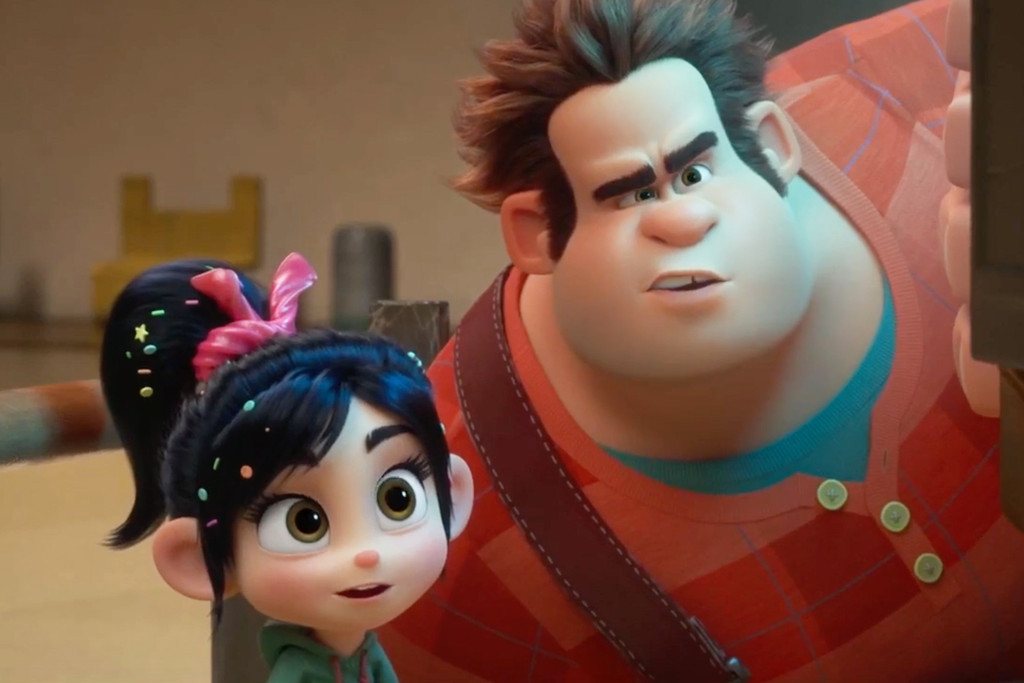 Ralph Breaks the Internet brings us back to Litwack's Family Fun Center & Arcade six-and-a-half years after the first movie ended. Here Ralph (John C. Reilly), a muscle head with a heart-of-gold is happily content to spend his days hanging out with his BFF Vanellope (Sarah Silverman), the car racing princess from the neighboring Sugar Rush arcade game. While Ralph is happy to watch the sun come up in the real world day-in and day-out, Vanellope yearns for something more. When Ralph hops into her Sugar Rush to dig a new race track for one of Vanellope's races, things go haywire and the game's steering wheel breaks off. When Mr. Litwak decides not to buy a replacement wheel on eBay because its too expensive, Ralph and Vanellope travel through the newly installed Wi-Fi to the search the Internet for the part themselves to save the game from being permanently unplugged. And that's when things get crazy.
When Ralph and Vanellope go into the Internet, they find themselves in a futuristic, high-speed world reminiscent of "The Jetsons", from the flying cars to the super-fast tech. No shade to country folk, but it's like watching someone from the most rural parts of places like West Virginia and dropping them into the middle of downtown Manhattan.
The pair literally catch a cab to eBay where they – having no concept of money, mind you -grossly overbid on the steering wheel for Vanellope's game. Per eBay rules, our besties have only a short time to come up with the cash to buy the game or lose out on the bid, leaving Vanellope's game to be unplugged back in the real world.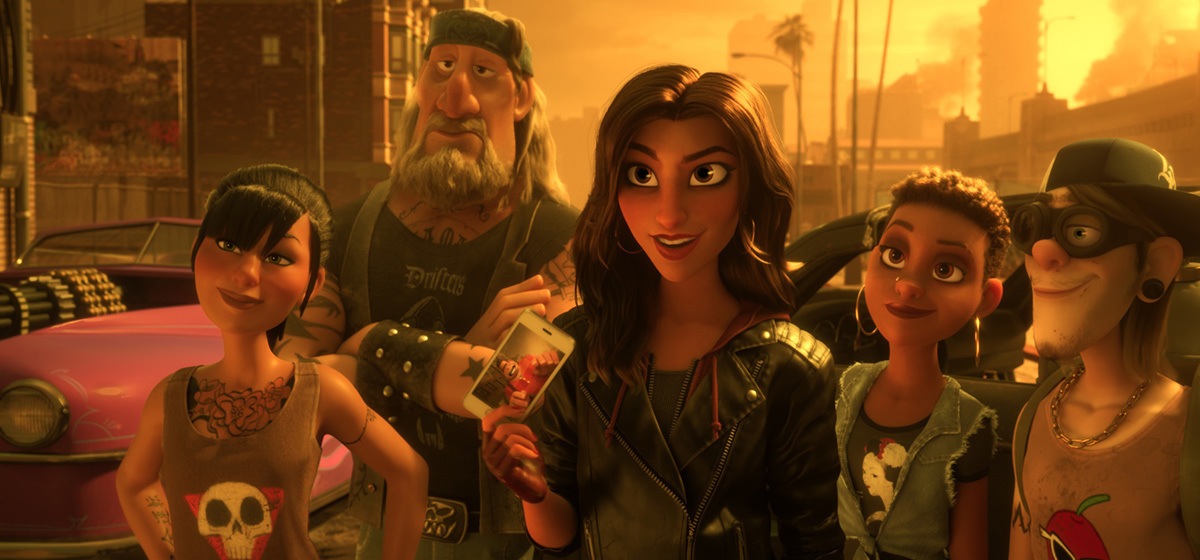 Ralph and Vanellope then go on a wild search for money when they come across a gritty car racing game modeled after the infamous Grand Theft Auto. There Vanellope meets Shank (Gal Gadot), leader of a car racing clique that doesn't take kindly to Vanellope and Ralph stealing her car. By the end of a dramatic race, each lady admires the other for her driving technique and it becomes clear to us that Ralph's favorite princess may not want to go back home after all.
Shank hooks Ralph and Vanellope up with her friend Yesss (Taraji P. Henson), the top algorithm in the film's version of YouTube. When Ralph accidentally makes a viral video from within the Internet itself, Yesss helps our heroes find a way to monetize clicks. Pretty soon, they've made enough money to pay for the steering wheel on eBay and go home. However, when Ralph overhears Vanellope talking with Shank about not wanting to go back home but not wanting to disappoint Ralph, that's when the emotional arc of our characters begins to really take center stage.
In the predecessor to Ralph Breaks the Internet, Ralph is the bad guy in Fix-It-Felix Jr's game, regularly destroying the town that the hero Felix has to put back together. Because of this, all the other arcade game characters don't like Ralph, even though he's only doing his job. It's not until he meets Vanellope that he finally finds someone who sees Ralph for the gentle teddy bear he is. Ralph forges friendships with the other characters too, but his ace for the past six years is still Vanellope. But at the center of Ralph and Vanellope's opposing desires is the love between two people who care deeply about each other. Those are some real-life stakes explored in live-action shows like HBO's Insecure, ABC's Blackish, and the UPN classic Girlfriends.
Speaking of Girlfriends, female empowerment is a huge theme in Ralph Breaks the Internet, despite the film's namesake being male. The catalyst for the story's events is Vanellope's desire for more, even if she doesn't necessarily know what that more is at the start of the film. From there, she meets a cadre of badass women, from the full gamut of Disney princesses (who are surprisingly combat ready), to Shank, and super-savvy businesswoman Yesss. Though Ralph and Vanellope both experience emotional growth during the film, its the women as a collective that gets things done and are equally critical to saving the day (and the Internet).
Though Ralph Breaks the Internet is marketed to kids, it's PG rating and pop culture references make it a fun ride for childless adults too. Be sure to stick around for both the mid-credits and end-credits scenes too (I know, I know. Blame Marvel Studios.). And in case you're wondering, Ralph Breaks the Internet is so good, it's even worth paying the non-matinee price. But you should still go early to save some coins, because eBay always makes you pay what you owe.
And in case y'all are wondering, Tiana's Black and proud in the final cut. But that hair… *side eye*
Ralph Breaks the Internet opens in theaters nationwide on Wednesday, November 21.
Want to get Black Nerd Problems updates sent directly to you? Sign up here!
Follow us on Twitter, Facebook,Instagram, Tumblr, YouTube and Google+.