I find that spring time is the prep season for one of my deepest nerd loves: Renaissance Faires. I start pulling hand-made dresses out of storage, mending linen shirts, scouring local thrift stores for baskets and metal plates. When I enter this season again, I think of all the things I wish I'd known when I started, the words of encouragement I wish someone had given me. Maybe you've always been interested in Renaissance Faires. Maybe you want to know more about them. Maybe you need these words of support to give something new a try.
Dear me,
You've always loved history. Regardless of geography or blood, knowing how the past functioned, not in dates and names but in daily details, has always been fascinating. So this is not unknown ground for you. And Renaissance Faires are fun: spending the day outside, geeking endlessly about the minutia of history with other like-minded folk, doing hands on demonstrations for kids. There's nothing here you don't like.
Sure, you may be the only Black person there, definitely one of a few, but don't let that stop you. The chances of anyone throwing rocks at you are low. The chances of anyone laughing at you are high, but when has that stopped you before?
And why not the European Renaissance? This is the moment when Europe formed itself as a separate place. Systemic, oppressive Colonialism starts here. Concepts of Democracy and Equality start here. These are concepts you want to explore, if only because they say so much about American-ness, our ideals and our lies. Some will try to tell you that you are wrong, out of time, out of place. They are wrong. African people have always been travelers, traders, and scholars. The Mediterranean has never been impenetrable and we have always been everywhere. Their ignorance is not the truth.

You'll have to study and be on point with your facts, because they will test you. As in so many other things, you'll have to be twice as good with your knowledge and twice and loud to be heard. Start reading Machiavelli and Dante. Refer to reputable sites like People of Color in European Art History for pictures and leads. Study the Moorish invasion of Andalusia and their 700 years of civilization. Study how it ended in 1492, forcing all of that knowledge out into Europe, to found universities and salons of learning.
Be ready for questions, not just hostile ones, but curious ones, because people want to know. There will be a Black family with kids who will want to talk.Tell them about how people of African descent impacted the European past. Remind them we were everywhere.
Tell them about how people of African descent impacted the European past. Remind them we were everywhere.
There will be a well-meaning White woman with questions about women in society. She will want to touch your turban. Don't let her. Do tell her how to tie one. Do recommend a book and encourage her to remember that women in the past were like her. They wanted to raise useful citizens, keep a house halfway clean, and look decent on a Sunday.
But be ready for the hostile questions too. A Renaissance Faire may be the best parts of the Renaissance, but it can be the worst parts of America. Don't be afraid to walk past the loud drunken crowd of men at the ale stand, but do take an escort. Don't try to talk sense to the racist who wants to yell at you about revisionism, about how this is his history, not yours. Let your allies be allies and step between you. If that fails, call security.
Don't try to talk sense to the racist who wants to yell at you about revisionism, about how this is his history, not yours
Don't just learn the history, learn a persona too. Pick a character, an aspect of your personality, and make it huge. Inhabit this character as a way to bring history to life. Answer people's questions as your persona, use her as a frame around which to learn and as a vehicle to teach. This is your chance to be larger than life, to let your inner Shakespearean actor out. Learn to project, to take up space, to command a crowd. Enjoy the audience. These are skills that will support you everywhere.
And dear self, insist on being Black, not color-blind, not white with a tan. Wear yellow and orange and red with a headwrap and bright jewelry. When people ask if you're a Nubian, and they will, laugh and correct them. Explode their assumptions and enjoy every moment of it. Learn and play and teach all weekend then go back to your day-to-day exhausted, but looking forward to the next weekend. It is as much fun as it seems, and there are more of us out here than you think.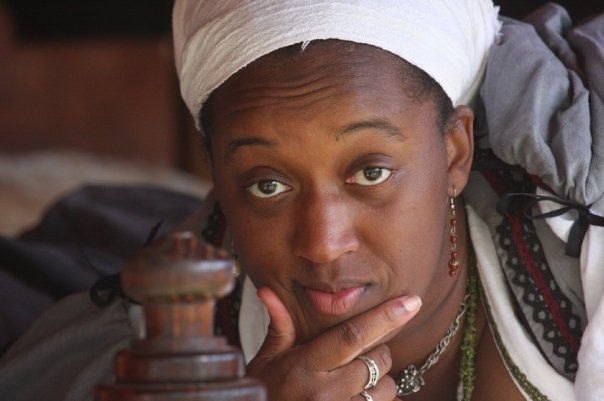 Are you a Black Ren Faire goer, gearing up for the season? Hit me on Twitter or Instagram with your pictures, I'd love to see them!
Photo Credits:
Top image from the Medieval POC (People of Color in European Art History) Tumblr
Two photographs of author courtesy of Bill Watters
Are you following Black Nerd Problems on Twitter, Facebook, Tumblr or Google+?