A few years ago I had a lot of fun putting together some holiday gift guides for my fellow magical girl loving fans, and it also helped place a spotlight on some smaller business owners and creatives.
The holidays are coming up, and you may find yourself at a loss on what to get your favorite hottie who is secretly a magical warrior who only wants to bring peace, love, and good vibes to Earth? Maybe you need a gift about your work spouse who wants loves anything kawaii? Or maybe you just want to send a "I see you, and I love you" gift to your favorite magical person? Hell, maybe you are tired AF from this year and just want to buy yourself something by means of self-care?
TREAT YOURSELF!
*Cue the shojo sparkles and cherry blossom petals*
Here's the 2022 version of the handy little holiday shopping guide that may offer up some recommendations!
---
1.) Joshi Pro Wrestling Magical Girl Art Print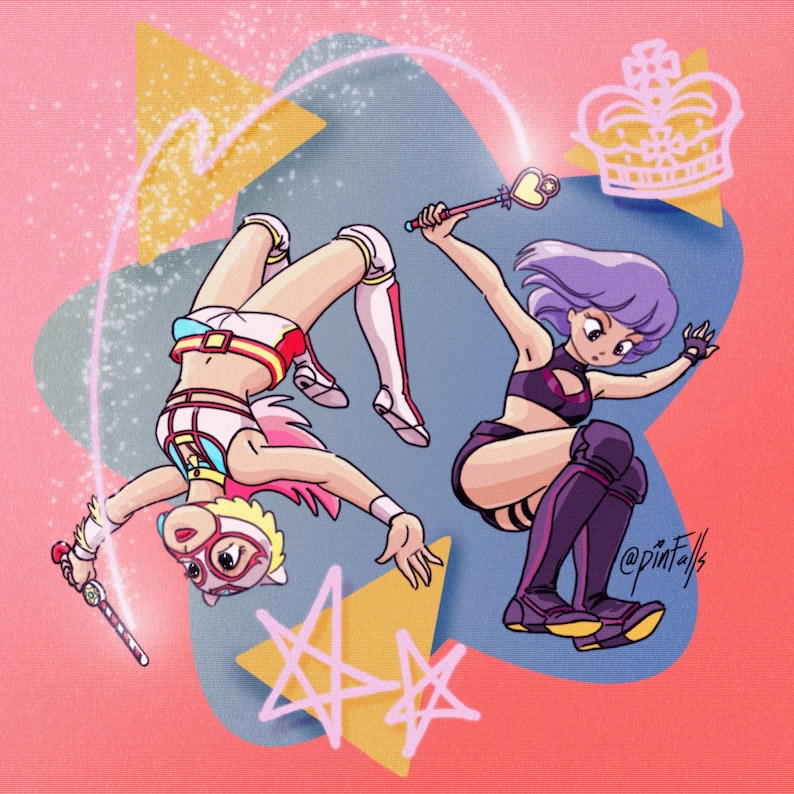 Where my STARDOM fans at?! This super cute print from California based company pinFALLS features Minky Momo vs Creamy Mami as Starlight Kid vs AZM. Consider for the shojo and wrestling loving fan in your life who's looking to liven up an office space, a cool wall, or bookshelf. These prints, honoring 80's magical girls, come in two different sizes and are printed on thick and durable matte paper. Add to your cart here!
---
2.) Planchette Collar Pin Set or Enamel Pin
Also available as an individual enamel pin, Sheila Wong nails the magical girl inspired aesthetic again with this gorgeous collar set. In case you were wondering about the stability of the pins: they have two backing posts and rubber clutches. Wong's website tells us that the pins are joined with an eight-inch metal chain with the chain being removable! Pins can be worn as a set, or individually. Add a bit of magical flair to any collared shirt for work or a special event, purchase here!
---
3.) Sailor Chihiro Pin
This adorable pin mashup of Chihiro from the Studio Ghibli masterpiece Spirited Away from 2001 is available form newish pin makers Sunflower Honey. SH is run by two best friends who love all the weeb and nerdy things life can offer! As Millennial black women from Texas, they enjoy the pin community and the art of collecting!! While I really dig their Melanin Guardians pin sets, this pin of young Chihiro is super to make some of us teary. Pick it up here.
---
4. Black Panther Princess Shuri Enamel Pin
I love Laura of Cosmetic Medium's art. Her work really sits at an intersection of all things Black girl magic, magical girl inspired, and everything super cute. While she does have a very obvious inspired Sailor Moon enamel pin in her shop that I own, her Black Panther pins really toe the line for the theme of this gift guide: Princess Shuri–is a magical girl, y'all. This enamel pin features her battle-ready appearance in the first Black Panther film. There's another newer pin in her online storefront that may hit the transformation theme of magical girls perhaps more, but this one reigns supreme in my personal pin collection. Purchase here!
---
5.) Retired Magical Girl Vinyl Holo Sticker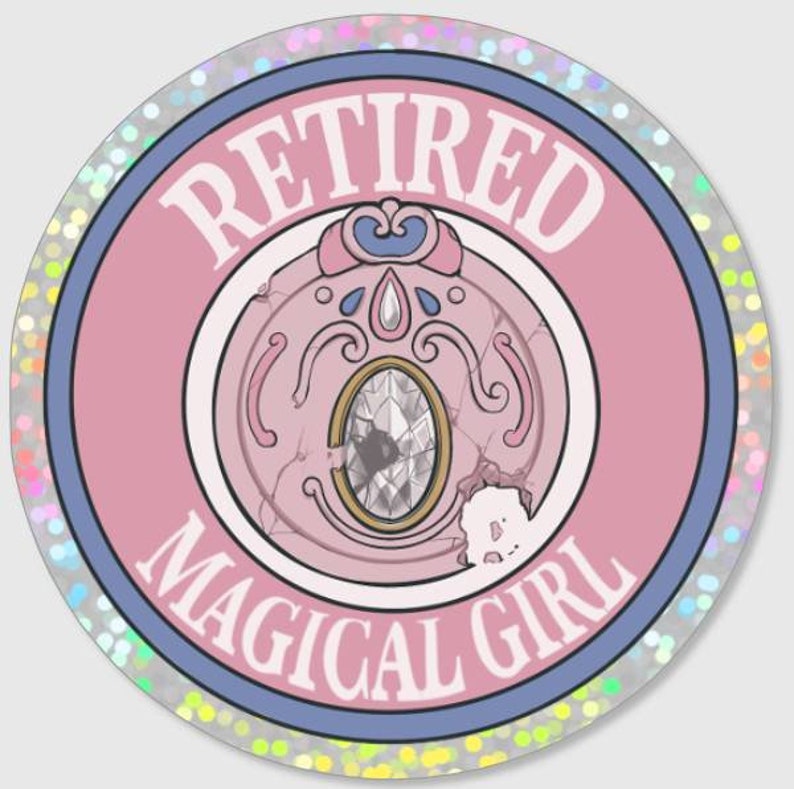 I'm obviously a big sticker fan and will remain a magical girl stan till the day I die. I came across this wonderful sticker and the listing description detailed: "For 25+ gals out there!". Measuring at 4×4 inches, this waterproof vinyl holographic sticker could serve as either a badge of honor or a warning to evil doers anywhere. Pick up here.
---
6. The Magical Girl's Guide to Life: Find Your Inner Power, Fight Everyday Evil, and Save the Day with Self-Care
We're big fans of Jacque who first came on our radar when she launched the Adorned by Chi lifestyle brand back in 2015. Since then, she's gone on to continue her work as a vocal supporter of mental health awareness and self-care amongst Black women. The Magical Girl's Guide to Life: Find Your Inner Power, Fight Everyday Evil, and Save the Day with Self-Care is a book with so much including fun exercises, journal prompts, and personality tests that teach you how your self-care journey starts by uncovering the magical girl within. This one-of-a-kind, manga inspired self-care guide designed to help you discover and harness your inner power is available both in digital and physical copies and would make a cute and thoughtful gift. Purchase a copy here.
---
7.) Puella Magi Madoka Magica Bars Notebook
Offered as a spiral or hardcover, this notebook with 128 pages features a minimalist representation of the girls from Madoka. I really like the simple design and think it would work well in an office or in a school setting when you want some lowkey anime merch for your desk. Use this notebook to write about contracts you regret and also wax poetically about sacrifices that could have been avoided. The same design is available on stickers and even a coffee mug if you'd like to match, check it out here!
---
8.) Sweet Tooth Cardigan
I'm not unfamiliar with Sweet Blitz who makes the cutest apparel and goodies designed for the cute and nerdy. There's so much to choose from: leggings, hoodies, and more. This cardigan with all things sweet caught my eye and might be appropriate to brighten up your day. Double knitted and made from 100% cotton with heart shaped buttons, this looks to be the perfect cardigan warm for the cold weather! See it online here.
---
9.) 3D Sakura Star Keycap for Mechanical Keyboard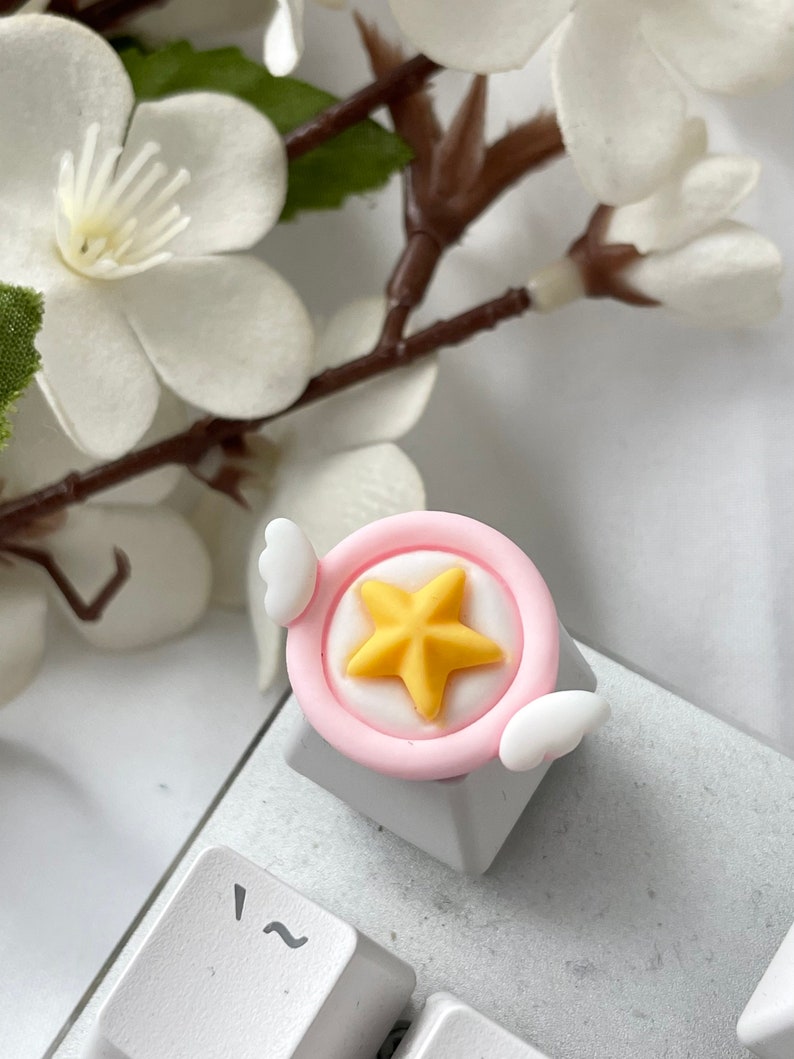 Okay, I'll keep it one hundred with you–I have an extra regular keyboard at home. (Well…it IS an ergonomic one but…) I have plenty of friends and follow folks online who have those really, really nice keyboards with the light up colors and different themed keycaps. It is a world that I wish to enter but won't anytime soon. I was looking for magical girl influenced goods and loved the now sold-out spinning version of this Card Captor Sakura keycap. What else to know in your fight to collect the Clow Cards? These keycaps are handmade, and the detailing looks super pretty. Pick up one or a few here!
---
10.) (Sailor Senshi) Power Dad Cap
I'm not mad at these "Dad Caps" from the online store front of The Sailor Moon Fan Club hosted by our good friend and fellow senshi Victoria L. Johnson. These caps are simple, made of 100% cotton twill and come in all the different planetary symbols representing our fave warriors that back up Sailor Moon. Available in black and white, these caps would be great conversation starters when being a weeb out in the streets or just hanging out with friends. Pick one or more up here!
---
---
Was there anything on this list that caught your eye, fellow magical girl loving friend? Let me know in the comments!
Fancy Disclaimer: I have not received any of these items in consideration of making this shopping guide. I'm just taking a break from reading vintage shoujo manga and wanted to flex. Cheers! Shout-out to small business owners! Be sure to support them this holiday season if you're looking to spend some coin!
Cover Image Photo Credit: Jess Bailey
Want to get Black Nerd Problems updates sent directly to you? Sign up here! Follow us on Twitter, Facebook, Youtube, and Instagram!