Writer: Mark Millar / Artist: Peter Gross / Image Comics
Issue #2 of American Jesus Vol. 2 brings the events of the first book full circle and prepares readers for a divide that may endanger 20 years of preparation and protection. I admittedly was a bit thrown off when last month's issue focused on the events of the Virgin birth and having to whisk Luciana away from her gritty NYC roots, but it makes perfect sense for Mark Millar to lay that groundwork so we understand the paranoia of these folks and gravitas of their actions. But mostly, it was to create a connectivity between decades while acknowledging the fact that a gap of length and tranquility can certainly cause disbeliefs to fester. We see that divide take shape in the worst possible form…in Catalina, American Jesus herself.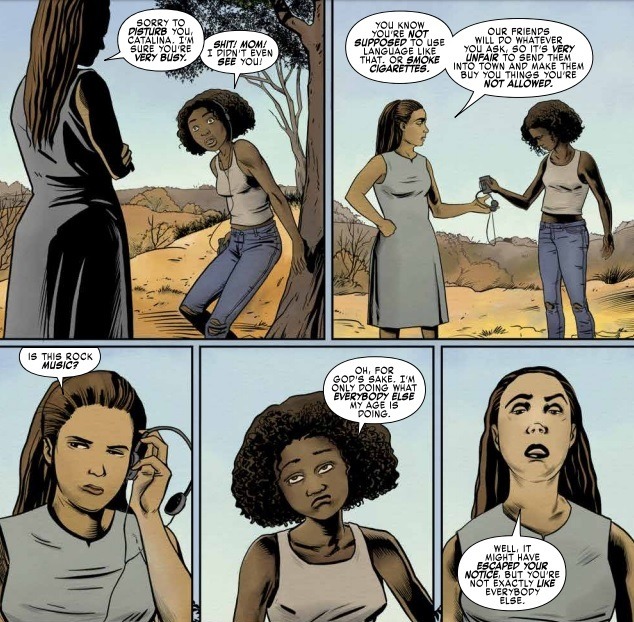 The events of this issue take place in Texas during 1992, as Catalina is just weeks away from her 18th birthday. Millar made a wise decision to level with readers of all ages by showcasing a rebellious teen who just wants to listen to her Walkman, cuss a lil bit and smoke a few cancer sticks. I mean, sure the Walkman and cigs are more palpable to us "millennials" more than kids born in the last 2 decades, but just swap in airpods and vaping and boom, everyone gets it.
Millar has been at his best when he is creating a character that resonates with you, and Catalina is no different. She calls her parents "brainwashed" and the people who worship her "weird." She's feeling like Kimmy Schmidt, and I don't blame her. She hasn't manifested these powers they keep claiming will help her face "the evil one." She has never seen the people who have infiltrated the church and government. She didn't see those doctor's bleeding eyes from issue #1! She simply has no idea and her inability to come to terms with her place as the Most Holy Lamb, makes her reject everything. Unfortunately for her, this is just the moment they have been waiting for. The plot continues to thicken as we get closer and closer to the 2020s, which is when so many of Luciana and Eddie's allies have said will be the time of reckoning.
The longer I sat with issue #2 of American Jesus, the more I appreciated the realistic perspective of a child who grows up surrounded by religious fanatics who would stand in front of a train or take a bullet for the chosen one — she who is the Christ-Child. Despite the gritty, artistic style that doesn't quite whet my appetite, I absolutely adore Peter Gross' ability to create impeccable facial expressions and great scenery in most panels. I didn't think I'd take to this Volume 2, but I can't wait for Millar and Gross to keep them coming.
7.5 Vatican Serpent Cults out of 10
Reading American Jesus? Check out BNP's other reviews here.
Want to get Black Nerd Problems updates sent directly to you? Sign up here!
Follow us on Twitter, Facebook and Instagram!