If you're new to Black Nerd Problems, just take my word for it that that we're big fans of Image Comics' Bitch Planet written by Kelly Sue Deconnick and illustrated by Valentine DeLandro. The blaxploitation vibes meet social commentary tale of feminist tone is one that we, as a site has covered extensively and a comic that I have reviewed and written about in further detail as well.
I happened across these photos of  sisters Hybrie and Faybra in Bitch Planet cosplay photos online and sought them out because one: I love cosplay and BP very much. Two: BP cosplay is rare and lastly, three: the times I've seen black womenfolk cosplaying as BP characters is rarer. I can count the ones I've seen and it's less than two handfuls. I've always considered my fellow non-compliant readers to be cut from a different cloth and now I've finally received a chance to interview some. Enjoy! –Carrie
Black Nerd Problems: Please tell us a little about yourselves. What lead you to two to this particular cosplay?
Hybrie: My name is Hybrie Brownlee. I am a Women's Substance Abuse Counselor. I recently finished a Masters Degree in Social Work from Washington University with a Mental Health Concentration. I chose this cosplay because Bitch Planet is my favorite comic and Kamau is one of my favorite fictional characters in a comic-ever. I found out about Bitch Planet from my boyfriend actually. He gave me the first issue as a gift because he knows how passionate I am about feminism, womanism, and representation.
Faybra: I'm Faybra Hemphill-Jabulani. I am an educator that specializes in Montessori Method, and I'm currently curriculum consulting and teaching at a Montessori academy. I completed my M.Ed. in Elementary Education from University of Missouri in St. Louis in this past May. I also have a BA in African-American Studies from Saint Louis University…Won't tell you how long ago that happened, because, I'll feel hella old.
My sister Hybrie put me on to Bitch Planet earlier this year. She knows that Sexism, Racism, Classism… all those ISMs are my favorite things to impolitely talk about in casual conversation, so she recommended BP to me. We both were hanging on for dear life our last semester in grad school, so we thought it would be fun to go to a Comic con and blow off some steam. It was actually Hybrie's idea to cosplay as the ladies of Bitch Planet.
BNP: Congrats to you both! That's awesome! (#BlackExcellence) Tell us what drew you to the Bitch Planet comic?
Hybrie: What I do for a living plays a huge role in why I love Bitch Planet. The agency I work for is a treatment center for women who are struggling with addiction and mental illness. It's such an honor for me to work with women, mostly women of color, that society has written off as unimportant. Like the women in Bitch Planet, my clients fight back. They fight back through getting clean, finding employment, and getting their lives back. The women that I work with are the definition of non-compliant.
Faybra: Bitch Planet is an extravaganza of Intersectional Feminism— INTERSECTIONAL Feminism, which unfortunately is still a rare find in mainstream media outlets. Kelly Sue (I say that as if she knows me in real life) and the BP team could have easily taken the safe route and made Bitch Planet nice and White, but they chose to bring something inclusive, and authentic to the table. Bitch Planet has diversity in the characters, and it deals with some political topics that are very relevant to the subject of Women's rights, and the urgency of Women's liberation movements. I f*x wit it.
"Kelly Sue and the BP team could have easily taken the safe route and made Bitch Planet nice and White, but they chose to bring something inclusive, and authentic to the table."
BNP: Also, what about the fandom feels welcoming and/or different than other fandoms to you two? You two debuted at Wonder Con this year, how much love did you receive from fellow fans and con goers?
Hybrie: The fandom of Bitch Planet is very welcoming. Everyone who recognized us seemed like people I would hang with! It made me happy knowing that others enjoy the comic so much and wanted pictures of us.
Faybra: I won't lie I had ZERO faith that the Folks at Wizard World would recognize us, or show us love. Thankfully, I was wrong. We got props from Bitch Planet Readers from all walks of life, and we got a lot of love from writers and illustrators who also enjoy Bitch Planet. I was shocked.
BNP: The Orange Prison jumpsuits—did you put them together yourselves? Or partially? Commission someone to make them?
Hybrie: So we put a lot of thought into how we would do the cosplay. We thought about doing orange scrubs, but we said "If we're going to do Kam and Penny, then we should go all out. " We bought the jumpsuits at a local costume store and ironed the non-compliant symbols on.
Faybra: After two hours of scouring a costume warehouse we got matching prison uniforms. 'Twas a journey, for sure. We remixed them a bit by ironing on the NC stickers.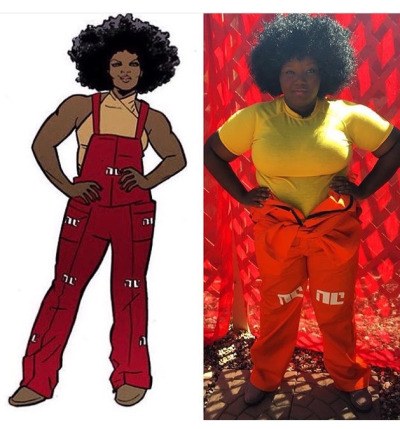 BNP
: Is there a particular scene or single panel of an issue of the comic that touched you or made you feel some kinda way?
Faybra: Issue No 3. The very last page. Penny looks into the mirror and sees her ideal self exactly the way she is. That is so powerful. I had to dig deep and ask, is my ideal self me, just as I am? It's a tough question to answer for sure.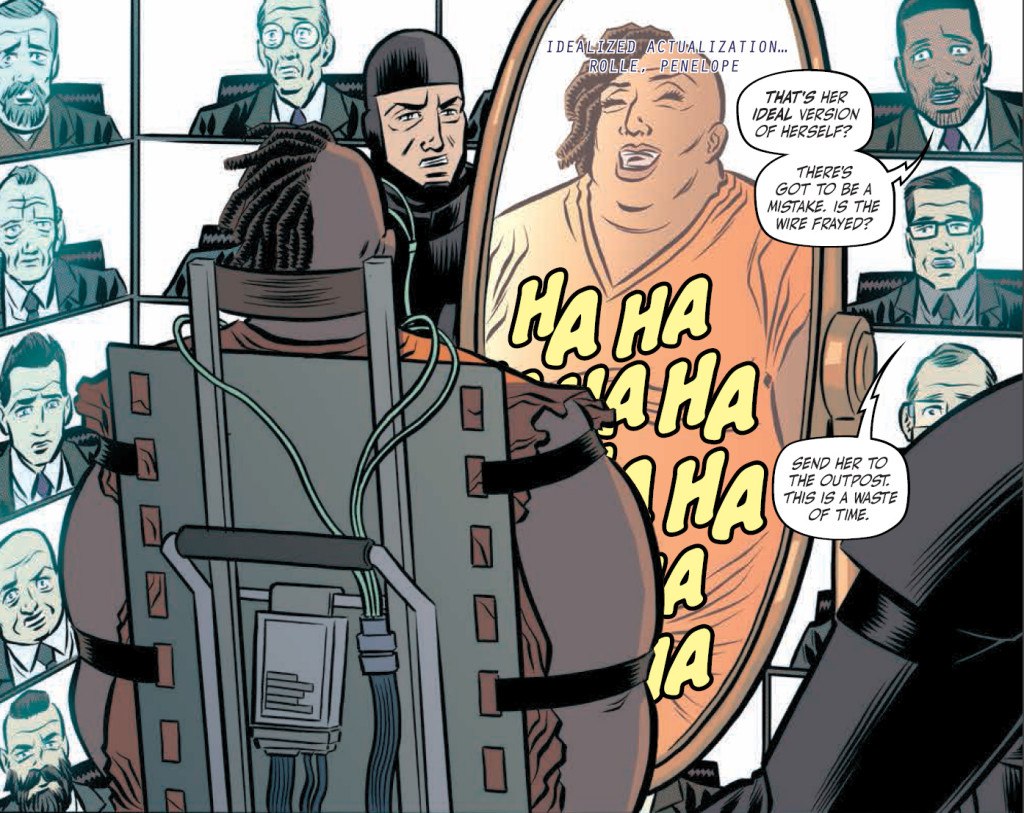 BNP: Kamau Kogo is definitely a mastermind, forget clever. As leader of BP's motley crew chosen for the sport—we see her constantly making plans and one-upping folks. Hybrie, what is her appeal to you? Do you share her drive, her determination?
Hybrie: I don't think there's ever been a character I've identified so much with. I usually find myself coming up with a plan and being the "brains" out of my circle of friends. She symbolizes both physical and emotional strength to me because of her ability to organize and plan even in the midst of BP confinement. Truthfully, even Kamau's appearance really makes me identify with her more. Seeing a darker skinned black woman with natural hair calling the shots makes me cherish reading it even more because I don't typically see myself in graphic art.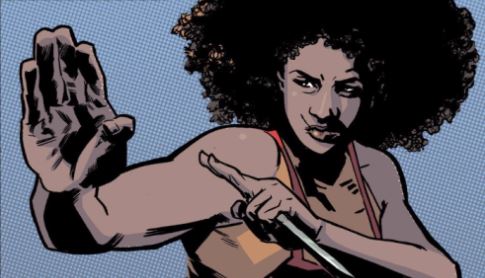 BNP: Like many people, I, too, love me some Penny Rolle. She stands tall as a confident black woman who loves her body and who lives in a world whose society constantly attempts to make her hate hers. What do you love about Penny that inspires you?
Faybra: Penny Rolle is an ass-kicking, not givin' af, Big Black girl with Nappy Dreadlocks… I mean that's me in a nutshell. Seeing myself in Comics, let alone mainstream media in general is not something I was really able to do until I started reading Bitch Planet. Penny's personality and physical attributes are authentic, she represents people like me, and Representation of women of color in entertainment is something that I heavily value.
Penny provides more than just a familiar image, her character deeply resonates with me. I see Penny as an unapologetic woman of color who knows who she is, and has the audacity to be proud of it, despite what mainstream society thinks. I'm still working on that challenge; to be authentic and unapologetic no matter what intersectional odds are against me.
"Penny's personality and physical attributes are authentic, she represents people like me, and Representation of women of color in entertainment is something that I heavily value."
BNP: Lastly, What does Non-Compliant mean to you?
Hybrie: Non- Compliant to me means justice warrior. There is so much power in having the courage to simply be yourself despite what the norm is. Any person who is "different", meaning not society's dominant group, and chooses to own it, that is non-compliant and fiercely kicks butt in the most beautifully subtle way.
Faybra:'Brie couldn't have phrased it better!  That's why she's the Kam to my Penny!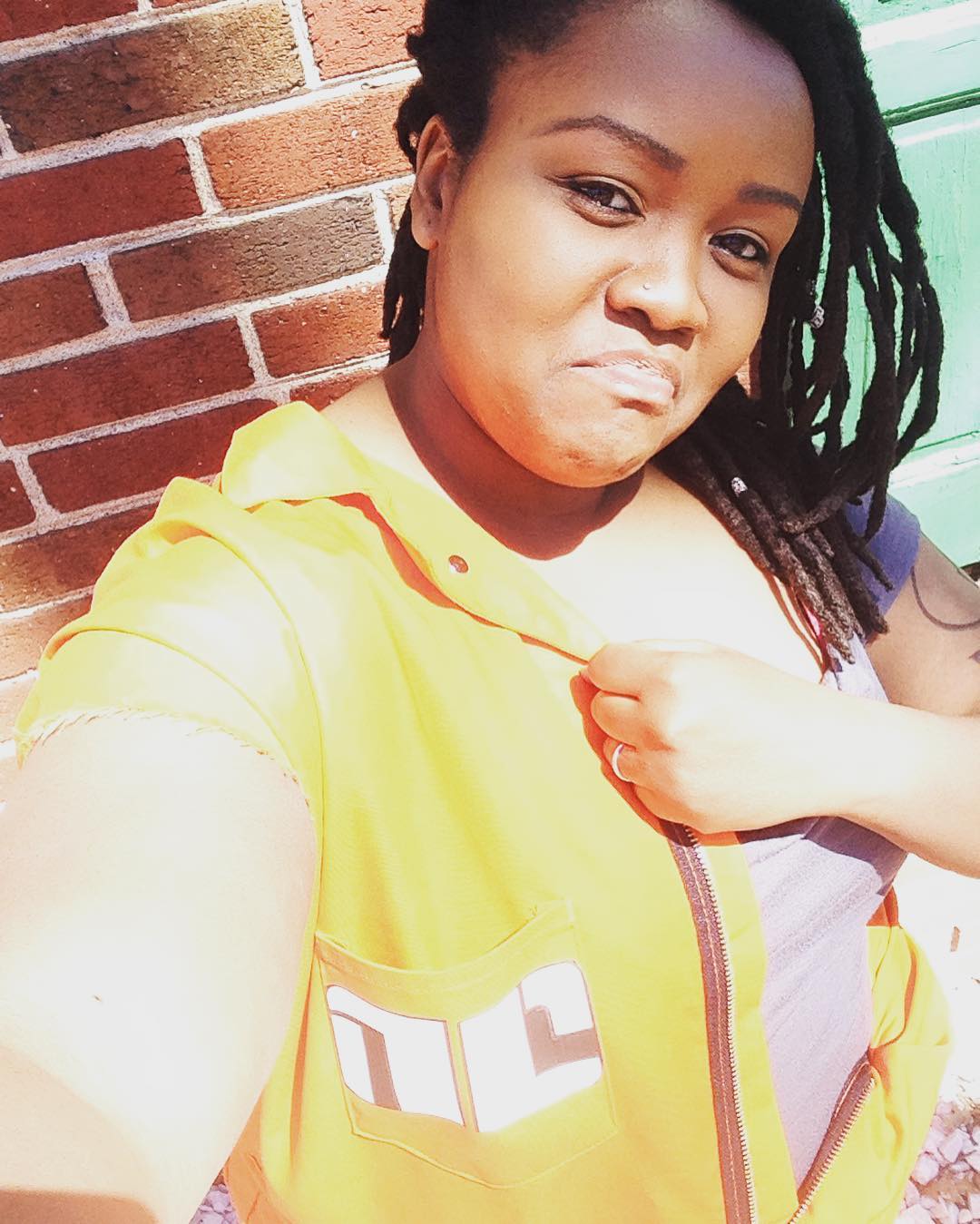 To quote Faybra: "When my sister and I decided to cosplay as Kam and Penny we had no idea if people would "get it." But we did it anyway because Bitch Planet is a comic for us, and representation matters."
I love seeing the BP fandom embrace the characters we've come to love with every new issue. I love seeing fellow readers embrace being non-compliant and adding it to their mantras to get through their toughest days.
I love seeing fans share stories of why Bitch Planet is important to them, how it inspires them, ultimately how they carry it with them beyond the comic book store. I'm here for the movement that Bitch Planet brings.
I'm here for the safe place that it's helped carve out for many of us and all the lines of dialogue that's been opened up as a result. Here's to being non-compliant and being here for all my sisters in the struggle who are too.
Are you following Black Nerd Problems on Twitter, Facebook, Tumblr or Google+?
Interview Published on: Jun 27, 2016