Illustration by Yves-José Malgorn
An idea was kicked around with the women of BNP about writing a bit on our favorite characters from video games. Usually, a male-dominated fandom and workplace, it's still great to hear from other women about the women they loved to play as, play against and see. From the days of old school video games consoles like the Atari to the to all these next gen consoles there have been women within these worlds that we lived through and admired every time we picked up a controller, went to an arcade or even rocked with the PC version. NPC or main cast member. Teen or grown woman or tiny child. Summoner, Gunner, Hired Killer, Undead Baddie, Corporate Spy or even leader of a revolution: there are so many favorites. Here's an entry in a series of us womenfolk writing about the womenfolk that ultimately have to be credited in making the experience of playing that particular game one to remember.
[divider type="space_thin"]
The Walking Dead's Clementine
Like many of you who have been playing over the years, I feel like I've been raising Clementine. From her first appearance as the 8-year-old clutching tight her walkie-talkie hiding out in her tree house when the zombie apocalypse hit to the more mature teenage survivor currently, Clem is family at this point.
I remember eons ago playing through the first piece of the story Telltale The Walking Dead game fed to us introducing several characters but it was Lee Everett, a man who found himself on the wrong side of the law before the Zombie apocalypse hit, crossing paths with a little girl he would soon call his own, protect and teach to survive this new world. They went from strangers to two people who became a family unit–with Lee, perhaps being one of the best persons around to prep this precious child for the madness the world fell into. His love for her, his lessons, his legacy lives on through her. Looking back how could I have known how emotionally tethered I would be to these two? Looking back truly, how could I have known just how much character development Clementine would undergo–just how fast she had to grow up?
In a sense, she's a reminder of several people I know, people who were once children forced to grow up too soon. Children that were unable to simply have a normal childhood–to have normalcy ripped away from them due to the circumstances life throws at them. It's not lost on me that Clementine is ambiguously "brown". EDIT: Clem is black! (Thanks for the correction, Video Games In Color.) In the first season of the game, she travels with Lee, who is Black and is mistaken as his daughter at least a few times over. I sit and reflect on the plight of real like Black and Brown children: like how Tamir Rice's sister, Tajai Rice, missed 100 days of school after the shooting of her younger brother by a police officer as he played at a park. I think of the young Lantix teenagers who were later arrested in Anaheim after a altercation where an undercover cop pulled out a gun and fired while surrounded by children.
In Season two, Clem becomes the main protagonist, she's the person the gamers get to play as. It's a thrilling and heartbreaking experience. She is a little older, a little wiser but still a child. Still inexperienced in the eyes of adults but still a useful member of a group by knowing how to defend herself and kill walkers to the best of her ability. She proves to be capable in talking down agitated and grief-stricken people and willing to risk her life to help plan daring escapes. She is still underestimated because she's a kid and small but that doesn't deter her from using that to her advantage when certain obstacles pop up. She uses her small size to get to places others can't necessarily reach, her presence makes some people hesitate, invoking surprise throughout this episode nearly each time she meets someone new.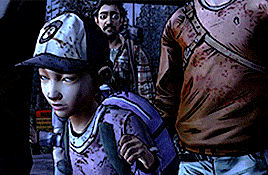 While not everything goes exactly as planned, her compassion and being quick on her feet as well as good with her hands comes in handy time after time. As the gamer you have to make some terribly tough calls and decisions in Clementine's shoes, calls that are not popular, decisions that others will judge you tremendously for. In someways as a continuation of lessons learned from the first season: we learn that you can not save everyone and good people do die, good people do leave you. But in addition? This little girl just swings with the punches here and I really felt she had a sense of agency blossoming. She is still here. Still standing.
The latest season of The Walking Dead, season Three brings us a playthrough whereas the main protagonist is switched back from Clem to another individual. She is back to being a side character and the focus is off her. This is rather disappointing but she never completely fades into the background as she is the guide, guardian, ally, executioner, runaway and ultimately, even a human bargaining chip.
Sure, she's a hardened person who has been keen on being on her own but there are still glimpses of when her conscious peaks through. At such a young age, Clem has had to make a lot of decisions that even adults would have stumbled over– and live with them. And carry the consequences of her actions with her. This season we've watched her wrestle with helping someone find his family while still attempting to have some self-preservation to cover herself. It's a striking parallel to season one where Lee signed on to help her find her family, her parents while still looking out for himself. What will this cost her? What sacrifice will be expected of her before this part of the story is through?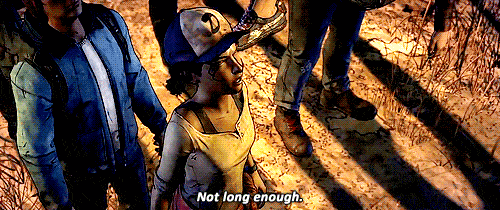 But at the heart of it all: why do I love Clementine so much? Why is this fictional girl so dear to me, what makes her significant enough to write on? Can I appreciate that's there's still a bit of good in this fucked up world? Can I appreciate that someone who loved her once instilled enough in her to be a halfway decent person? Sure, it's a zombie infested plane of existence here but can I wax on about seeing a little girl grow into a young adult in a world that literally has something out to get her every day?
Walkers. Bandits. Extreme weather conditions. You name it. Can I celebrate a girl child surviving when I, too, know that every day I walk out the door I may very well face something that is detrimental to me, my health, my livelihood?  Yo, I've experienced aggressive street harassment as of late. I worry about the lack of news coverage about missing Black girls and women, I think about how Black girls and women are victimized by police. I can't say I feel too confident on having complete agency of my body as a woman under our newer President's Administration.
But back to Clem, I want her to win. I want her to survive. I want her to thrive. I want her to have her vengeance. And…somewhere along the way I want her to find her place and have a family again, but I'm not brand new or wet behind the ears–I know how this works. Telltale has recently dropped the trailer for the third episode of this current season which features Clem in the precious last seconds of the video up against a foe and losing someone close to her. Sound the horns, let's prepare for war. Clementine is back, even if she's delegated to play second fiddle–I'm in.
Did this piece resonate with you? Read the other entries in this series.
Are you following Black Nerd Problems on Twitter, Facebook, Tumblr or Google+?