Relaunches, am I right? Sprawling out of Marvel's latest Secret Wars event comes a whole new Marvel Universe, and with that a whole new dynamic for some of our favorite heroes. Now you might be asking yourself, "Well gee, where do I even begin with these All New, All Different titles?" Fear not, my peoples, you know we got your back like chiropractics.
Returning Favorites
[title type="h2″]Ms. Marvel[/title]
Wrtier: G. Willow Wilson / Artists: Takeshi Miyazawa and Adrian Alphona
Now I admit I was a little late drinking the Kamala Khan Kool Aid, but once this title hit its stride it never looked back. Writer G. Willow Wilson has crafted one of the most consistently brilliant comics to hit stands in the past few years and Kamala is finally coming into her own as well as being drafted into the ANAD Avengers. You can bet all eyes will be on her in this upcoming volume.
[title type="h2″]Amazing Spider-Man[/title]
Writer: Dan Slott / Artist: Giuseppe Camuncoli
It's great to watch someone who knows what they're doing master their craft. Serena Williams is an excellent tennis player, Ronda Rousey can knock the hell out of some people, and Dan Slott knows how to write Spider-Man. Slott's given us some of the zaniest Spidey plot lines to ever grace comics. The entire city of New York is gifted with Peter's abilities, check. One of Peter's greatest foes takes control of his body… and somehow manages to better his life? Um, check. Peter meets EVERY SPIDER-MAN FROM EVERY DIMENSION EVER?! Check, check, and motherf#$#ing check! All eyes are on this latest volume as Slott takes Peter to the next step of his life. That's right, Spidey's going global, baby!
[title type="h2″]Astonishing Ant-Man[/title]
Writer: Nick Spencer / Artist: Ramon Rosanas
Seeing as how there aren't a lot of long-time Scott Lang fans, it would've been real easy for Marvel to throw anything on shelves just to say they had a title that coincides with last summer's feature film. Instead the book wound up landing in the hands of rising star Nick Spencer, whose five-issue run on the character did his best to fill the void left by Fraction and Aja's Hawkeye series. I can't wait to see what Spencer has in store for Scott Lang in the upcoming volume.
Absolute Must Reads
[title type="h2″]All-New All-Different Avengers[/title]
Writer: Mark Waid / Artists: Adam Kubert, Mahmud Asrar
Let's just get this out the way: Johnathan Hickman's Avengers/New Avengers run deserves all the praise it's received and then some. But while it may be a tough act to follow, it certainly isn't impossible. Enter Mark Waid, coming off an two impressive Daredevil volumes and an Archie relaunch that you'd have to be a fool to ignore. Waid is on board to pen the next generation of Earth's Mightiest Heroes which include Iron Man, Captain America, Thor, Vision Nova, Ms. Marvel and Spider-Man. SQUUAAAD!
[title type="h2″]Captain America: Sam Wilson[/title]
Writer: Nick Spencer / Artist: Daniel Acuña
It's a brand new day.
When Sam Wilson became Captain America last year, lots of discussions sparked off over Marvel Comics' decision to have someone else (read: Black) take over the mantle of Steve Rogers. In fact, up until this point Sam's adventures haven't been all that different from his predecessor's. Issue #1 of Captain America: Sam Wilson has already hit stands and the White tears are flowing. Everyone both real and fictional have something to say about Sam's newfound liberal/progressive ideals. It's easy to say that this Captain America revamp is a cynical grab for publicity by Marvel. But I don't think it is. Sam Wilson is a character who's been a social worker and has run for Congress. He's always been a character who tries to serve and protect his community from the ground up. Now that he's has a higher profile, it makes sense for the character to try and do the same on a larger scale. This is definitely a title to keep in your pull list.
[title type="h2″]Black Panther[/title]
Wrtier: Ta-Nehisi Coates / Artist: Brian Stelfreeze
Honestly, what can I say about this title that hasn't been said on this site before? There's a lot of speculation on where Coates could go in this year long arc, and we're looking forward to following every step of the way.
All aboard the hype train, toot toot!
[title type="h2″]Spider-Man[/title]
Writer: Brian Michael Bendis / Artist: Sara Pichelli
Ladies and Gentlemen, it finally happened!
Miles Morales has finally crossed over into the 616 Marvel Universe, and around the BNP office we couldn't be any more thrilled. With Pete trotting around the globe it's up to Miles to hold NY down like his mentor did. If that isn't enough to get you excited, the latest volume in Miles' journey is also being revisited by the original creative team of Brian Michael Bendis and Sara Pichelli. Praise be the glory!
Worth Checking Out
[title type="h2″]All New Wolverine[/title]
Writer: Tom Taylor / Artist: David Lopez
I admit it: ever since Logan kicked the bucket on folks, Marvel's line has had a huge hole to fill. Enter Laura Kinney, b.k.a. X-23, n.k.a. Marvel's All New Wolverine. Just look at her, people! Donning that throwback Mitchell & Ness Wolverine colorway from the 90's, ready to issue fades on sight! Wolvie looks to be byke on that murda bidness. How can you not root for this title?
[title type="h2″]Moon Knight[/title]
Writer: Jeff Lemire / Artist: Greg Smallwood
Jeff Lemire is the latest writer penning the Marc Spector saga… do I really have to say anything more?
[title type="h2″]Black Widow[/title]
Wrtier: Mark Waid / Artist: Chris Samnee
You mean to tell me the same award winning team from the legendary Daredevil volumes are now taking on Natasha Romanoff? Sign me the f@#& up!
[title type="h2″]Ultimates[/title]
Writer: Al Ewing / Artist: Kenneth Rocafort
Writer Al Ewing has a huge following here at the BNP office, but we all hope his latest book lives up to the work that came before it. I mean, would you just look at this roster? This really ain't the squad you want knocking at your door, fam. But don't take my word for it — Omar, talk to the people, fam!
[title type="h2″]Doctor Strange[/title]
Writer: Jason Aaron / Artist: Chris Bachalo
Writer Jason Aaron has been doing the Lord's work rewriting the Thor mythology for a hot minute. And as they say, when you got the hot hand, you have to continue throwing shots up. So now Aaron has taken his talents over to the wonderfully odd world of Doctor Steven Strange. After reading the first issue, it looks as if the Doctor is in good hands.
I Mean… I've Been Wrong Before
[title type="h2″]Spider-Woman[/title]
Writer: Dennis Hopeless / Artist: Javier Rodriguez
There's no nice way to say this, but Dennis Hopeless' last Spider-Woman was pretty terrible, turning away readers with it's questionable writing and even more questionable art. So you're telling me that writing a pregnant Jessica Drew is going to change things? Well at least we have that Jessica/Gwen/Cindy Moon book to look forward to… oh wait.
[title type="h2″]Totally Awesome Hulk[/title]
Writer: Greg Pak / Artist: Frank Cho
Now this is just me nitpicking, but I always saw the eighth-smartest man in the Marvel Universe a worthy successor to the Iron Man mantle more than anything else. But I mean look at the kid, he looks beyond happy to be a Hulk.
[title type="h2″]New Avengers[/title]
Wrtier: Al Ewing / Artist: Gerardo Sandoval
As stated earlier, we're huge fans of Al Ewing's work. But it's hard not to look at this roster and not want to leave this book on shelves. I mean, we just came off a God tier Illuminati-led N.A. book, then one volume later and Squirrel Girl of all people made the roster? SQUIRREL GIRL?! Seeing as how the first issue already got off to a rocky start, it makes you wonder if Ewing bit off more than he can chew this go around.
[title type="h2″]Carnage[/title]
Wrtier: Gerry Conway / Artist: Mike Perkins
I am just going to ask this one question then flee the scene. Has Carnage ever had a good book? I'll wait.
A Few More Titles To Look Out For
[title type="h2″]Moon Girl and Devil Dinosaur[/title]
Writers: Amy Reeder, Brandon Montclare / Artist: Natacha Bustos
[title type="h2″]Daredevil[/title]
Wrtier: Charles Soule / Artist: Ron Garney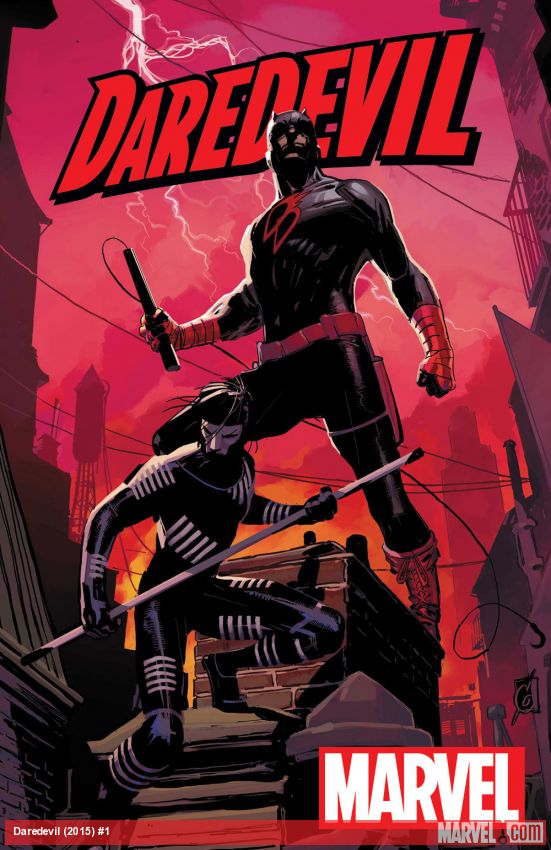 [title type="h2″]Patsy Walker A.K.A Hellcat[/title]
Writer: Kate Leth / Artist: Brittney Williams
[title type="h2″]Power Man and Iron Fist[/title]
Writer: David Walker / Artist: Sanford Greene
[title type="h2″]Red Wolf[/title]
Writer: Nathan Edmondson / Artist: Dalibor Talajić
[title type="h2″]Old Man Logan[/title]
Writer: Jeff Lemire / Artist: Andrea Sorrentino
What titles from Marvel's new line are you excited for? Sound off in the comments section below, and read along with our comic reviews each week.
Are you following Black Nerd Problems on Twitter, Facebook, Tumblr or Google+?