Let's hurry up and get this out of the way. Dandara looks amazing. I don't know where Long Hat House came from but thank you for bringing us this Afro-Brazilian queen.
Awesome heroine. Check.
Crazy looking gameplay. Yep.
Dope as hell pixel art and music. I'm here for it.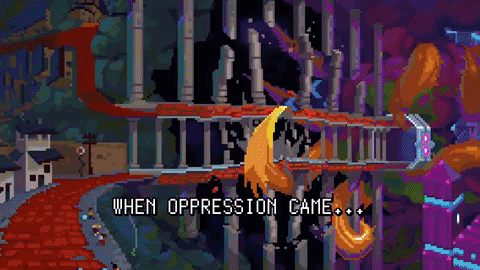 Dandara puts an interesting twist on your usual side-scrolling platformer. The titular heroine, Dandara, doesn't actually walk or run, she jumps everywhere, clinging to walls, ceilings, and floors. Ricocheting through levels, you'll encounter enemies and unlock attacks and secrets along the way. Combined with the topsy-turvy level design and a hectic environment, it's highly exploratory and looks like a ton of fun to play.
One unique aspect of Dandara is that the game is inspired by an Afro-Brazilian freedom fighter from the 17th century. It would be fun to see a making of the game one day just so we can get some background on the historical figures that inspired Dandara. Similarly, the game has our lead heroine taking on oppressors who have wreaked havoc on her home. Developers Long Hat House even used locations from their hometown of Belo Horizonte in Brazil as inspiration for the game's locals.
It's personal creations like this that I'm happy to see. They are made with care and attention to detail. And there aren't enough black leads in video games. There just isn't. To be honest, many of the black game characters that exist are either side characters or poorly misrepresent people of color.
It's always great to see such unique games coming from creators of color and the indie community. Plus, I'm a sucker for almost anything Metroidvania. You can count me down for picking this one up on release. For those wondering, you won't have to wait long to pick this one up. Dandara arrives February 6th, 2018 for the PS4, Switch, Xbox One, Nintendo Switch, PC, iOS, and Android.
Are you following Black Nerd Problems on Twitter, Facebook, Tumblr or Google+?