What makes our favorite animated series so great? While many nerds will tell you it's the artistic style, the relatable dialogue, or the engaging stories that cement shows like Teenage Mutant Ninja Turtles, Ben 10: Omniverse, or Transformers: Animated as cartoon classics, these titles also have one other very important thing in common. Meet Sebastian Evans, one of the few Black composers in this field whose superpower is moving you to tears, sending shivers down your spine, and filling your heart with hope… all without you even realizing it.
Black Nerd Problems: Tell us a little about yourself that we can't find on your impressive IMDB page.
Sebastian Evans: I started by watching movies. I went to see Return of the Jedi when I was six or seven, and it got to the part where [Admiral Ackbar] goes "It's a trap!" and the music got big and I was like, "What's that about?" I begged my parents for piano lessons, jazz band, musical theatre, anything that offered music. My first job was Super Robot Monkey Team Hyperforce Go! for Disney. I'd met Ciro [Nieli] four years earlier in line for Phantom Menace.
And I like legos.
BNP: Do you identify as a nerd?
Sebastian: Yeah (not by choice). I always have been and had nerd friends and done nerd things.
BNP: What is it that draws you to scoring for animated works?
Sebastian: It seems with the landscape now you can do a lot of exploring. I've always enjoyed animation and cartoons. Like watching Tiny Toons and Looney Tunes. That's mostly the people I've formed relationships with. It's also a lot of fun.
BNP: What do you think makes music necessary to these shows and movies?
Sebastian: It depends on the medium, but you always need music. I remember seeing the cut online of Star Wars without music. The dialogue doesn't get across the emotion and the impending doom. Music actually gives some kind of connection to you that is not conscious.
BNP: What's your process for composing a piece? Do you have ideas and find ways to include them in the show or do you let the show inspire you?
Sebastian: I always get ideas right when I look at something. When I look at a cup of coffee I'm getting some kind of idea. When you're doing a show, the first thing you have to do is find out what the show needs, what it's lacking. My job is to tell the story of the episode. Directors are different, either "I want this for this!" or "Go for it!"
BNP: What's the coolest thing you've ever scored?
Sebastian: Definitely the coolest thing has to be what I'm working on now, Ninja Turtles, because I grew up a huge Ninja Turtles fan. It's like, "You wanna work on the thing that's a big huge part of your childhood?" I also worked on Transformers, but I feel like Transformers never went away.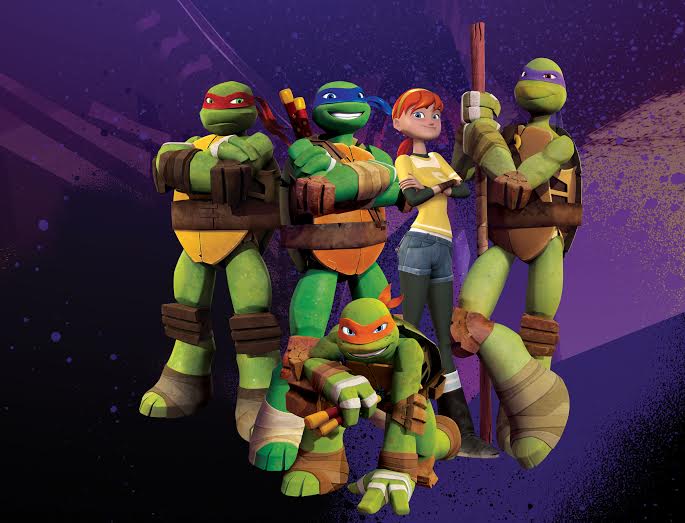 [divider type="space_thin"]
BNP: What's the most difficult thing you've ever scored?
Sebastian: I guess it'd be Ninja Turtles. It's a little complicated so each episode is completely different from the last. One is a very serious kung-fu drama. It's all over the place. I've probably done each genre and we're only in Season 4. They'd say, "Yeah, we need like… this country meets Jason, Friday the 13th but like… a lot of twang." "All right, I'll get back to you."
BNP: What inspired your style?
Sebastian: I feel like my style is influenced by hip-hop. I kinda grew up listening to standard classical musical like Tchaikovsky, but also Mos Def, Beastie Boys, NWA.
It sounds organic. Rhythm is a big part of how I compose things, like broken motifs. I feel like that's a little different than most composers.
BNP: What are your favorite scores in media? Favorite songs?
Sebastian: My favorite score has been the same for a long time "The Piano" by Michael Nyman. As far as favorite piece or song, that is really hard. "Everything In Its Right Place" by Radiohead, that's probably one of my favorite songs.
BNP: Who's your favorite composer?
Sebastian: That's hard. I guess my favorite right now. Michael Giacchino. He's the Pixar guy. He's the one I listen to like, "That's dope, you're good at this." My favorite of all time is Thomas Newman. Nobuo Uematsu, the composer of Final Fantasy, McCreary, John Williams of course.
BNP: What would be your ideal project to work on?
Sebastian: Probably something like House of Cards. I like to do subtle things. Like The Walking Dead. Something where the music plays such an important role but you don't even notice it. Also Star Wars Rebels, anything Marvel or DC. My wheelhouse is probably a very personable type sound.
BNP If you could write a score for any fictional character, who would it be?
Sebastian: That's funny because I would've said Ninja Turtles, but now it's gotta be Star Wars. If someone could be like, "Oh man that person who was working on Star Wars, their hands broke, yours aren't. Would you do us a solid?"
BNP: Black composers, especially in a professional scoring capacity, seem few and far between. Why do you think this is? Has there been any added pressure or obstacles because of this?
Sebastian: I can say from my own personal experience I haven't had anything I perceived as a racial wall. It's not like there's a huge access in general for minorities to learn classical music, and that's the foundation. When I was growing up I had no idea that there was any Black composers but I grew up in a completely diverse environment.
BNP: Who is your favorite Teenage Mutant Ninja Turtle and why?
Sebastian: Donatello, 'cause he's like the dork of the crew. Growing up that was the turtle I identified with. He's very intelligent. Maybe I'm not as dorky.
You can listen to Sebastian using his amazing Black nerd composer skills in brand new episodes of Teenage Mutant Ninja Turtles on Nickelodeon or check out the playlist below on Soundcloud:
Are you following Black Nerd Problems on Twitter, Facebook, Tumblr or Google+?