Perhaps, you're like me and you keep seeing the teasers and different trailers for the latest shonen glorious creation titled Chainsaw Man, and you keep doing the surprised Pikachu face in real life–because just what is this glorious, bloody mess and how can you figure out what it's all about?! BNP got you! Here's a mostly spoiler free guide for anyone who wants to know the 411 of one of the most anticipated anime coming this Fall!
---
Log line:
Broke young man + chainsaw demon = Chainsaw Man!
Who Created It:
Tatsuki Fujimoto. He's a manga creator who won an Honorable Mention in the November 2013 Shueisha Crown Newcomers' Awards for his debut one-shot story "Love is Blind." His very first series Fire Punch ran for eight volumes. Chainsaw Man began serialization in 2018 in Weekly Shonen Jump. Now, with over over 15 million volumes sold, the anime adaptation will release later this year.
What Is It About:
Denji is a teenage boy living with a Chainsaw Devil named Pochita. Due to the debt his father left behind, he has been living a rock-bottom life while repaying his debt by harvesting devil corpses with Pochita.
One day, Denji is betrayed and killed. As his consciousness fades, he makes a contract with Pochita and gets revived as "Chainsaw Man"–a man with a devil's heart.
Who Would This Appeal To:
Folks who love an under-dog in their media
Folks who love the Shonen manga and anime
Folks who love the horror, comedy, and fantasy genres
Folks who enjoy anime from the incredible animation studio MAPPA
Folks who love dark humor and comedy that's oddball at times and even a little gross
Folks who love media with an interesting cast of personalities in the characters on the page or screen
Fans of Tatsuki Fujimoto and/or people looking to maybe use Chainsaw Man as their gateway title in his work
Can My Kid(s) Read/Watch it:
Sure, if your kids are "children of Rihanna born in the fires of chaos." In all seriousness, Chainsaw Man is NOT for the little ones. Chainsaw Man is NOT your kid brother or kid sister's anime demographic. Please DON'T make this mistake.
The manga is labeled as "TEEN PLUS". On the Viz website, Teen Plus "may be suitable for older teens and adults. For example, may contain intense and/or gory violence, sexual content, frequent strong language, alcohol, tobacco, and/or other substance use." So steer the younger readers and anime watchers away from this one! You are welcome! TL:DR: Wu-tang is for the children, Chainsaw Man is not.
(Side note for parents, guardians and educators: the Common Sense Media website does have some anime and Japanese animated related entries and follow-up articles. For example, see what they have on their site for Spirited Away (2002) here, here, and here.)
Where Can I Read It:
You can read on the Shonen jump app, like I am. If you want physical copies, volumes one through eleven (with eleven being the final volume) available now at most places that sell books like Amazon, Barnes & Noble, Books-A-Million, Bookshop.org, RightStuf, Walmart and even some comic book stores.
What's a Fun Fact That I Should Know:
As reported by Crunchyroll last year: Chainsaw Man received the award for Best Manga by the Harvey Awards during the live stream at New York Comic-Con. Shout-out to Deb Aoki for tweeting about it while attending! The Harvey Awards, a staple award of the US comics industry that recognizes the best work of the industry in multiple categories since 1988, announced that Chainsaw Man won in a list of nominees that include fan favorite Spy x Family.
Who are Some Important Characters I Should Know About:
Denji, our main character. This guy has been on the struggle bus for a long, long time. After basically being abandoned by his dad as a kid and forced to take on his enormous debt, his life has been in the pits. THE PITS. By chance, he met Pochita a devil who has been at his side ever since. His life is going to forever change, For the better? Absolutely. For the worse? Absolutely.
Pochita, a little Chainsaw devil who was saved by Denji and has been at his side since his childhood. He's a mix of weird and cute that can only come out of the realms of manga and anime. Standing somewhere between beloved pet, contract buddy, and the closest thing he has to family–he's important not just to our main character but to the plot as well. There's nowhere he doesn't go without his main man, Denji, and this little creature plays a greater role as time passes.
Makina, someone Denji sees as a savior whom he meets after the events of his revival. She's quick with a smile or a kind word for him and helps introduce him to the new world that he needs to navigate as he's an official devil hunter. Think of her as a big name in the chain of command of this new organization that Denji finds himself working for that works to kill devils that prey on society. There's obviously more to her than what meets the eye for Denji and us to find out about.
Aki, if this were school, he'd be Denji's upperclassman who doesn't like him and suffers no fools. So, off the bat you know that they aren't besto friendos. Aki is stuck with Denji and continues to be amazed, baffled, and disgusted by just how much the newbie doesn't know about the world, the world of devils, and how they've affected the country that they call home. If you love a certain animal that's popular in anime and Japanese folklore and mythology, you'll really dig how he uses devils in fights.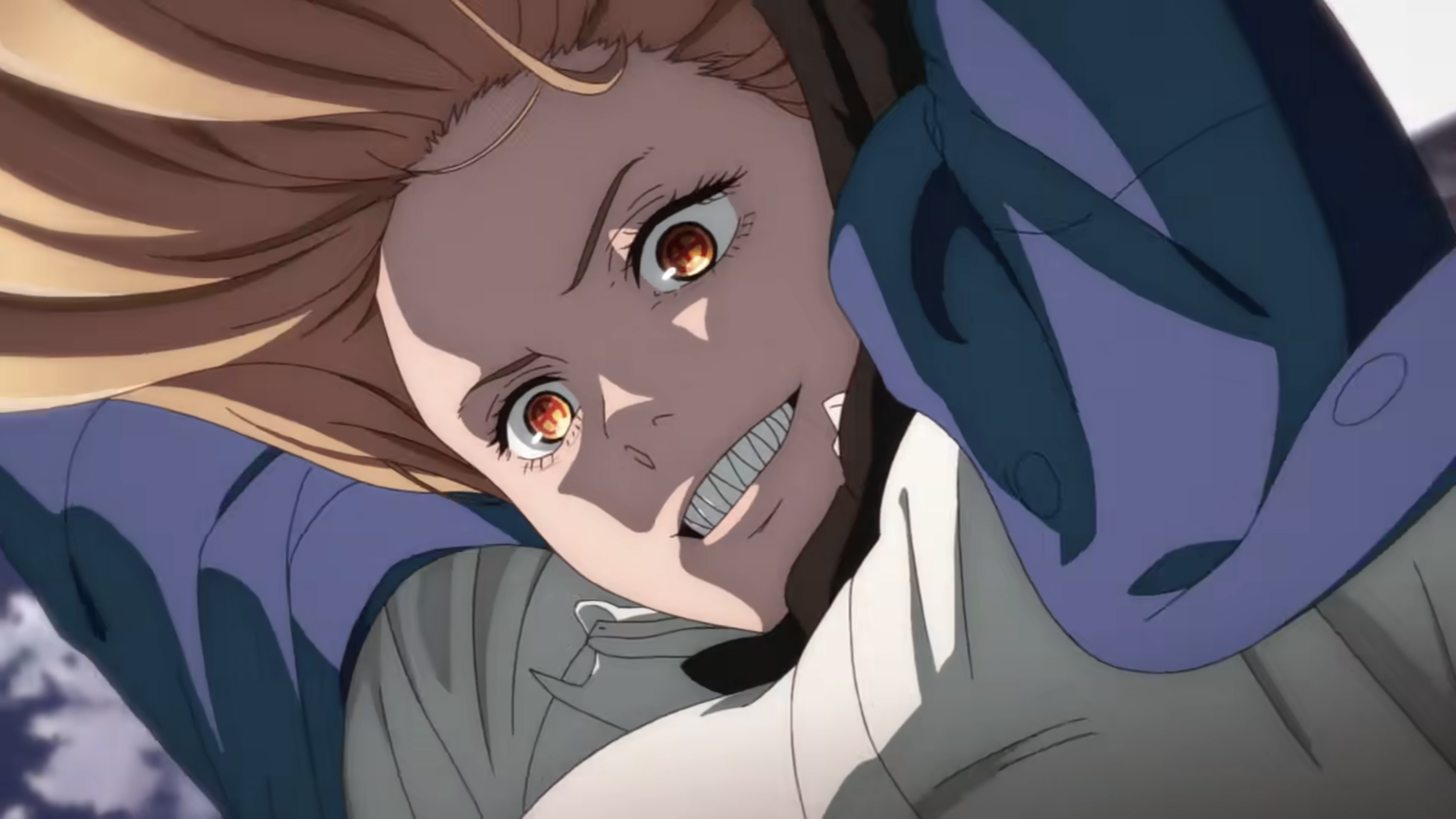 What Are Some Important Themes/Plot Points I Might Want to Know About:
To keep this primer major spoiler free, I'd say that you want to consider Denji and what and who he becomes at the forefront when you start reading the manga and/or watch the anime adaption when it premieres. He's a young man who has had a rough go at life, and he's gone without so much: a loving family, a decent upbringing, friends, basic schooling apparently, and so much more. The world he lives in is not a normal one. Devils, who are dangerous creatures of all shapes, sizes, and strengths, have been terrorizing the world over, and Japan has an organization created to deal with them.
Everyone has a price, don't they? Everyone has motivations and expectations as they venture out into the world. Everyone has a code, or set of principles that differs from the next person. Denji's revival means he's brought back to the world and into one where his life is always on the line, but he's never felt more alive now. Who is to say that he's doing this thing called life, wrong, per say?
What are folks who read the manga looking forward to seeing most:
With over 15 million copies sold, it is safe to say that this is a beloved and well-read series within its native country and globally. Most importantly, I believe that most people, fans and those working hard on this adaption, the promotion, and more, want to see Chainsaw Man adapted right. Honoring the source material via the manga, the creator, and the incredible story that so many people have loved. Fingers crossed but also on a first look by just the teasers and trailers that have been released, they NAILED the look and energy so far.
I am just a few volumes of the series in, and I love the world-building of this universe. Tie in the really explicit tragedy of terror and damage done by devils and the really, really important one that shouldn't be underestimated makes for a thrilling story. Denji is a young man, who isn't quite a human anymore, and isn't quite a devil is a guy whose existence and survival is against all odds. Following him get mixed up with a bunch of folks who run the gauntlet of shady to terrifying to hilarious is intriguing and totally something that I now, can't wait to be adapted into anime.
Crunchyroll will stream the anime in over 200 countries and territories around the world. The company will stream the anime in Japanese with English subtitles, and with an English dub. The anime will also get Latin American Spanish, Brazilian Portuguese, French, and German dubs.
While Chainsaw Man won't be for everyone (especially, not children! I've already warned you!), here's hoping that this primer guide is insightful enough to clue you in why the anime community is hyped, and why this series is so hotly anticipated! I'm set on finishing the manga and joining the fandom with all their end of series theories! See you in October when the show premieres!
---
The highly-anticipated anime series Chainsaw Man, coming to Crunchyroll this October from MAPPA, based on the original manga written and illustrated by Tatsuki Fujimoto. Read more about it here.
Chainsaw Man Japanese Voice Cast
Kikunosuke Toya as Denji
Tomori Kusunoki (Natsume in Deca-Dence) as Makima
Shogo Sakata (Karin Sasaki in Fire Force) as Aki Hayakawa
Fairouz Ai (Jolyne Kujo in JoJo's Bizarre Adventure: Stone Ocean) as Power
Chainsaw Man Staff
Director: Ryu Nakayama (JUJUTSU KAISEN Episode 19 Director)
Assistant Director: Masato Nakazono (JUJUTSU KAISEN; SSSS.Gridman)
Screenplay: Hiroshi Seko (Mob Psycho 100; JUJUTSU KAISEN)
Background Art Director: Yusuke Takeda (Vinland Saga; JUJUTSU KAISEN)
Character Design: Kazutaka Sugiyama (Mushoku Tensei: Jobless Reincarnation)
Devil Design: Kiyotaka Oshiyama (Flip Flappers; Space Dandy)
Action Director: Tatsuya Yoshihara (Black Clover; Yatterman Night)
Music: Kensuke Ushio (A Silent Voice; Devilman Crybaby)
Cover Image via Crunchyroll
Want to get Black Nerd Problems updates sent directly to you? Sign up here! Follow us on Twitter, Facebook, Youtube, and Instagram!