Anime has become a part of every year. It's sort of like sports — it's seasonal and there are a lot of them. From Shōnen to Shōjo, action to romance, Yaoi to Yuri, every year there's something for everyone. Don't look up those last two unless you're mentally prepared; Black Nerd Problems takes no responsibly for readers who search those without putting on their Saint Seiya God Cloths.
Usually I go into anime seasons blind and just try out shows without looking up anything about them first, which doesn't always go well. This year, I checked out the list of the anime coming up and a few of them piqued my interest and have me hype for them. So without further ado, I bring to you my personal Top 6 Continuing Anime You Should Look Out For This Year. These are sequels, or continuations of shows, and not shows that start this year without anything to build off of (there'll be another list for that, don't worry). Also, you may see another list like this again a little later on, since the year just started and a lot of anime haven't been officially announced yet.
[title type="h2″]Number 6: "JoJo no Kimyou na Bouken: Diamond wa Kudakenai"[/title]
Number 6 is part 4 of JoJo's Bizarre Adventure which starts airing this spring. I'll admit that I haven't been into JoJo very long but it's an extremely entertaining show. Each part has a different JoJo which also allows the story to continue for as long as they can think of more JoJos to make. Each part has different powers and characters which can range from wacky, kooky fun, to dramatic, PURE EVIL… uh… EVIL-NESS.
There's not much to say about the show without spoiling a few things and you know how I feel about spoilers by now. Jojo's Bizarre adventure has gained a huge following, and if you take this opportunity to start watching the show now so you'll be ready for the next season you'll see why. Time to make a STAND and watch Jojo. That joke was actually hilarious like you don't even know. I'm so funny.
[title type="h2″]Number 5: "Durarara!!x2 Ketsu"[/title]
Number 5 Is Durarara!!x2 Ketsu which started airing this month. Saying Durarara out loud is so fun you should definitely try it sometime. This is technically the 3rd part of the second season because of how it's divided, but once you actually start the show from the beginning to get to this part everything will make sense and you can appreciate every single detail.
Durarara is a story about the people living in Ikebukuro with no true main character as the perspective that the story is told from constantly changes from episode to episode, giving you a different view of the world and a different storyline to take in. Every character has more to them that what they initially show to the world and learning about them and following them makes Durarara one of the most engaging stories ever told in an anime. So if you haven't started Durarara then take this opportunity to start watching so you can see why I feel so strongly about it.
[title type="h2″]Number 4: "Magi: Sinbad no Bouken"[/title]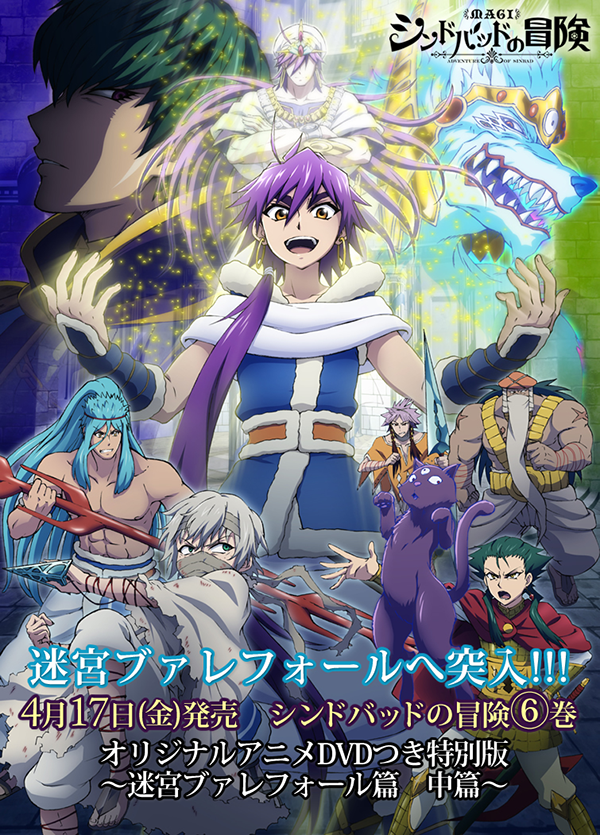 Number 4 is sort of a spin-off and sort of a prologue that also airs this spring. Magi: Sinbad No Bouken or Adventure of Sinbad is the story of Sinbad, who was one of the most powerful and mysterious characters in the Magi anime series. Magi was about a boy named Aladdin and his adventures. Magi: Labyrinth of Magic is also a great show in its own right, and if this spin-off is even half as good then it shouldn't disappoint.
Sinbad is a character who has many powers and many secrets. This spin-off should bring light to a lot of those mysteries and provide an entertaining story to boot. Technically you don't have to watch the Magi series to enjoy this show when it airs, but it is still highly recommended that you do so that you can have the full Magi experience.
[title type="h2″]Number 3: "Nanatsu no Taizai 2016″[/title]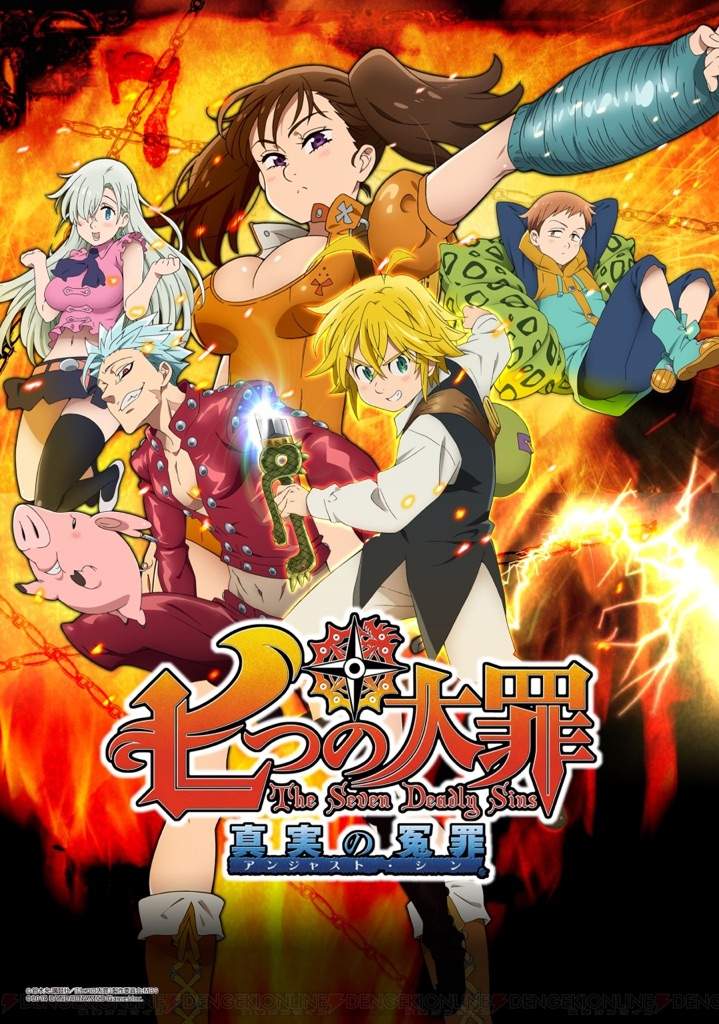 Number 3 doesn't really have a date set for when it airs, but it has been announced — Nanatsu no Taizai or Seven Deadly Sins is an action show about a group of powerful knights who supposedly tried to overthrow the kingdom. The Holy Knights battled and defeated them which led to the Holy Knights taking over the kingdom after the sins fled and disbanded. Elizabeth who is the third princess believes that the Seven Deadly Sins are the only way that the kingdom can stop being controlled by the holy knights who rule the kingdom with an iron fist with no mercy.
Seven Deadly Sins is full of action, comedy, drama, literally everything. The characters are all fun and different and the way they interact is something that really pushes the show to new heights. The season coming up this year is season 2 so you definitely need to hop on the season 1 train before this one airs.
[title type="h2″]Number 2: "Ansatsu Kyoushitsu 2nd Season"[/title]
Number 2 is Ansatsu Kyoushitsu or Assassination Classroom, and season 2 is a show that also started airing this month. Assassination Classroom is one of the best mangas and anime around these days and season 2 is picking up right where the first season left off. The show is about a teacher that looks like a yellow alien octopus that can travel at mach speed and is planning on blowing up the Earth unless his class can assassinate him by the end of the school term. The class that he gives this task to is the "worst" class of the school in terms of grades, attitude, and other reasons that won't be spoiled here.
The way the story develops and the characters themselves develop is a beautiful thing to witness. The way they gradually change throughout the series feels real and not forced at all and they grow to love their teacher and respect him… even though he plans to destroy the Earth. Korosensei is an amazing character and you might need 2 train tickets because you definitely need to hop on the season 1 train for this one as well.
[title type="h2″]Number 1: "D.Gray Man 2016″[/title]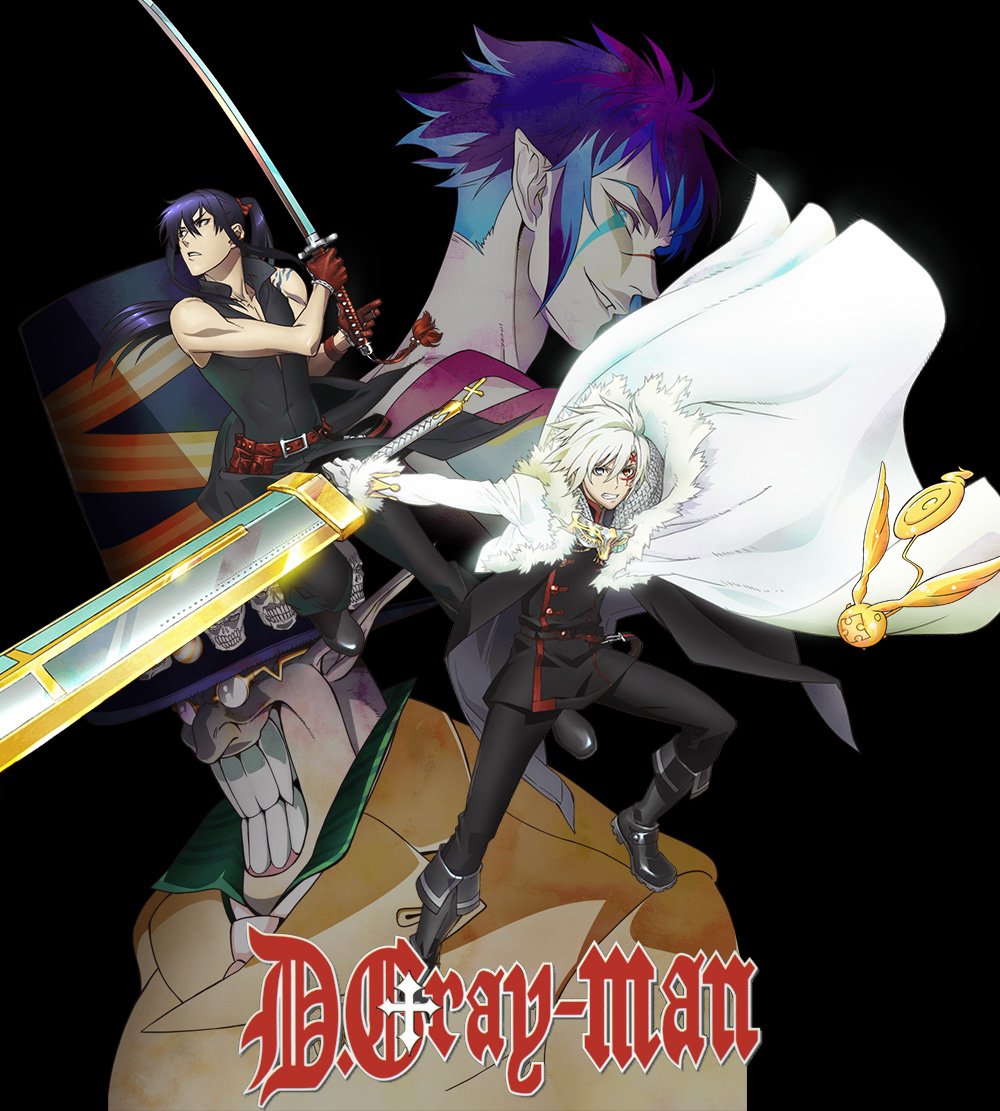 Alright, so I saved my personal best for last. D. Gray Man was one of my favorite anime shows way back in 2006-2008 and I watched all 103 episodes, catching the latest one online week after week until it ended. It just ended with no real conclusion, kind of like it was setting up for another season, but it never came. A lot of fans wanted another season and were left wondering if it would ever happen. The manga continued but for most of us who had watched the anime we just HAD to watch the show instead of reading it. Now, after almost a decade D. Gray Man is getting an anime continuation sometime this year.
D. Gray Man was an action, comedy, drama, sort-of-everything anime that started off as your typical Shonen series, but as the show developed and started introducing more characters it quickly turned into a darker action show. The show's main character is Allen Walker who has an arm that can transform into a claw that can be used to destroy demons made by the Millennium Earl, who is the main antagonist who wants to destroy humanity.
Allen Walker isn't a typical main character because he definitely isn't the strongest in the show, and he doesn't really have the look or feel of a typical main character in a show like this. He felt unique and everything he did and the decisions he made didn't feel forced it felt like he legitimately wanted to do them.
As the show goes on each character has their own story arcs to further delve into their psyche and bring out their full potential as characters and I think that's why a lot of people loved this show. Even after 103 episodes the story wasn't finished and the characters still had more to show us. D. Gray Man 2016 will continue from where the original show left off and I couldn't be happier.
So those are 6 continuing shows that I'm excited for. I left off a couple like Shokugeki No Soma, but that's what the next list is for. Until then these should fill your anime quota for now and none of these will disappoint. Sailor Scout's Honor. Happy watching, y'all!
Are you following Black Nerd Problems on Twitter, Facebook, Tumblr or Google+?