Writer: Kyle Starks / Artist: GABO / Letterer: CRANK! / OniPress Comics
First things first, I love dogs (Don't you? You know what. Don't answer that.) and I'm fond of zombie stories. This comic combines both. When I first heard about this comic months ago I learned that it actually had a connection to a tabletop smash hit, Plaid Hat Games' Dead of Winter. Truthfully that is one fandom I have not yet ventured into so I knew that I wouldn't be knowledgeable on the origin story of this comic at all. But I welcomed it and waited for its release and did not want to pass up checking out this comic.
Let me paint a pretty picture for you: there's a small group of survivors that are trapped after taking refuge the night before. Upon morning they realize that they are in trouble. They open the door and…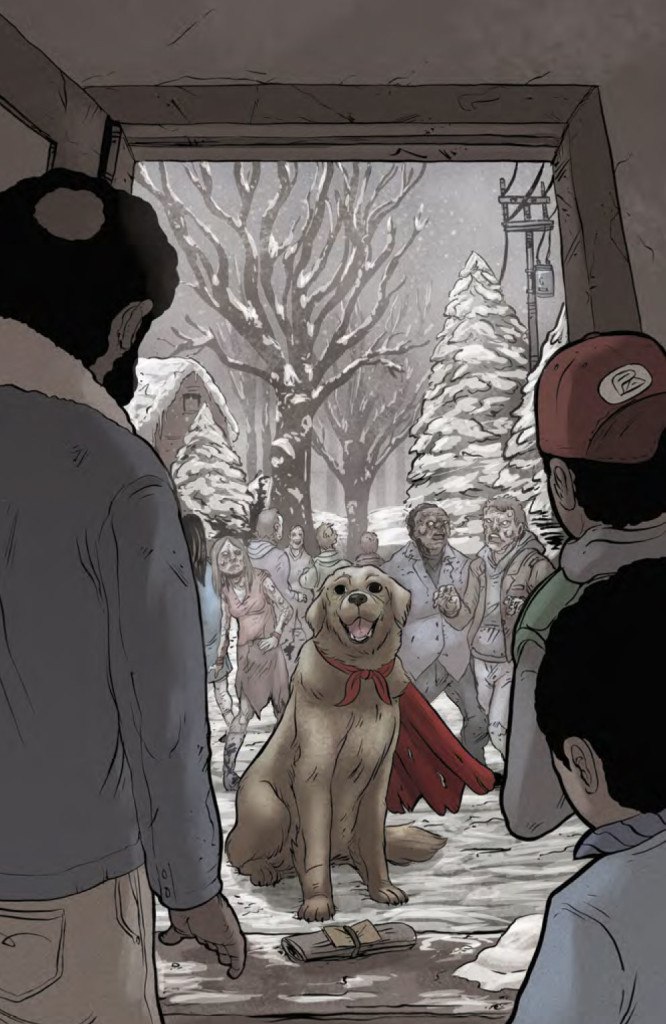 This was what… the fifth page in? Look, I was like a certain Galaxy Express deliver-boy and demanding you take my currency now. Former TV star turned zombie killing machine, Sparky, is out and about saving the day. He's a dog with a cape and he's here to do what he does best in this new world: wreck havoc on the undead. Gabriel and Ruckus are the human good Samaritans who find some survivors in need of some help and they send in this good boy. This is how Dead Winter starts.
Sure you're probably guessing what genres this comic falls under? COMEDY. Definitely comedy. There's laughs thrown in, written into this issue the whole way through. Lots of comedic timing. Gosh. Just Hilarious. Good job, Starks. Kyle Starks, (I gotta clarify cause Game of Thrones is back on and I want no one thinking I'm giving the remaining Stark family any kudos here) who has also penned Sex Castle, Squirrel Girl and Invader Zim There's a great scene involving a supply run and some female survivors inside a drugstore that is as real as it is hilarious and quite relatable.
Dead Winter must also be categorized under Horror too, because Zombie apocalypse. Duh. I think Comixiology has a "12+ only" age rating on this issue which translates to Mature readers, please and thank you. For the squeamish crowd the violence and gore isn't overwhelming gross. Hah. At least in this issue. It's manageable especially the gore.
Gabriel "GABO" Bautista (Albert the Alien, The Life After, Comic Book Tattoo) is working the artwork here by way of illustrating and coloring all of this zombified madness. What's obvious here? Gabo knows how to draw dogs. Sparky is glorious. I worried a bit about the tone of the book–it's not overly bright. Then I remember: shit is bleak. It's winter and there are zombies. There is sunshine in the literal form of this dog. As I read on I realized this was a good look given the situation and it does help add to the overall feel of reality crashing down here: this is a new world and this reflects it more accurately. It's not all dull. There are some pages that burst with just enough loud color and sound effects to make this world seem more alive.
The heart of the comic is this good ol' dog, Sparky. The dog is the true glue that keeps this ship together. For real. This is not a bad thing. Not at all. In any story that is set in a zombie outbreak and or apocalypse: one of the major themes is how survival impacts those who are surviving. For those who aren't undead yet there is certainly a toil and the psychological effects eventually show themselves from each person to the group as a hole. We're introduced to our group with a new new members and where they stay, how they live and what issues they have.
Let me reminder you it's winter. I hate winter. So much. Y'all know I'm a Southern Californian poppy flower and I'm still wearing my shorts and sundresses well into September. Winter means: colder temperatures, more difficult traveling conditions and less visibility for zombies meaning more danger… Have I mentioned how much I hate winter? Morale is low.
And there's this beautiful, brave dog named Sparky that is mowing down zombies and being a good boy. I love him and can't get enough. New rules: all zombie projects must feature a pupper. It is law. But you know what…I am suddenly reminded any and all canine creature from the Silent Hill universe so I immediately take that motion back. (Excuse me for a moment while my body tries to figure out if it wants to scream or throw up first. Anybody remember Sniffer Dogs, anyone?) Sparky is good. Sparky is good enough. Let's move along fam.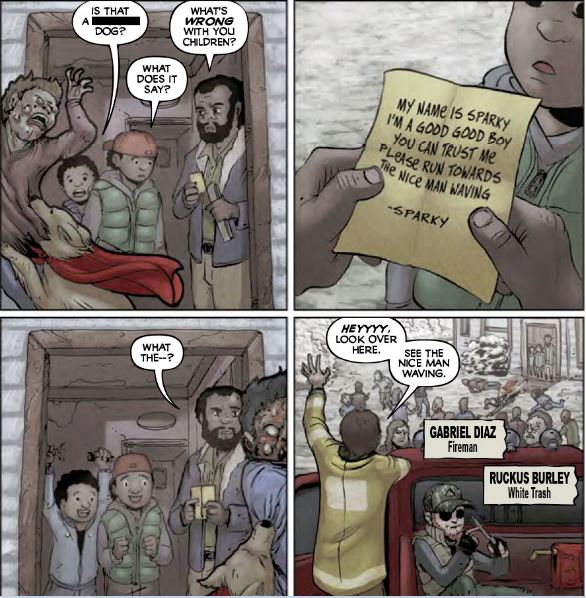 Truthfully, I thought I'd be a little lost with the comic never playing the board games. I was proved wrong. Dead Winter is very accessible for the comics reading crowd who have never rolled any dice playing any Plaid Hat game, let alone tabletop board game. For those interested there's a back page with a quick breakdown on what the game is about. Also for excited fans and enthusiasts of the game: there's a limited edition version of this issue out that comes with an exclusive Ruckus Burley character set for play with the dead of Winter board games! (Check your local comic book shops for details)
9.8 Bad Santas out of 10
Interested in learning about about
Dead Winter
? See Plaid Hat games'
website for more details
. Look here's even a tutorial on YouTube
on how to play!
Are you following Black Nerd Problems on Twitter, Facebook, Tumblr or Google+?