I was around for, in my opinion, the best Era of WWF wrestling there EVER was, The Attitude Era. During that time the 3 superstars that ruled the WWF were The Game Triple H, The Texas Rattlesnake Stone Cold Steve Austin, and the trail blazing, eyebrow raising, most electrifying man in sports entertainment, IF YA SMMEEEELLLLLLL WHAT THE ROCK… IS… COOKING! *raises the People's Eyebrow*
I can go on and on about the historic rivalries, incredible matches, championship titles, & memorable promos these guys had but there is one thing that will forever be engraved in my head. CATCHPHRASES!
[title type="h2″]3) "SUCK IT"- Triple H (DX)[/title]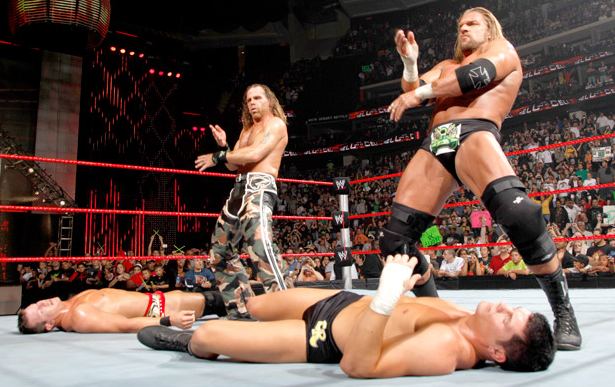 Hunter, along with Shawn and the rest of DX, had one of my favorite slogans of the Attitude Era that got me in trouble on many occasions. In heated debates about who was the best Ninja Turtle the events would unravel kind of like this:
Person whose irrelevant: Mikey is the best Ninja Turtle! You're bugging dawg. You don't even know what you're talking about.
Me: Shut up! You're being ridiculous. Don is the trillest turtle there is and if you're not down with that I got two words for ya! SUCK IT! *Does the X over the crotch taunt multiple times and gets into a fight because of disrespect*
[title type="h2″]2) "And That's The Bottom Line, Because Stone Cold Said So"-Stone Cold Steve Austin[/title]
This man never had a chill pill (yeah took you back with that one) in his life. Pure disrespect was the name of the game. What makes a good catch phrase is practicality and real life use. Austin 3:16 was a good slogan but it wasn't practical. It was more of a way of life. What worked better is the most definitive sentence I've ever heard in my entire life. "And that's the bottom line 'cuz Stone Cold said so!" You can't argue with that! Whatever he says goes at that point. Why? Because Stone Cold said so!
Friend: Hey can I borrow your GameCube?
Me: No can do, bruh. I still haven't finished Super Mario Sunshine.
Friend: I only need it for a week.
Me: You can't borrow my GameCube Joey! And that's the bottom line because Stone Cold said so! *breaks glass cup and mumbles "dun nunn nun nunn nun nunnn" as I walk out the kitchen.*
[title type="h2″]2a) "What?" – Stone Cold Steve Austin Honorable mention[/title]
Austin also had the simplest yet most effective slogan in the world. You don't understand how many times I got in trouble for saying "What?" to my teachers in school.
Teacher: Savon can you–
Me: What?
Teacher: Come to the board and–
Me: What?
Teacher: …Sa–
Me: What?
Teacher: …
Me: What?
[title type="h2″]1) "It Doesn't Matter!" – The Rock[/title]
This man right here got me through every trash talking fight I ever had. I've "laid the Smackdown" on someone's "candy ass" a few times in my life. I keep a "can of whoop ass" in my cabinet next to my Lawery's seasoning salt. The talent he had on the I practiced my entire childhood to get my left eyebrow to raise like the Brahma Bull, The People's Champ, The most electrifying man in sports entertainment. I was one of the millions (and millions) of The Rocks fans. I saw Cena go one on one with the great one in real life and it was magical. Rock has to take the crown for best catch phrase of the attitude era. And if he's doesn't hold the number one spot who you do you thing does?
You: Well Edge &–
IT DOESN'T MATTER WHAT YOU THINK!
And there you have it, folks. The top 3 phrases from the WWF Attitude era that defined our youth and had you putting your friends and siblings in finishing moves. It was truly a different time back then as the WWF is now WWE but this is one part of wrestling history that is timeless. The Attitude era is still an era we look back fondly on for that "it was a simpler time" nostalgia of way back when.
Are you following Black Nerd Problems on Twitter, Facebook, Tumblr or Google+?