Welcome to the #WakandanRoyaleRumble
Tell me what you gon' do to me
Confrontation ain't nothin' new to me
You can bring a bullet, bring a sword
Bring a morgue, but you can't bring the truth to me
-Kendrick Lamar, All of the Stars
The semifinals for the March Multimedia Multiverse Madness came and went. Only two of the Multimedia Multiverse's finest have held steady against the competition. You, oh gracious audience, have been voting diligently these past weeks, and now all of the polls have led to the final fight.
Here were the contenders for the first annual #MarchMultimediaMultiverseMadness championship.
Let's do a quick recap of the Road to Finals and how we ended up with the #WakandanRoyalRumble.
The Number 5 Seed, Shuri – Technical Genius with No Rival, Best Disney/Wakanda Princess
The Number 2 Seed, Storm – Basically Confirmed Omega Level Mutant, the Goddess of Weather
After you saw the final fight, and voting in the polls, you decided the victor. So, it is my pleasure to announce the winner of the unofficial #WakandanRoyalRumble and…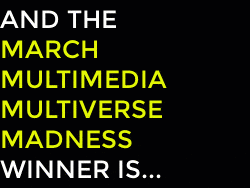 That's right: with a staggering 80% of the vote, Ororo Munroe reigns supreme over the Multimedia Multiverse. Shout to Ja-Quan for championing her throughout the tournament!
Thanks for joining us. We'll see everyone next year!
You can review all of the fights on the #MarchMultimediaMultiverseMadness tag.
Are you following Black Nerd Problems on Twitter, Facebook,Instagram, Tumblr, YouTube or Google+?