The Muppets franchise throughout the ages has never been afraid to change with the times. From films to cartoons to late night talk shows, The Muppets has been able to evolve while maintaining it's particular brand of charm. Muppets Now is their brand new show that looks to marry improvisational comedy with the framing device of streaming. And while it's a decent attempt, the charm just isn't there.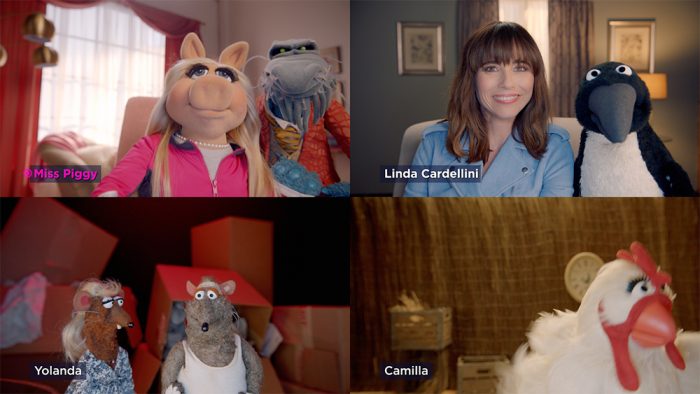 Muppets How?
Muppets Now features Scooter (David Rudman) uploading various segments for their new streaming show including a game show, a cooking show, and interviews among others. The idea of having Muppets improvise with different guest starts is a sound one and looks good on paper. The execution, however, leaves much to be desired. That isn't to say it's terrible, more than anything it's just bland. The chemistry just isn't there. Many times the celeb guest star feels stiff interacting with Miss Piggy or Kermit and many jokes just fall flat. It's a little sad to see considering we've seen plenty of examples of celeb guest stars working really well with the Muppets. Muppets Tonight, which was a variety style talk show from the late 90s, is a great example of how this can work. This just isn't it.
I will give Muppets Now credit for being far ahead of the curve in terms of the pandemic we are currently dealing with. The show is very minimal, with usually only one or two live guest and one or two Muppets on screen at any given moment. I've seen plenty of shows try to move to a streaming type format to comply with social distancing and it's almost like they knew this was going to be the case for television productions moving forward. Production for the show began last summer so there was no way of knowing the impact of this (at the time) unknown virus would be to everyone. On the flip side, it already feels super dated and I can't imagine it aging very well.
Sketchy Sketches
There are six different segments that rotate throughout the season, and half of them are pretty decent. My favorite is "Økėÿ Døkęÿ Køøkïñ", which has the Swedish Chef facing off against a celebrity chef. This one to me feels the most like good classic Muppets. "Pepe's Unbelievable Game Show" with Pepe the King Prawn and Muppet Labs Field Test with Bunsen and Beaker are also fun ones to watch. The other three just don't do it for me, they feel flat and uninspired which is a shame when you have the core Muppets of Kermit and Miss Piggy throughout these ones.
New Voice, Who Dis?
And let's talk about the elephant in the room; Kermit's new voice actor. Matt Vogel replaced the last voice actor, Steve Whitemire, after he was dismissed from the role and you can really hear the difference. It's something that will definitely take some time to get used to. I bet in a better show he'll nail the part, but here it just doesn't sound right.
The celebrities that guest star here are pretty hit or miss. Some notable guests are Taye Diggs, RuPaul, and Seth Rogan, who are fine. My favorite guest hands down was Danny Trejo going against the Swedish Chef. That particular segment really captured what makes Muppets so good and how interacting with the guest work and I just wish we got more of this throughout the entire show.
Muppets Now, while not terrible, isn't the show that the Muppets franchise deserves. It already feels dated, it's flat at times, and severely lacks that classic Muppets charm. I give them credit for trying something new and experimenting with their formulas, but this one might not be worth your time.
Want to get Black Nerd Problems updates sent directly to you? Sign up here.
Follow us on Twitter, Facebook and Instagram.