It seems like every week the nerd community is blessed with unexpected greatness from the geeky Gods above. Today gave us an announcement that nobody was expecting. Neftlix acquired Millarworld, the company created and run by comic book legend in the making, Mark Millar. Acquisitions like this are rare. Like Disney acquiring Marvel levels of rare. I mean, obviously I'm not comparing this company to Marvel but I use that statement to show you how often something like this happens in today's world of entertainment. Dam near never.
Mark Millar is responsible for a slew of comic book properties you love (whether you know he created them or not) and even more dope titles you've never heard of. Captain America: Civil War was based on Millar's Civil War comic. Hugh Jackman's last time suiting up as Wolverine was based on Millar's Old Man Logan comic. Angelina Jolie and James McAvoy's movie Wanted was one of his comics. The new Kingsman movies are based on his comics Secret Service. Kick-Ass was him. You get the picture.
Mark Millar has essentially become the go-to guy for comic to movie adaptations. Netflix recognized him as a low key Stan Lee and said something like this to themselves, "This guy Millar is swimming in dollars. Scrooge McDuck flow. We should just take control of every Millarworld corner like The Wire. Send the goons to take the block. Every block." And so they did.
Netflix now has the rights to all of Millar's creater-owned comics and characters. The deal excludes the stories and work he has done while employed at Marvel and DC (like The Ultimates and aforementioned Civil War and Old Man Logan). But they now own the rights to all his other dope ass comics. I'm talkin bout Jupiter's Legacy, Superior, Huck, Chrononauts, Jupiter's Circle, Reborn, Nemesis, Starlight, Empress and all the other gems I dont know about cuz I still gotta get my Comic Book XP up. Think about the possibilities, fam.
[title type="h4″]Jupiter's Circle/Legacy[/title]
Can you imagine Netflix creating a Jupiter's Circle movie that goes through the decades following the first Stock Market Crash and the mysterious birth of superheroes?! Superb writing would see the team wrestle with the dilemma and question of should heroes get involved in politics while having to take down Hoover and his grimy FBI tactics?! Then they follow that up with a Jupiter's Legacy sequel set in the present/future that reels in the millennials with never before seen powers, technology and the unabashed violence they love so much..coupled with a disappointing-child /overly-expectant parent dynamic. Frank Quietly drew the shit out of this comic book, which would translate to the most draw dropping, awe inspiring cinematic Netflix experience. The coup turned all out war would make for an epic movie showdown and final act.
[title type="h4″]Chrononauts[/title]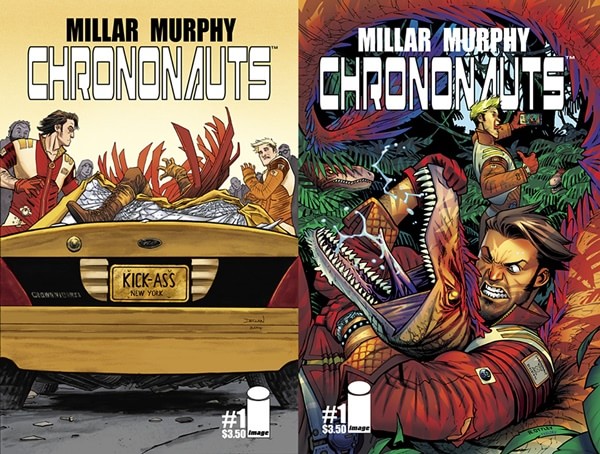 Imagine Corbin Quinn and Danny Reilly with their own big budget tv show? These two lovably flawed bros romping through time and space doing the absolute most?! You like Fast and the Furious? You enjoy time travel? Well how bout Netflix shows you what two handsome young actors would look like running from dinosaurs, chillin on the Titanic and kickin it startin beef with the Ancient Romans? Yea, I'd binge that series in a night too.
[title type="h4″]Nemesis[/title]
Don't know much about this one, but my Comic Book Guy said this and Jupiter's Legacy would be the best adaptations for Netflix to pursue. From Mark Millar's premise of, "What if Batman were the Joker?" I see why. Taking the smartest and craftiest person on the planet and making them a villain instead of the hero is a very intriguing premise for a movie.
Starlight and Reborn could also make for impressive and epic high fantasy. There is just so much for Netflix to work with that the next couple of years will be exciting ones. Get ready homies.
This is monumental announcement and it couldn't have happened to a better dude. Mark Millar has been all about bringing fans, young and old, genuine stories and classic hero tales. He does everything in his soul to make his stories relatable to real life and grounded in something tangible. Instead of boxing himself into creating new stories (that we love) for the heroes we've all grown up on, he's been steadfast on creating new content based on original characters. There's something special about creating a name or character that may span for years and influence generations. Netflix is putting everybody on notice that they refuse to be left in the dust on the superhero genre that has Hollywood by the entertainment throat.
Are you following Black Nerd Problems on Twitter, Facebook, Tumblr or Google+?