I'll be the first to complain that the cartoon game isn't what it use to be. I'm from the X-Men and Spider-Man animated series era; also known as the unfuckwitable 90's Platinum Age of Saturday morning cartoons. It feels as if those times are long gone now. However, Cartoon Network is apart of that era as well but it feels like even though they survived, their roster just isn't what it use to be.
The game done changed but that is not to say there isn't still hope. We've got a few shows that have been putting it down on shit that hasn't been big in the cartoon game before. A lot of the cartoons consistently have musical segments now. Cartoon Network got shows with songs and freestyles that should be on the Billboard Hot 100 Chart. We're about to go through some of the songs we've gotten over the recent years as well as fresh new ones that just came out. These are the songs that got Cartoon Network looking like Bad Boy '98 / G.O.O.D. Music

Daffy Duck-"Robot Love" (Merrie Melodies)

Bruh, when they brought back the fucking Looney Tunes show? OH MY GAAAAAWD. It's legit a sitcom dude, I'm watching this show and laughing my tax return off. These Merrie Melodies are a running theme in this Looney Tunes installment. We got Porky Pig asking Daffy Duck to describe love and Daffy goes on the most LSD laced metaphor about Robot Love that actually makes sense which is hilarious. When that isn't clear enough he goes onto describe 700 ft merman love. This is a song, poem, and epic adventure rolled into one. Daffy Duck is the king of random for this but even though it's hilarious and random the lyrics are fucking butter b. Daffy didn't sugar coat love on this track he kept it one hunned.
"And you find a female merman who is working at a kiosk, selling cellphone covers and personalized keychains. Your hand brushes one of her tentacles and she just melts inside (Porky: Tentacles?!) Shut up. Her manager gets insanely jealous and stabs you with his trident and you're dead"
All Gummed Up Inside (Freestyle)- Finn The Human (Adventure Time)
ARGGHHHH, THIS IS THE HARDEST FREESTYLE ON THIS ROSTER (IDONTCAREIDONTCAREIDONTCARE)! Fresh off of things not working out with Princess Bubblegum we got Finn The Human in his room listening to Drake all up in his emotions. When his boy Jake tries to snap him out of it by telling BMO to put on a video game for him what ensues is the hardest / most sincere freestyle in the game. This shit was excellent as he was rhyming/singing over a video game beat.
Even better is that later in the episode when Jake is trying to find a new love interest for Finn with the flame princess we see him switch up the lyrics and tempo over an acoustic guitar for a beat as he gives us a great remix. Man when this shit dropped, I was waiting for the review to come out on the message boards man. This shit still doing numbers in my opinion as it may just be one of the top 5 songs in the cartoon genre.
"It's like this feeling is gonna consume me,
If I keep waiting for this thing to start.
Oh, I feel like I'm all gummed up inside"

"Make The Most Of It!" Darwin & Gumball (The Amazing World of Gumball)

With me personally, Gumball is pretty hit or miss but when they are on point, they are on point. This rap up we got Gumball and Darwin embracing their youth before puberty smashes through and makes them adults. It's a bit kiddy, but these are kids and a show geared towards the youngins. They had some good bars on here and it's a fucking funny but most importantly they are speaking the truth through out the entire track.
"When you're a kid you dream of many things
like being ninja dentists or a wizard cop with wings
we can fight a shark-bear-igator with a sword made of swords
be the best at everything and win the awesomeness awards"
Merrie Melodies: Daffy Duck The Wizard (The Looney Toons Show)
This video right here? Yall don't even know. What Daffy Duck gave the world in this song right here? This is the Most Real Nerd Shit you'll ever see and hear in your freaking life. My man got a track about being a mighty wizard, casting spells, and slaying demons when in reality he is doing the most mundane things like heating up a hotdog and walking across the crosswalk. You know damn well you've done this yourself in real life as well man. That's what makes this shit gold. This is the shit that cats who frequent middle earth and fuck with the Dungeons and Dragons boards been waiting for.
"Famished from his latest quest,
the wizard seeks a snack.
He sets sail for ecstasy at the Quesadilla Shack.
He is the wizard!"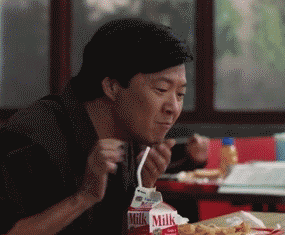 "Rap It Up"- Pops, Mordecai, Rigby ft Childish, Tyler The Creator, MC Lyte-(Regular Show)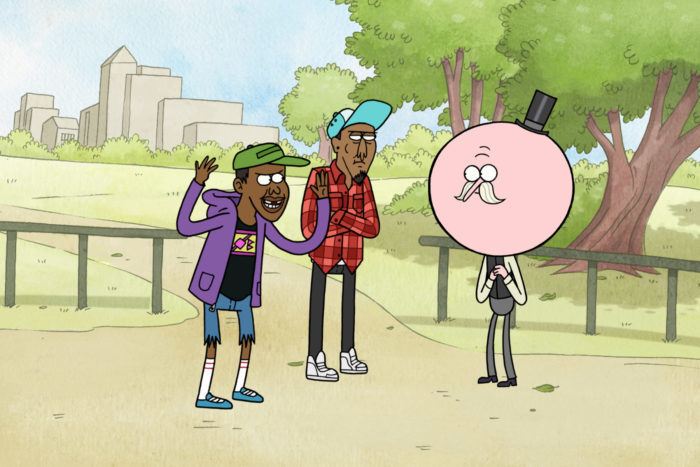 Not a song per say but we'll put it on here cause it qualifies as Cartoon Network's version of a Smack URL Battle. We had the emcee/rap guest stars clowning on the cast. Pops combats with poetry as his weapon of choice in the battle. He is later joined by Rigby and Mordecai who choose to stand beside Pops and battle via old English, if you will. This was a great episode because it was kinda of a play on the new school vs the old school, artistically speaking. Another great thing is how visual the battle gets for the main event, where we see what each battler is describing come to life against their opponent. Of course Pops and the guys come out on top but we're not going to act like the best verse this episode wasn't Alpha Dog who was played by Childish Gambino (…kinda wish his verse here was a track on his latest album drop but that's another post for another day)
"And it's plain to see, you're strange to me,
cause we be shining like diamonds, y'all be petty cash
Nice mustache, conquistadors be wanting it back"- Alpha Dog (Childish)
I'm Just Your Problem- Marceline (Adventure Time)
We got Finn, Marceline, Princess Bubblegum and Jake on the hunt for their stolen items and they need to get pass the door lord via a song from a genuine band. We got the crew attempting to rock together with Marceline leading the vocals on the first attempt. When Princess Bubblegum disapproves of her lyrics we get to see Marceline swing that bass axe go from 0-power level 9,000 real quick. This was gorgeous as we hear Marceline getting her true feelings out about her gripe against Princess Bubblegum, feeling as though she has been treated as a black sheep and apologizing for not being what she must have wanted.
The kicker is that we have seen Marceline in such a non-fuck giving light but as she states in the song, she doesn't feel she should be the one apologizing but can't figure out why she wants to. She almost gets the door open but then upon realizing how vulnerable she was starting fronting on the lyrics and the door said, "Nah". This is one of the best songs on the show period. Olivia Olson who plays Marceline stays dropping the best vocals whenever she steps up at bat, man.
"I-I-I-I-I-I-I-I-I shouldn't have to prove anything to you
I'm sorry that I exist, I forget what landed me on your blacklist
But I-I-I-I-I-I-I-I-I shouldn't have to be the one that makes up with you, so… why do I want to?"
I Remember You- Marceline & The Ice King

That right, the girl Marceline got back to back hits. This time she got the Ice King on the track. Their history finally unfolds in this episode. We find out that back when Ice King was human he knew Marceline and protected her after the nuclear war. Marceline remembers but the Ice King doesn't; fucking nail in the coffin comes as Ice King drums up a beat and Marceline starts singing Simon's notes from way back when in one of his moments of clarity (due to wearing the crown making him crazy) as she realizes the last coherent words of her protector.
When Marceline tries to have the Ice King understand that he wrote these words and it came from him years prior, it only becomes more fucking soul crushing as the Ice King is unaware of what the words mean, while at the same time we are hearing the voice Simon simultaneously begging forgiveness for Marceline for when the crown has him forget her. SUN, THERE SO MANY FUCKING LEVELS TO THIS SHIT MAN. COME ON. When this song first dropped? Thug mixed in with Drake tears were streaming all over nerd faces man.
"This magic keeps me alive, but it's making me crazy, and I need to save you, but who's going to save me? Please forgive me for whatever I do …when I don't remember you."
Wailing Stone – Greg Universe (Steven Universe)
Greg Universe, the underrated gawd! My man was trying to help the Crystal Gems decipher the audio message of a wailing stone and pushed his equipment to the max failing but coming ever so close. He's on his self-depreciation shit because this was the one time he could help the Gems, who his wife was one of, and his son (Steven Universe) looks after as well. Greg hits that beach shore with that acoustic guitar and drops the underdog song of the year. At the heart of it is a song about being worthy of having people put faith in you to come thru, which is fitting as he was later able to help the gems when he translated it via video instead of audio. This song was a great look at supporting characters just trying to support the squad / fam.
"Have a little, have a little, have a little faith in me! I just wanted to help you know, I have a little, have a little, have a little expertise!
I know it's not much,
but if it could come in handy, I'd wanna be there"
What Am I To You- Finn The Human Ft Jake, Marceline & Princess Bubblegum (Adventure Time)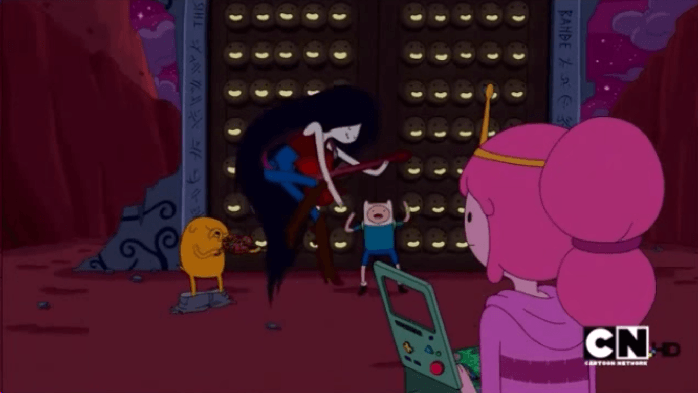 This is the song that actually gets the door to open (as mentioned earlier) as it is sung from the heart as the truth. The band was splitting with tempers flaring till Finn delves into his feels over Princess Bubblegum (PB) as he questions how she sees him (a joke, a knight or your brother) the song then transitions to how he considers everyone there his best friends in the world. Finn is bout to be on my Top 5 emcees list cause the boy got bars and destroys any beat he is on. At this point Finn The Human is Andre 3,000 of the cartoon genre. The crew joins in to help on vocals and instruments (Marceline on bass, Jake on Violin and PB hitting playing electronic notes on BMO) giving us a fucking beautiful song about friendship as well as vulnerability. The crew may as well be Cartoon Network's version of The Roots if we keeping it real. To top it all off when the door finally opens from the song Ya boy Finn hits the Freddy Mercury stance.
"Do you think that I don't understand?
I just wanted us together and to play as a band,

I'll forget that I lost a piece of your hair,
I'll remember the pasta that we shared, over there,

Ohhhh, you a-a-a-a-are my best friends in the world"
"Stronger Than You"- Garnet (Steven Universe)
This jam right here man is big. We found out in this episode that Garnet has been a fusion all along (between two gems Ruby and Sapphire). She comes back on the track to defeat a gem named Jasper. Not only is this song dope about teamwork and what she herself represents for Ruby and Sapphire but Garnet is singing this shit in the midst of the best / toughest fight we ever seen on the show. She is talking that shit while dodging punches and getting slammed through walls like it's nothing. This isn't just a song, this is a mantra for Garnet. She lays it the fuck down on the track and it helps that the voice behind the MVP Gem is Estelle . Garnet dropped the mic on this track right here, look at the fucking lyrics man. Look at the lyrics son. This is the Cartoon Network (Kendrick) Control Verse.
"Go ahead and try to hit me if you're able.
Can't you see that my relationship is stable?
I can see you hate the way we intermingle.
But I think you're just mad 'cause you're single."
Slow Dance With You- Marceline (Adventure Time)

This bop don't even need much of an intro man. Marceline is always good for a hit. Marceline might as well be the Prince of Cartoon Network at this point. You're not touching our girl when she rocking that bass axe. The only crime about this song (that we all know gotta be for Princess Bubble gum) is that it's too short! We want more!
Ugh, you hear them lyrics man? Come on. That silky ass undead voice over any guitar riff is a guaranteed hit. Marce be the queen of R&B for the Land of Ooo. I'm not hearing other wise. I refuse to. Look at her proud ass daddy clapping in the crowd. Marceline's pops was making sure to get his girl all up on the video camera. We need that album drop Vampire Queen.
the goth jesus marceline making 2018 gay before it even started with a song for princess bubblegum. the national lesbian anthem pic.twitter.com/8QgbU18oYV

— saddy wanna slow dance with lesbian jesus (@queermeras) December 9, 2017
I just want to slow dance with you
I know all the other boys are tough and smooth,
And I got the blues
I want to slow dance with you
---
Yes'irrrrrr! This is an entire mixtape without a skippable song on it. Cartoon Network got a label filled with hitmakers. They keep doing it better and greater each season. What are some of your favorite original songs from cartoons? Let us know in the comments below.
Are you following Black Nerd Problems on Twitter, Facebook,Instagram, Tumblr, YouTube or Google+?