Jeff Lemire and Mike Deodato Jr. team up for Berserker Unbound, a story about a Barbarian from another time and place who suddenly finds himself in the middle of a big bustling present-day city. You may know Jeff Lemire from his work on Descender and Black Hammer, and Deodato Jr. from Marvel titles like Thunderbolts and Infinity Wars. The two reunite after their Thanos run to bring us all something unlike either of them has ever done before.
Black Nerd Problems was able to chat it up with Mike Deodato at Emerald City Comic Con back in March for some insight on his process and excitement about the book.
Black Nerd Problems: You're obviously not new to comics. But this is your first time doing something creator-owned. Do you see any similarities between yourself and the protagonist of Berserker Unbound, who's a bit of a fish out of water?
Mike Deodato Jr: Yeah, of course. He's strong like me (laughs). I see some similarities in the way that Jeff Lemire writes his characters. He likes lonely characters. It's kind of the characters I like to write, too. And to read. I think that the friendship that grows between the two characters—Cobb and Berserker—is kind of like me and Jeff. We only knew each other through email. But I feel like now I'm like a brother. I had fun drawing the best battles ever. The best thing is how they relate to each other. How they don't have the same language. But they understand each other. And that's what Jeff does. He makes you fall in love with the characters. I make you fall in love with blood and bruises.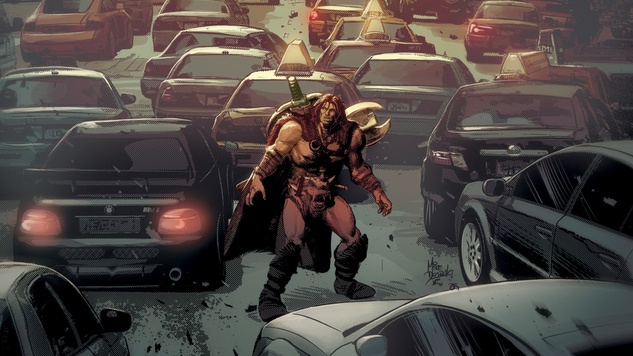 BNP: What do you think it is about Barbarians that you're most interested in?
MDJ: I like characters that are a little more savage. Like Tarzan and Conan. I really don't know what's wrong with me. I love it. I like to draw more organic stuff than technology. I love Frazetta and Neal Adams. They are artists that have their strengths more on the human form than in backgrounds.
BNP: What have been some of the challenges you and Jeff have faced coming from a publisher like Marvel where you're working with someone else's properties compared to working on something that's more your own thing?
MDJ: I like both, but it's more exciting doing my own stuff. Even the process of discussing the directions we are gonna take with the character with the editors. The whole process of editing it—it's so great. it's like when I was doing my independent characters when I was seventeen in my room with my friend and we're discussing and playing out the characters and then at night, I'd draw them. It's the same feeling.
BNP: So like a renewed energy almost.
MDJ: Like I'm seventeen again, but with no parents (laughs). And still no money. (laughs)
BNP: So what do you want fans to get out of this?
MDJ: I hope they get the same excitement I have. I know that Jeff is going to take everyone by surprise. And me, I hope my images reflect my excitement. I did the best battles ever!
BNP: Amongst the battles that you've illustrated for Berserker Unbound so far, which one has taken you the longest? How long did it take you?
MDJ: Well, almost the whole first issue is a battle. There are some double pages. So many people. But I didn't feel the time passing. It actually took me one year to finish the whole four issues because I was doing it on my weekends. Two pages a week. I was doing six pages for Marvel and I added two more (for Berserker Unbound). It's a lot. It was very tough, but I was having so much fun.
BNP: It said in the press release that you had told Jeff that you wanted to do a Barbarian story, so he kind of worked this out for you. Talk a little bit about how it feels to have a partner that wants to do something with you that you want to do specifically.
MDJ: It was nice. He asked me to do something together. I said yes, but explained I was under contract, it would take a long time. And then he asked me what I wanted to do. I wanted to do a barbarian. So he put his thinking hat on said he'd get back to me. I had experiences with other authors that never went through because they're so busy. I did layouts and everything but it never progressed because they are busy. And I was kind of not expecting much from Jeff. But then he came back and said: "How about this idea?" And I was like "Woah, fantastic!" So then I sent him sketches of the characters to make him stay motivated and he was like "Oh, that's great!" Then another day I opened Dropbox and he started putting pages. In two days, he completed the whole story. He's so fast. He's not human. It's fantastic.
The first of four issues of Berserker Unbound hit's shelves on August 7th, 2019.
" I am not exaggerating when I say this book has the most epic battles I've ever drawn! Berserker Unbound is a turning point in my career." – Mike Deodato Jr. pic.twitter.com/B58DI67YHU

— Mike Deodato, Jr. (@mikedeodato) May 10, 2019
Want to get Black Nerd Problems updates sent directly to you? Sign up here.
Follow us on Twitter, Facebook and Instagram.