Writer: Carly Usdin / Artist: Noah Hayes, Rebecca Nalty / Boom! Studios
I know we've talked about this before, but I don't care much for "sports." I do care a lot about sports pop culture media. So when I saw The Avant-Guards #1 I felt my eyes widen, and I immediately grabbed the wonderfully retro cover illustrated by Noah Hayes and colored by Rebecca Nalty. What followed in the next 20 pages was a delightful opening that started Carly Usdin's character study of the principle lead: Charlie Bravo (and yes, they've heard the 10-4 joke before).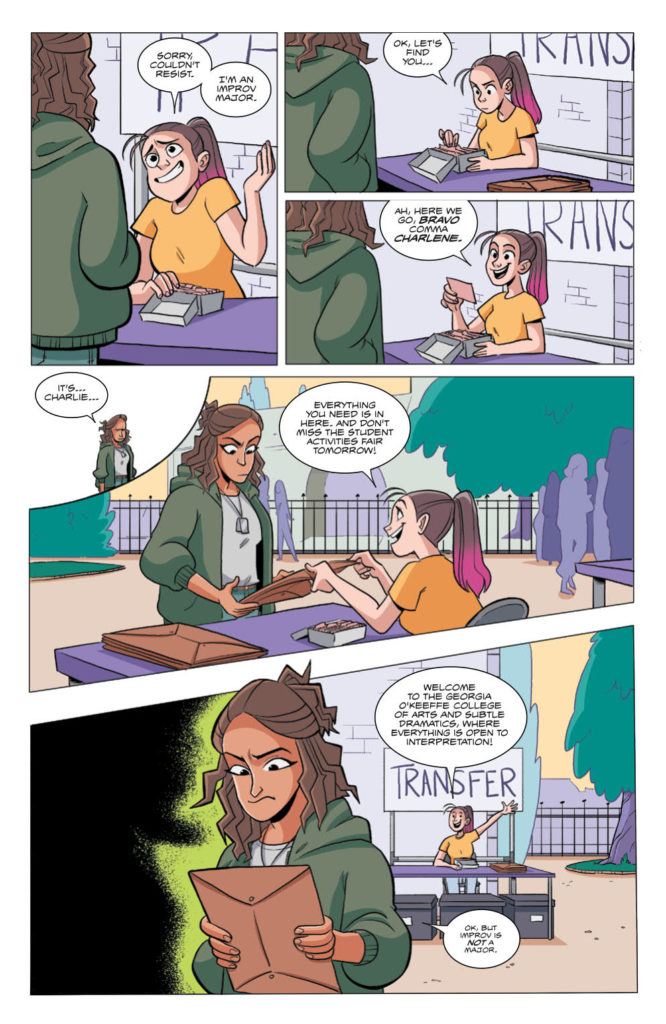 Set in the Georgia O'Keeffe College of Arts and Subtle Dramatics, The Avant-Guards #1 starts predictably at the first day of school with Charlie as your not-exactly-happy-go-lucky transfer student. Rocking dog tags and a green army jacket, Charlie has your typical aloofness about her–whether it's interacting with overtly peppy students or getting frustrated at her sister. At the expected Student Activities Fair, Charlie breezes by everyone until a rogue basketball stops her in her tracks, and she meets the Avant-Guards' team captain, Olivia, who also happens to be in desperate need of one more player for their club.
The writing is sharp and incredibly accurate to my experiences: the awkward stammers, the over eagerness, the sheer incredulity. Usdin fires off dialog at a quick tempo that keeps the story moving but also knows when let to Hayes and Nalty do the heavy lifting. There is a six-page sequence where Hayes and Nalty get to shine. Usdin's gives stages direction, but Hayes's illustration paired with Nalty's colors do absolutely incredible work at showing Charlie's difficulty adjusting to the new environment. It's this type of visual storytelling and panel design that is so unique to the comic book medium and conveys poignant emotions with the framing and the contrasts of color. It's this transitional second act, accompanied by a sweet, heart-warming final act, that I became utterly endeared by The Avant-Guards.
The saying goes there's nothing new under the sun, but that's not entirely true. While "transfer student reluctantly joins sport team and learns the true meaning of friendship" sounds exceedingly familiar, Usdin has twisted enough of the tropes and plotted out a fun opener with a relatable protagonist with the set up for an equally strong supporting cast. Hayes's illustrations are fun, taking full advantage of the medium to convey different emotions with the characters, and Nalty's colors add a vibrancy to the whole project that wraps everything together quite nicely.
The Avant-Guards promises to blend the world of sports and the world of theater, and it's a safe bet that if you're a fan of either comics or sports, you'll find something to enjoy here.
9.4 "Half-Court Shots" out of 10
Want to get Black Nerd Problems updates sent directly to you? Sign up here!
---
Follow us on Twitter, Facebook,Instagram, Tumblr, YouTube and Google+?