It looks like things are about to go from bad to worse for our favorite band of survivors. With AMC's post-apocalyptic horror drama The Walking Dead having its most talked about season since the series premiered back in 2010, news came out on Wednesday that the series has cast its big bad for season seven in the form of the dreaded, foul-mouthed Negan: Jeffrey Dean Morgan. Morgan is currently a series regular on CBS' The Good Wife and previously starred on season two of the Halle Berry lead drama, Extant. Before that, he was in two seasons of Starz's Magic City and had a memorable arc on ABC's Grey's Anatomy. Next summer he'll be playing Thomas Wayne in Batman v. Superman: Dawn of Justice. He has also starred in the film adaptations of Alan Moore's graphic novel Watchmen and Andy Diggle's The Losers.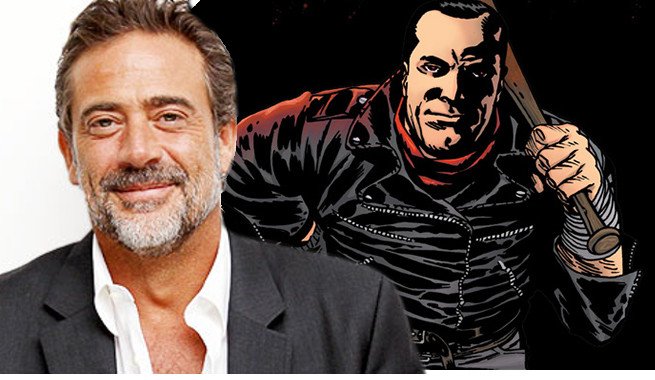 Negan is the violent leader of a group known as the Saviors that uses force and intimidation to subjugate other communities — including Alexandria. Negan first appears in TWD's 100th issue when he crosses paths with Rick Grimes, who had been vocal about bringing down the man who takes half the community's supplies in exchange for "protection" from walkers. Negan's arrival was a huge turning point for the graphic novels, adding in a lot of suspense, destruction, and death, including that of a major character. In comparison, Negan makes previous TWD villain The Governor (played by David Morrissey) look like child's play. Negan's signature weapon, his barb-wired bat nicknamed "Lucille", was on display at the 10th Anniversary Party for The Walking Dead in 2013, having already been made by AMC's prop masters for the event. So it's safe to say his arrival has been heavily anticipated by fans and those making the show for some time now. Showrunner Scott M. Gimple previously stated that introducing Negan would be "challenging," especially given the character's penchant for F-bombs. "There's a particular story in that arc that I'm very excited for. But because we know where we're going, we have some opportunities to play around with it and put some things in that will lead up to [Negan and Alexandria] in different ways, yet fulfill the story Robert told by utilizing some slightly different approaches: lineups and timelines and the whole nine yards." The character is set to make his first appearance in the season six finale directed by Greg Nicotero in the spring.
Better say sayonara to your loved ones — Lucille is coming!
Are you following Black Nerd Problems on Twitter, Facebook, Tumblr or Google+?