Writer: Nick Spencer/ Artist: Ramon Rosanas / Publisher: Marvel
Nick Spencer is taking a spin on Scott Lang's Ant-Man that is truly comedic gold and elevates the "Everyman" protagonist trope. I find myself straight laughing out loud at the panels and having to go back to prior pages just to hit that scene again. The reader is seeing Scott Lang go through the hard fucking times man. Divorce, parenting, money troubles. This is the side of the superhero community I love to see represented. This is a hard fucking gig man and Spencer is show casing that with Lang's life currently but there are still moments of fun.
This issue we got Scott Lang negotiating a business proposal with the bank to start his own security agency. The board is not hearing him at all tho as they just came in person to tell him he is getting hit the denied of all denied(s). It isn't until Mrs. Morgenstern appears and gives the dude a chance to shine veto;ing the other 1% fuck boys on the board.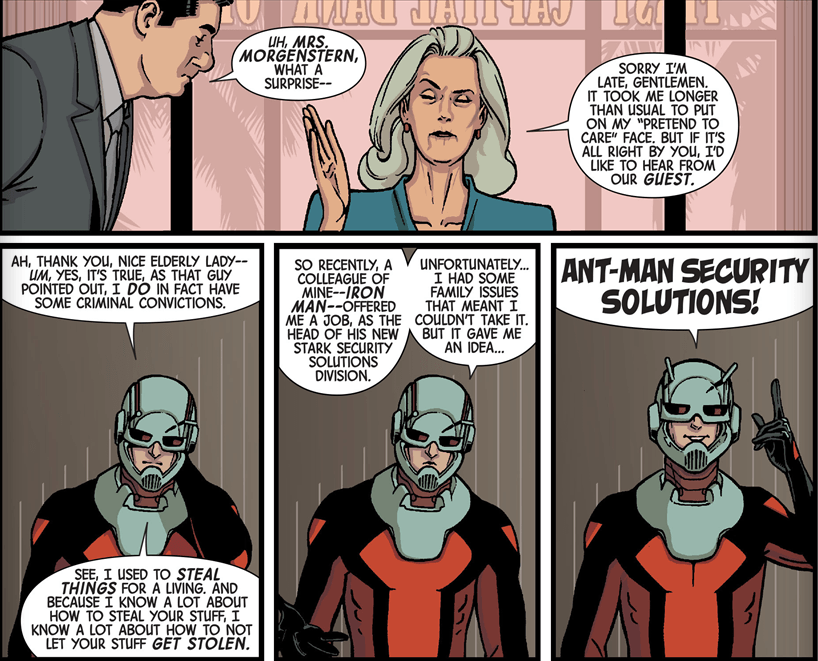 Scott leads with the "who better to protect your stuff than a guy who know how to take it?" pitch he's been so fond of and demonstrates by blacking out the security measures on the bank. He is able to take out the lights and unlock vaults showing how vulnerable they are. Mrs. Morgenstern then proceeds to say, "Fuuuuuuuuuuck, yeah about that…" because apparently the wealth of this bank was rooted in Nazi gold and there also happens to be a Nazi robot that was being held in a vault and this black out was just what it would need to be freed. Scott's expression goes from "Huh?" to "Wtf? Nazi robot that turns shit to gold? Midasbot?". He Then proceeds to hit the board with the best response ever to the crisis…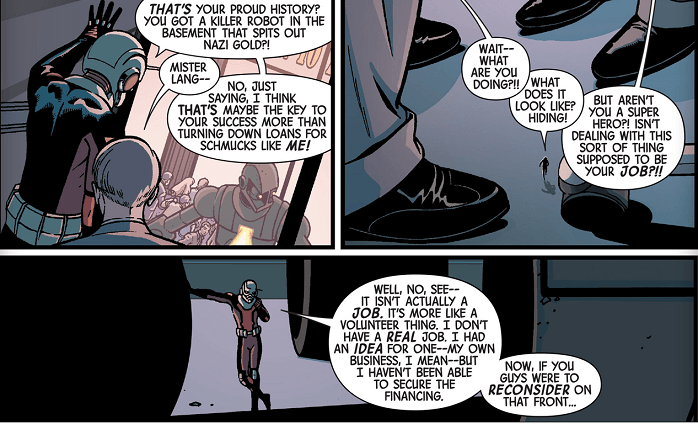 SCOTT LANG THE FUCKING GAWD!! The fuckboy board decides on not pressing charges instead of giving him an endorsement and Lang takes it. he looks on the bright side of getting to fuck up a robot and work on his banter again. After defeating the bot in a vault we see Scott have to contemplate taking money, which is technically Nazi god blood money. The weight of this on his conscious is what makes Lang so charming and someone you would back in a fight. I was saying, "take that shit man". But he doesn't. He is rewarded a partnership for his security agency that he wants to open up from Mrs. Morgenstern. We then see Scott make his first hire with a villain that attacked him at the start of the book having mistaken him for Eric O' Grady.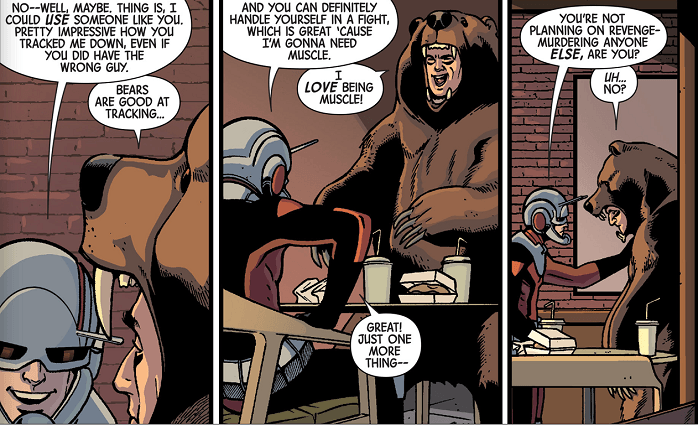 It's so ludicrous and hilarious but we are seeing the type of person Lang is. he's hiring a con like him giving bak and doing good in the world… as we later see him then return the money he took from the vault post getting the approval from Mrs. Morgenstern. Yeah, I know right? What hero in the game is on this shit right now? NONE! Scott Fucking Lang with the surprise on just what measures he will take. Rosanas art is incredible as usual this issue man. He's drawing some outlandish situations but makes it so the reader can say, "Yeah I could see that happening" with the visuals. Especially when it comes to the illustrations on Scott Lang shrinking and getting down to the nuts and bolts of whatever task is at hand.
Rosanas also draws a fucking dope Taskmaster (personal fav character of mine). Oh did I forget to mention Taskmaster is in this? Guess you'll have to read it and come back next month to find out why. Get this book yall.
Are you following Black Nerd Problems on Twitter, Facebook, Tumblr or Google+?