Writer: Kelly Sue DeConnick / Artists: Robson Rocha, Daniel Henriques, and Sunny Gho / DC
DeConnick and team turn in another stellar issue with Aquaman #44. They reveal more about the inhabitants of The Village of Unspoken Water while shrouding the title character in even more mystery. The patterns they set up in issue #43 — silence, popping colors of red and orange against the background of blue and grey, blasts of action and violence — continue here. They make for an engrossing read.
Unspoken Water, Part II
Arthur/Andy/Arausio is floundering in all ways. His lack of memory is maddening. He's trapped on an island with taciturn old people. There's a witch named Caille who can't seem to actually do anything about her situation, let alone his. The old person he's living with, Wee, has made him an offer: if he takes Caille out to her mother Namma, somewhere out in the ocean, she will tell him who he is. Enticingly she shows him a picture in a cup — a picture of Mera, Queen. For a man drowning, this only makes him more angry. Arausio is smart enough to know when he's being manipulated. But who is pulling the strings? Why? Is Caille in on it?
It has been hinted in the promotional material for this comic that Aquaman would be meeting gods of the sea. We finally see them in this issue, as these old people, all 10 of them, transform into their true selves: Gods and Goddesses from around the world.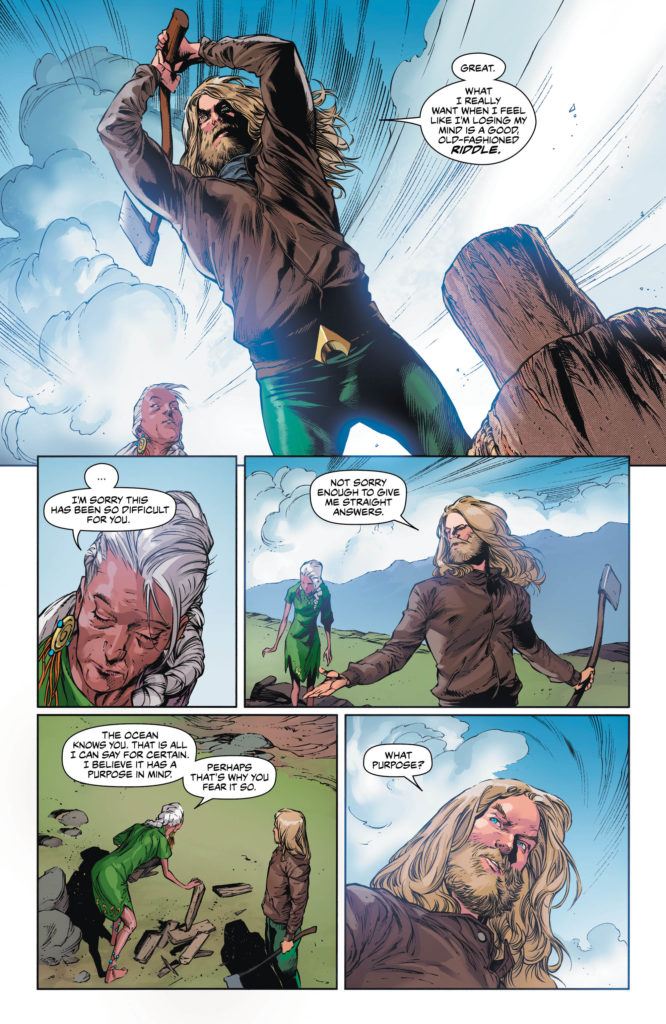 Chalchiuhtlicue and Tlaloc: Aztec
Kumungwe: Pacific Northwest Coast indigenous nations
Amanikable: Tagalog
Varuna: Hindu
Atabey: Taino
Repun: Ainu
Manannan mac Lir: Irish
Master Agwe: Haitian Voudou
Tangaroa: Maori
Each of them is terrifying and powerful, but they all bow to the sea itself. The sea, somehow, has stranded all of these powerful gods on this island, for reasons we don't know. Aquaman, Arausio, is stranded too. Same reasons?
This issue is tense right up to the last page, from Aquaman's contained frustration to Caille's matching emotions. The faces and pauses continue to tell fascinating stories. The backgrounds are sketchy, but that only makes it feel more like a myth. I can't wait to see how the team weaves all the stories of these gods and goddesses together into Aquaman's. I didn't think it was possible for Arthur Curry to become more iconic, but this arc is definitely driving to that end. Depending on how it goes, will Arthur earn his seat among these fallen gods? Or surpass them?
8 Gods and Goddesses of Water out of 10
Reading Aquaman? Find BNP's other reviews and commentary of both the comic and the movie here.
Want to get Black Nerd Problems updates sent directly to you? Sign up here!
---
Follow us on Twitter, Facebook,Instagram, Tumblr, YouTube and Google+?