We have been blessed with a new Assassin's Creed game and I'm telling you now my body is so ready for it! After Assassin's Creed Syndicate in 2015 and that "gem" they released in theaters *side eye*, Ubisoft has taken some time off to create a new game, and it looks like a masterpiece!

It was first announced during Microsoft's E3 2017 presentation. You play as an Egyptian named Bayek who returns to his hometown of Siwa to kill a fake oracle named Medunamun. He fights against enemies that are corrupting ancient Empty therefore leading to the creation of the Assassin Brotherhood.
Origins will focus on the cities of Memphis and Alexandria in the year 49 BCE. The world is filled with vibrant colors, beautifully created with nicely designed pyramids, rivers, palms trees, and a sandy, expansive desert putting everything together! It'll have the same immersive feel as Black Flag. Exploring Egypt will turn out to be an absolutely gorgeous experience. They also have horseback riding, and boat stealing GTA style. What really blew my wind was the addition of having an eagle hawk companion that helps you survey the area and locate nearby enemies.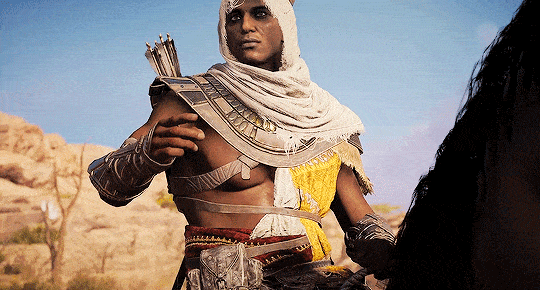 A game like this is way overdue. I've always been curious about the formation of the Brotherhood! This game has the potential to be one of the best AC games and I'm excited to watch it development. It will be released this fall, come October 27, 2017.
Are you following Black Nerd Problems on Twitter, Facebook, Tumblr or Google+?