I grew up understanding that as a South Asian woman, I was under a constant magnifying glass. All my actions (and non-actions) were being intensely watched and augmented by the Desi (people from the South Asian diaspora) community. People were eager to wait and witness what scandalous shit everyone else would get into (while secretly getting into their own tom-foolery), but judging everyone harshly all the same. The hypocritical, sexist, and sexually repressed culture I grew up in was steadfast to let all their women understand that their roles were simple: be a submissive, feminine lotus flower that never fights against the status quo, or be considered a repugnant disgrace to your family and to the community.
[quote_left]Nimisha Bhanot does not shy away from discussing the double standards and ridiculous expectations placed on women and femmes [/quote_left]Any kind of deviation, whether it be a career path, fashion choices, revealing your sexual orientation that is not heterosexual, dating outside your race or religion, or choosing to be sexually independent was considered an attack on the values and cultures of your people. What it really was, is a systematic brainwashing that forces people to live in a classist and sexist binary, that erases any kind of autonomy; one with free will should be able to live the way they desire without harming others.
However, rebelling against these ideals have always existed, and in today's day and age has seen a unique transformation of how technology, most noticeably social media, has been used to broadcast messages of combatting harmful ideologies. Art as well has been seen more and more frequently online as a tool of dismantling patriarchal standards.
I am so honored to have been able to find an artist who has been using her creations as means of critiquing and analyzing the painful and harmful aspects of the South Asian world. Nimisha Bhanot does not shy away from discussing the double standards and ridiculous expectations placed on women and femmes.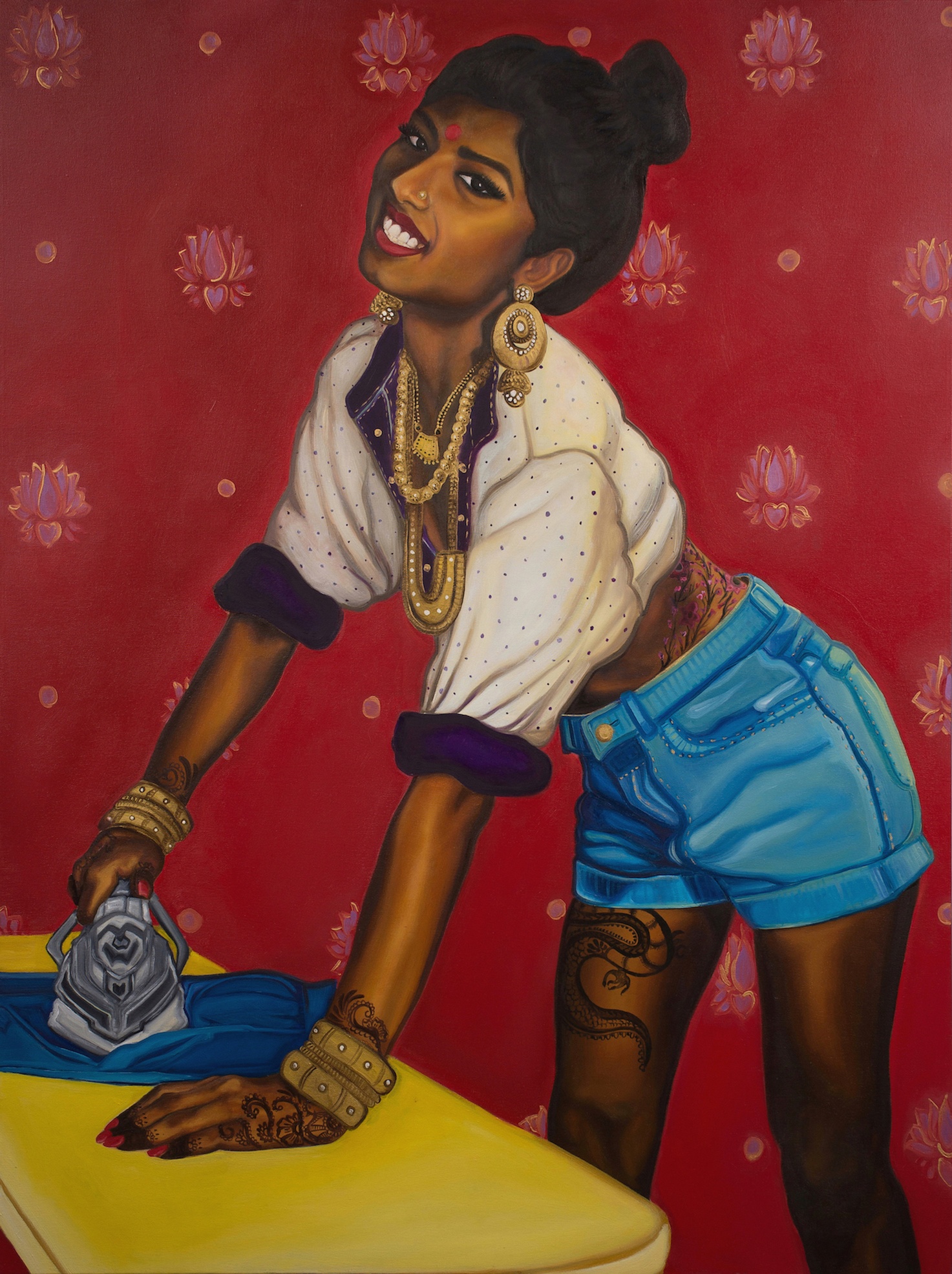 Black Nerd Problems: Tell us a little bit about yourself!
[quote_right] Many women in the South Asian community are ostracized by their families and community for being proud of living outside of the norm… I immortalize their resistance through painting[/quote_right]Nimisha Bhanot: I'm a Canadian Visual Artist and my favourite medium is oil paint. I started painting Badass South Asian women while in university, starting with Badass Brides, Badass Indian Pinups, Badass Bahus (daughter-in-laws) and recently Social Media Monarchy. I enjoy figurative oil painting because of the gaze, and I love to capture the act of returning the gaze. South Asian women are often told to stay modest, never talk back, never look back, et cetera, and that definitely makes its way over the water when we look at the experiences of first and second generation women in the diaspora. So I like to confront these and other hetero-patriarchal expectations for women in our community through painting because I feel it's the best way I can. My career wasn't always headed in this direction, it took many detours but I'm very content with where I am. I consider myself very lucky to do what I love.
BNP: You work with a lot of colors and pin-up kind of influences. How do you decide what to create?
Bhanot: I absolutely love colour. I feel that colour communicates mood very well and I use that to my advantage when I'm creating. My choice of colour is dependent on how I want the painting to be perceived. Sometimes I use contrasting colours to draw attention to particular elements of a painting (ex. Karvachauth – lime green background contrasted by red lips, nail polish, vermillion, henna [religious signifiers]). Sometimes I use colour for symbolism to add another layer of perspective to a painting (ex. Shameless Menstruating Goddess – white background to contrast traditional meaning of purity against figure which questions the role of purity in menstrual stigmas in culture and religion). I usually plan my paintings as series with 3-5 paintings per series. I try to control it as much as I can, but sometimes I end up adding something to a body of work at the last minute. I can't help it when I become inspired, sometimes I just have to get it out!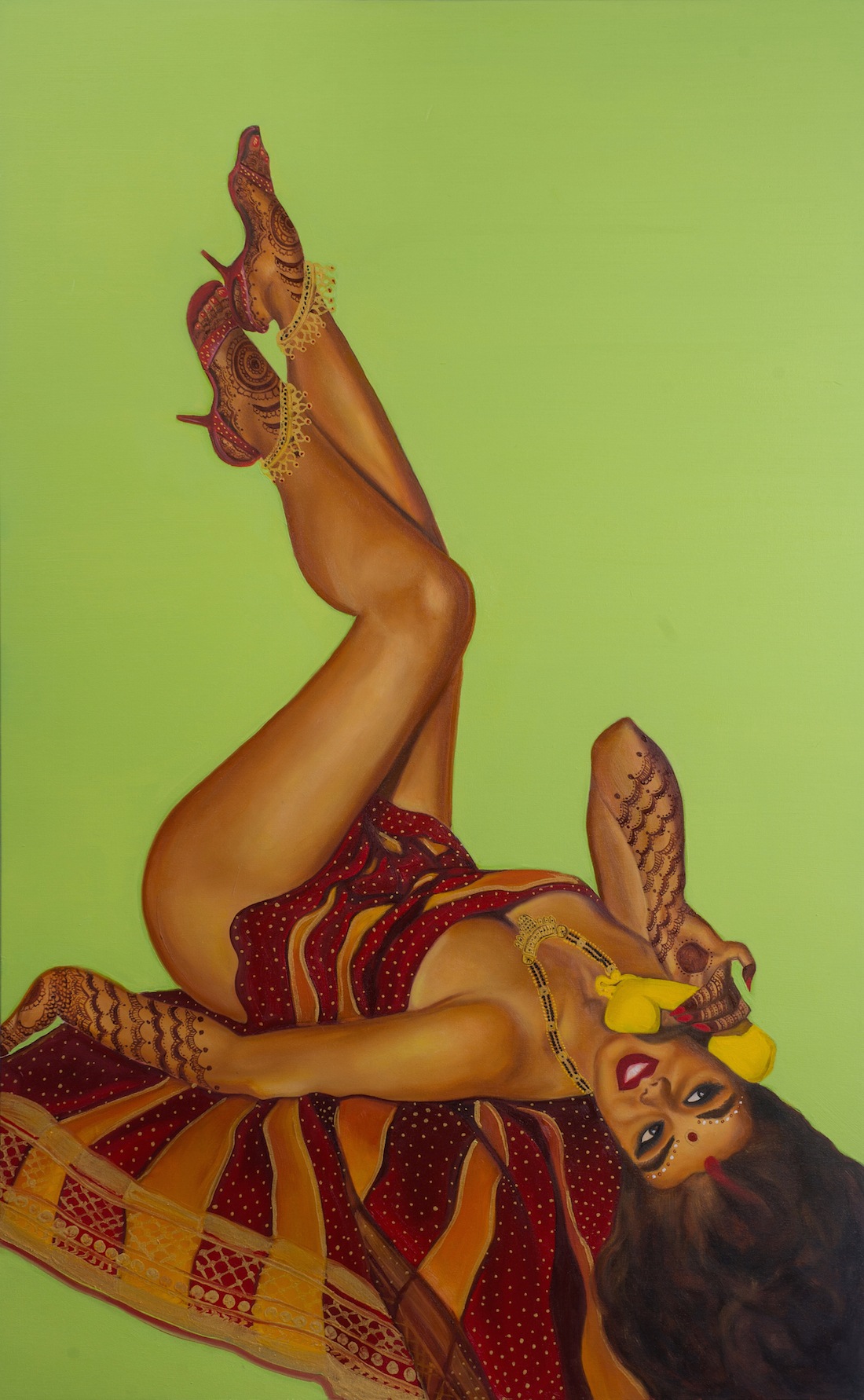 BNP: Are there any social or political messages within the pieces you make?
Bhanot: Yes most definitely, I feel like all of my work has a socio-political message embedded in it. Whether it's the title, the composition or the figure's gaze. I want my audience to understand that feminism is letting yourself live an authentic life and letting others live it too. Many women in the South Asian community are ostracized by their families and community for being proud of living outside of the norm which is why I immortalize their resistance through painting (ex. Badass Brides [interfaith brides]). My Badass Indian Pinups are appropriations of vintage American pinup art. The act of appropriating these 'iconic' American figures is a protest against cultural appropriation and Indo-Chic in fashion and media. I do it by changing their faces, skin, hair, clothing, et cetera, to portray South Asian women owning their dichotomous identity and sexuality at the same time (which are often pitted against one another).
My recent series Social Media Monarchy idolizes social media icons within the South Asian diaspora that use social media for activism and have as a result, created communities of acceptance for intersectional groups which can be accessed by anyone. Through composition and title, the paintings aim to highlight how each individual's mission transcends social expectations and norms whether set by race, gender or sexuality. My next body of work will be bigger and will go deeper into themes that have been present in my past series, stay tuned!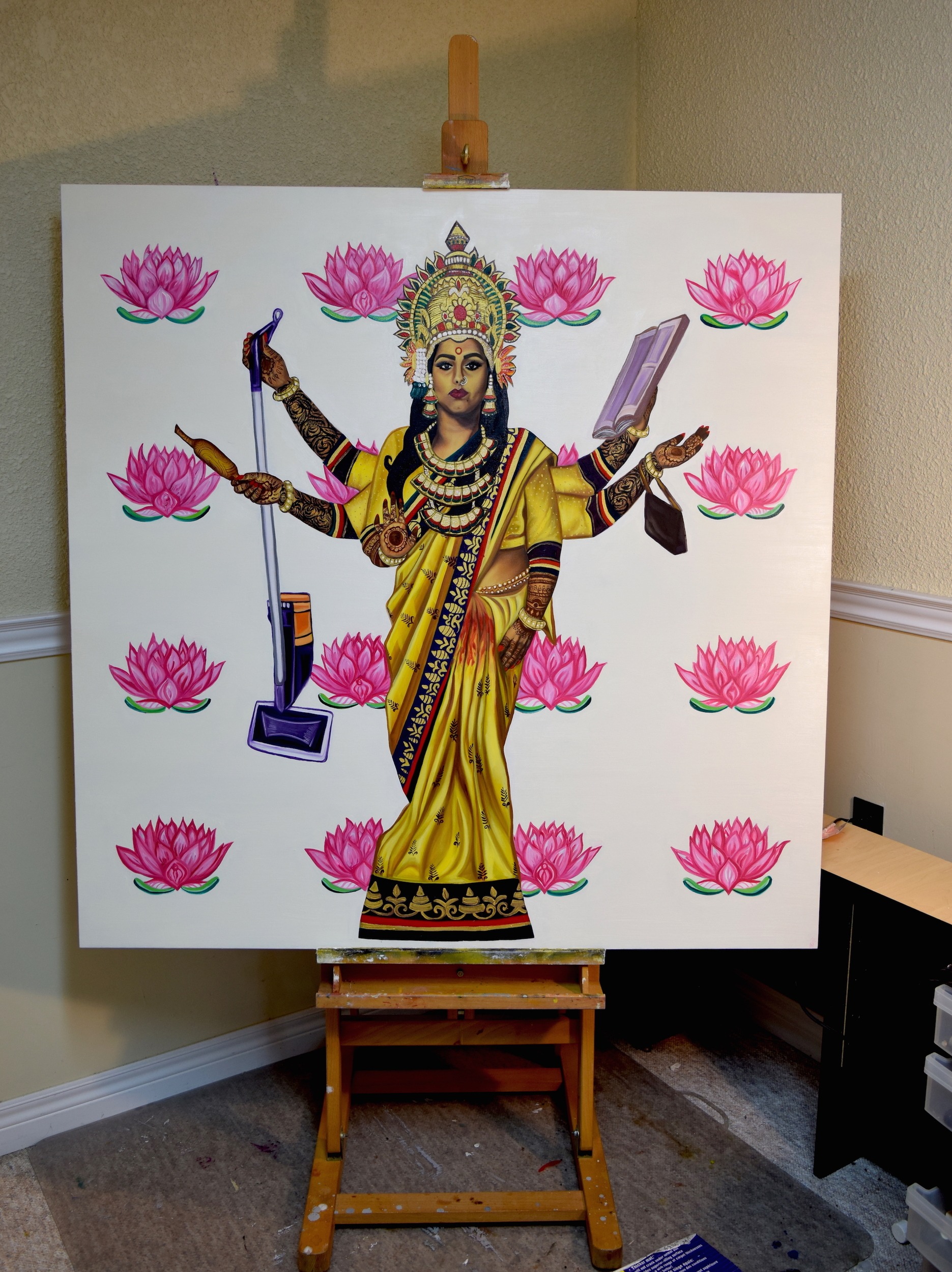 BNP: Do you have any goals for the future?
Bhanot: Well I'd like to continue painting for now. I would like to continue my education and get an MFA at some point, but for now I'm focused on building my career and getting my work into difference cities!
BNP: If you could brunch with any fictional character, who would they be and why?
Bhanot: I am so embarrassed to say I don't read much fiction! If I had to choose one fictional character it would be Elizabeth Bennet from Pride and Prejudice. She is fierce, talks back and rejects the norm in a time where it was impossible – the true mark of a visionary.
Learn more about Nimisha Bhanot on her personal website, connect with her on social media on Facebook and Instagram, and shop her store on Etsy.
Are you following Black Nerd Problems on Twitter, Facebook, Tumblr or Google+?