ROAD TRIIIIIIIIP. This week we're on the outskirts of Banshee aka No Chill City. Hood and Brock just got wind that Chayton is in the big easy fight club. Hood is scoping out the place with Brock and it's looking straight up like a 2d beat'em up side scroller wrestling match. Basically, this fight club is Streets of Rage meets WWF Hell in a Cell match. After one fighter beats the other (I assume they were the undercard match) Chayton comes out to fight the winner. Now when I say Chayton comes out, I mean he came out like Triple HHH's entrance in WWF.
Chayton had this dude whooped in like 40 seconds then locked eyes with Hood in the crowd before giving this guy his patented (literal) Neck Breaker which he now calls "The Widow Maker" which made Hood come at him for his soul. Hood jumps into— Alright If I am going to do this I gotta go into my Jim Ross color commentating mode.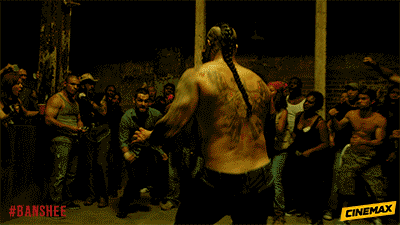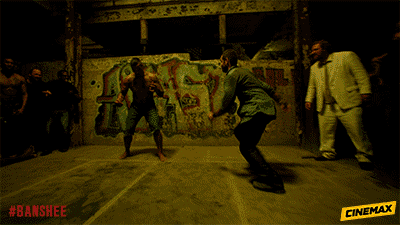 "MY GAWD LUCAS HOOD JUMPS INTO THE RING AGAINST CHAYTON! RIGHT HANDS! RIGHT HANDS! RIGHT HANDS! AND A BIG CHOP FROM CHAYTON LITTLESTONE! DOWN GOGES HOOD. DOWN GOES HOOD. BOY I TELL YOU WHAT HOOD IS STILL FIRED UP FROM SEEING CHAYTON SEND SIOBHAN KELLY STRAIGHT TO JESUS. THIS MAN CHAYTON IS SICK(which could arguably be due to everything the white man has done to his people which made him retaliate to such extreme measures). CHAYTON PICKING HOOD UP— LOOK AT THE MASSIVE STRENGTH OF THIS MAN. IS HE- YES CHOKE SLAM DOWN ONTO THE UNFORGIVING CONCRETE FLOOR. THAT MAN IS BROKEN IN HALF!
MY GAWD, HOOD IS IN A BAD WAY. CHAYTON SQUEEZING THE LIFE OUT OF HIM NOW… THOSE MASSIVE HANDS MIGHT BE PUTTING HOOD DOWN PERMANENTLY. THE REFEREE CHECKS HIS ARM RAISING IT IN THE AIR. IT'S DROPPING…. HE CHECKS AGAIN…. IT DROPS STRAIGHT DOWN. IF HIS ARM DROPS ONE MORE TIME THATS IT FOR HOOD… OH IT'S UP! IT'S STILL UP! HOOD FIGHTING HIS WAY FREE. FISTS OF FIRE! HOOD BACK UP TO HIS FEET AND HE JUMPS OF THE WALL FOR THE HYPER COMBO SHADES OF SPIDER MAN'S MAXIMUM SPIDER!!
CHAYTON IS GETTING ROCKED, CHAYTON, STAGGERING, HOOD BOOM-A-YE! HOOD BOOM-A-YE! CHAYTON CATCHES HIM IN A CHOKE HOLD! BUT HOOD CHOKES BACK! HOOD CHOKES BACK!"
[divider type="space_thin"]
The match ends in a disqualification when Brock lets the hammer bang out. Chayton gets ousted by the official while Hood and Brock are allowed to leave by the grace of the host who is dressed in a Mark Twain white suit. Whats with old southern white dudes and white suits man? Son looked like he was about to do a Fog Horn Leg Horn impression. "I say-I-sayI-Say your badge is no good here officas". Hood leaves telling Brock Chayton is going to come to them if they don't find him first which is all good to him.
Meanwhile back in Banshee / No Chill City. Sugar decides to take some of the stash to put some things right against Job's wishes. He leaves the money with the son of a boxer whom he put the hurt on years prior. He tells Job this as he sees him back in his car having sidelined it until he confessed what was going on. Job coulda let shit be but he did some digging and saw that Oscar's father that Sugar MESSED DA FUCK UP had died years earlier. The documents were forged to guilt Sugar. Oh and if you are wondering how Job got the money back my man put the paws on this kid. HARD!
JOB GOT TO BE THE BEST TO EVER DO THIS SHIT MAN! COME ON! He knocked dude out while in loafers and rocking the same outfit
Prince went to the club in and then balled in on the court against Charlie Murphy
. He returns the money to Sugar revealing the ruse but when Sugar was whatever about it, Job knows what its all about. "What was her name man?". Sugar tells him he hurt dude's pops because the woman he loved had loved him. He couldn't deal with that pain so he put it on dude.
Meanwhile over at the Diner. The general stops by and is recounting in his head how his ass got robbed by them stick up kids. He siting there wondering who got close enough to stick him for his paper, his IT Tech that got his keyboard ankles crossed over by job surmises it had to be 4 people and one of them got close enough to the general to steal his hand print. In comes Carrie walking over to him like "Daaaaaaaaman homie. What happened to you tho? you need anything? You sure? I'ma get you a ice cream float…would you like that? Yeah? Okay." then walks away humming mo money mo problems to herself.
Back in the big easy Hood is hanging about with Brock, then leaves Brock hanging once he starts with the "I know nothing about you" talk. This ain't that kinda road trip man. We here to kill Chayton and our feelings. Hood lies down in the hotel then has his hulk sense start tingling awaking to see Chayton standing over him.
Chayton: Oh you're awake…
Hood:Yeaaaaaaa.
Chayton: I was just gonna kill you in your sleep. Kinda awkward now… sooooooooo I noticed you got a lot of beads over the-*goes in for stab*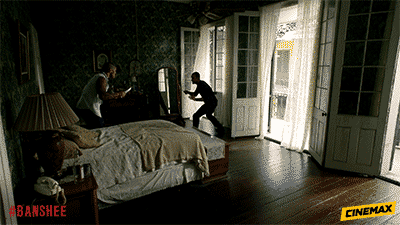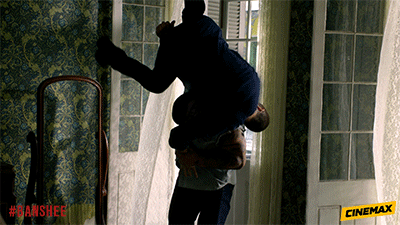 Brock comes in and sees them reenacting Soul Calibur up in this hotel room. Chayton tells Hood he can't beat him cause he just a man then fucking dumps out the balcony bleeding his ass off (in broad day light) Hood chases after him shot gun in hand (in broad day light) and is bucking after his ass in a cemetery shooting down mad tombstones (again in broad day light). Hood chases Chayton down to the pier and Chayton whose damn near the size of Andre the giant has been running and fucking bleeding all over the place looks at Hood sayin, " Ah…aaaaaaah ya got me".
Hood got Chayton dead to rights with the shotty in hand and I'm sitting here like alright. He going to throw that shit away and square up with dude. He bout to fight him hand to ha–
OOHHHHH FUCK! WHAT THE…. HOOD SEND THAT MUTHA FUCKA TO JESUS LIKE THAT?!?!?!? GOD DAMN HOOD.
*While dumping the body into the river IN BROAD DAY LIGHT*
Brock: Oh…you…just shot his face off? Thought you woulda tussled a bit…or found a way to break his neck.
Hood: What? Why would I do that. He fuckin WWF'd me this whole episode. You saw when he gave me the fucking death valley driver through the table? An he choke slammed me before that.
Brock: Yeah but this is mad like anti-climatic
Hood: Fuck you. Fuck you man. I'm over here fighting the fucking mountain and you mad I used the fucking boom stick against this fucking prototype Sentinel straight outta the X-Men franchise. See this is why I can't stand your ass.
Brock: I'm jus saying… seems like you only fight dudes to the death when there happens to be a big semi-truck that jack knifes and the dock happens to take their head off.
HOOD: THAT REALLY HAPPENED DAMNIT! I WASN'T MAKING IT UP! IT– I'm not having this conversation.
Back in the city that never chills we see Kai at his mother's funeral finally being allowed back into the community by his father. It's all good till a squad rolls up on Kai for still distributing to his their rivals (it was actually Rebecca secretly doing so. She was caught by Clay Burton and tried to sex him into secrecy until she found out he is originally from the unsullied army. Then she used the "well my uncle going choose me over you in the end so you can tell him but then you know he goin side with me" tactic.) Kai's ass got scooped up and Rebecca was shooting at the truck but to no avail… They long gone now.
Maaaaaaaan Rebecca bout to be in some troublleeeeeeeeeeeeeeeee. I was expecting Clay to come out from behind a tree pointing at her saying