It's time for Yonce fans to get in Formation!
[youtube link="https://www.youtube.com/watch?v=LrCHz1gwzTo" width="590″ height="315″]
This video right here mayne? This Bama blackness right heerrreeee? This is what Black dreams are made of. This is what MLK was dreaming we could do one day (along with many other things, don't get it twisted).
Where do I even begin? Well, lets start off with that opening scene of Bey on top of a cop car 90% submerged in what I can only guess is flooded Bayou levee water. How many instances of symbolism can YOU spot in this shot?
Maaannnnn I can't even be my usual eloquent self when it comes to this video! I'm bout to go mad Generation X – Millennial hybrid ADHD on ya right now:
That entire set-up on the plantation?
Beyonce murdering that choreographed dance in the halls of that mansion?
Blue Ivy and that FRO?!
Blue Ivy and her very own Destiny's Child squad?!
Blue Ivy and that SNARL tho?!
The Dance with all the girls in Gucci-esk outfits swervin in the drained pool?
The 90's style shitty quality scenes? Bravo.
HOT SAUCE IN MY BAG SWAG????
WHEN HE F**K ME GOOD, I TAKE HIS ASS TO RED LOBSTER?
That crazy ass dress and hat combo Bey rocks on the porch?
The little kid absolutely murdering that dance in front of the line of police officers?
The line of cops joining the little boy in a hands up don't shoot salute?!
#BLACKLIVESMATTER
Yo. Yoo. Yooo! This is what the world needed to see. This is what the black community needed from the greatest entertainer in the world. This was the video that racists didn't want you to see.
I found it funny that Beyonce has begun to take this unannounced approach to her music lately for one reason in particular. Last week I was talking to my co-worker about the lack of action taken by extremely influential artists, Jay-Z and Beyonce in particular. It felt great to walk into work the day after the video dropped, find said co-worker and say, "Sooooo what was that you were saying about Jay & Bey not using the power they hold to affect change in the world?" Loved that moment.
Maybe this will be the catalyst needed to spark a slew of socially conscious music videos aimed at showcasing the change we need to see from our society. Change starts with one.
Oh… one more thing.

SNL JUST DROPPED ONE OF THE GREATEST PARODY VIDEOS OF ALL TIME. Please watch immediately
[youtube link="https://www.youtube.com/watch?v=ociMBfkDG1w" width="590″ height="315″]
Oh yeah… one very last thing.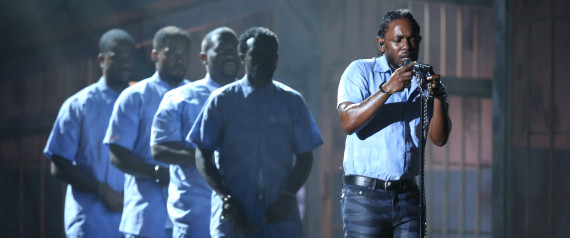 KENDRICK JUST WENT OFFFFFFFFFFFFFFFFFFFFFFFF AT THE GRAMMY'S LAST NIGHT! This man walked out onto stage in SHACKLES! Chain Gang status; and we ain't talkin' Rocafella Chaining Day.
Yo, could this actually be happening? Could the Black stream of consciousness ACTUALLY be headed to the side of social change, accountable talk, and punishable abuse of justice? Could powerful images such as a African tribes banding together in song and dance spark a fire in the belly of the giant that is the Black Community?
The 1960's intellectual and unifying Black Community, the peaceful grace of the 1970's groovy and loving Black Community, with a slight hint of the 1980s Black Power Community, a dash of the 1990's rebellious Hip-Hop Black Community and lastly, a light coating of the conscientious forgiving and progressive Black Community that we have today.
CUZ THEY SLAY.
Are you following Black Nerd Problems on Twitter, Facebook, Tumblr or Google+?