Will Marvel finally release a proper solo title for the Daywalker in anticipation of the Phase 5 film?
The most unexpected mic drop moment of San Diego Comic Con 2019 came when Keige Feige announced Mahershala Ali in the titular role of Blade in a new solo film set for the MCU's Phase 5. After the initial shock faded at the idea of anyone but Wesley Snipes playing the character on the big screen, one has to look at the comics themselves to see that Marvel (unified under Feige) planted the seeds for Blade's return in the pages of the Jason Aaron's current Avengers run.  Feige and Aaron are magicians of different mediums when it comes to the longform storytelling, so some comics-film synergy is definitely in the air.

In the same way that Robert Downey Jr. saved Iron Man from the superhero C-list, Wesley Snipes revived Blade from the dustiest back issues bins.  Before 2008, "Iron Man" was just a Black Sabbath song or Ghostface Killah album depending on who you asked. Prior to 1998, Blade was even more obscure.  While the character first appeared in Tombs of Dracula #10 by Marv Wolfman and Gene Colan in 1973, he is barely recognizable compared to his modern incarnation.  Instead of the "all black everything" look, Blade wore quite colorful clothes and sported an Afro; also, unfortunately, he suffered from cringeworthy "jive-induced" dialogue that plagued other African-American characters at Marvel.  Needless to say, it was the 70's . . .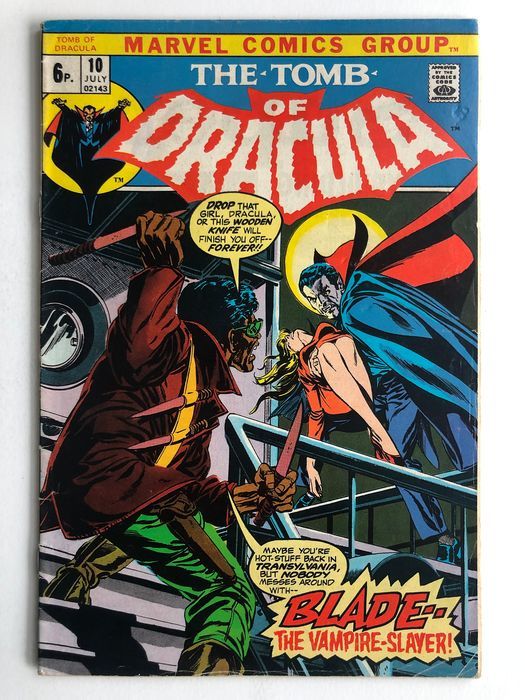 Past Mistakes 
While the character's look evolved into something more fitting with its horror-filled corner of the MCU, Blade could never quite sustain a solo title.  Between July 1973 and September 1974, Blade appeared in roughly twelves of Tomb of Dracula followed by a handful of one-shot stories to close out the decade.  The 80's came and went without a sign of Blade, but the 90's welcomed the Daywalker with open arms.   He returned in the issues of Ghost Rider with the Midnight Sons imprint, two solo stories in the anthology Midnight Sons Unlimited (1993-1994), and co-starred in Nightstalkers (1992).   From there, Blade finally appeared in his first solo series Blade: The Vampire Hunter by Ian Edington, Terry Kavanagh, and Doug Wheatley. It lasted just ten issues. 
Fast forward to 1998 and Marvel announced a new six-issue mini-series for the Daywalker – by fate or by flop, only three issues hit the shelves.  Following the success of the live action incarnation of the character in 1998 and the release of Blade II (2002), Marvel released two ongoing series  – Blade Vol. 2 in 2002 and Vol. 3 in 2006.  While Vol.3 fared better than Vol.2, releasing twelve issues over six, the character languished in obscurity for over a decade. The only sign of awakening came in 2015 when Marvel announced a new series by Tim Seeley and Logan Faerber with teaser art and character designs that suggested a female heir to Blade's swords. Unfortunately, the teaser images were the only material ever seen from the project that ever saw the light of day.
Thanks to Jason Aaron's current run of the Avengers, however, Blade is back in the spotlight as he now operates as a member of the revolving lineup for Earth's Mightiest Heroes.  At the same time, Blade now leads a team of his own in the revival of the series Strikeforce.  Now that the Daywalker is back in the public, the real challenge is to establish a solo title worthy of the character's casual and die-hard fans.  On paper, the concept sells itself – a half-human, half-vampire who hunts bloodsuckers with swords. Hell yeah.  The elements, however, have to be right in order for Blade to carry an ongoing series. 


The Writers
In order for a Blade ongoing to work it needs a writer who is adept at world-building, invested in character exploration and growth, and also has a firm handle on not letting the tone take itself too seriously.  The best Blade is a little bit of a smartass afterall, and one cannot take themselves too seriously hunting vampires in a world where Celestials exist. Given those conditions, the first names that come to mind are Al Ewing, Jason Aaron, Rodney Barnes, and Christopher Priest.  
Al Ewing has shown that he is more than adept in exploring the horrors of not only the Marvel Universe, but also the psyche of the hero. Look no further than his work on Immortal Hulk to see how he could be a great candidate for a Blade series. At the same time, Jason Aaron brought the Daywalker into the Avengers fold, finding a perfect role for Blade in an ensemble of Marvel's heavy hitters.  He also knows a thing or two about longform, slow-build storytelling as his multiple volumes of Thor will live on as masterworks in the character's history.  
A case could also be made for Rodney Barnes, who is currently writing the vampire centric Killadelphia for Image. Coincidentally,  Barnes used Blade as a supporting character for a brief arc during his run of Falcon (2017). The series itself was a mixed bag, but the issues featuring Blade and Misty Knight were its saving grace as those two have great chemistry. 
Last, and by no means least, is Christopher Priest (aka Priest).  The man made Black Panther relevant in the 90's, and recently completed a 50 issue run on Deathstroke that drew its lifeblood on violence – emotional and physical.  In the end, it was not just a story of blood, but of families and fathers. Priest's ability to elicit emotional depth and conflict in a character who is so associated with acts of visual ultraviolence make him a strong choice as well.

Given the most fitting writer, Blade would only need a strong supporting cast in order to really rise to prominence and visibility akin to Marvel stalwarts like Wolverine.  Characters like Misty Knight, Moebius, Daimon Hellstrom, Ghost Rider, Angela, and others already have close relationships to the Daywalker, and Marvel is doing a smart job of re-injecting Blade into its line through two team books.  Although the release date for the new film is yet to be announced, it is a guarantee a new comic series will precede the release by at least two years. In the same way that Ta-nehisi Coates' Black Panther series in 2016 only propelled the hype for the 2019 film, a Blade ongoing is a must to inject a new vitality into the character.
The conditions are right. The timing is right. But will the Daywalker stake his true claim with a solo title worth biting into?
Want to get Black Nerd Problems updates sent directly to you? Sign up here!
Follow us on Twitter, Facebook and Instagram!