Writer: Nick Spencer/ Artist: Angel Unzueta/ Marvel Comics
It's about damn time that Misty Knight gets the respect and appreciation she's long deserved. I've been telling people for years that she's essentially a better version of Black Widow with a bionic arm and an occasional mean streak.
In Captain America: Sam Wilson #16, Sam gets a much deserved break after his entire world's been turned upside down three times over since he's taken on his new role. Misty Knight, who has an admittedly complicated partnership with him this entire time, steps in to give him a break. So this issue is primarily all about her.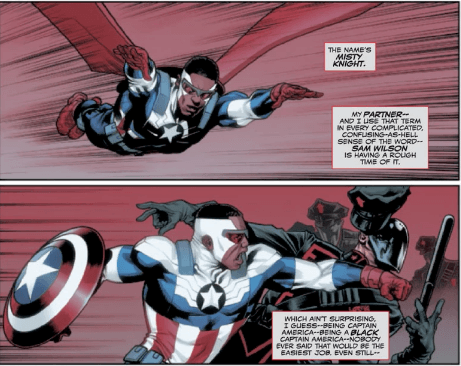 [quote_simple]"Don't ever call me the woman behind the man. I got my own thing going on." – Misty Knight[/quote_simple]
Initially, I was taken a bit aback by the case Misty was presented with in the issue. In a story that heavily features a score of women, why does the entire conflict have to revolve around sex crimes? She could just as easily have fought a slumlord or even the leader of a radical political party that outwardly works against women of color. But, at the same time, these are stories worth exploring and Misty is more than qualified to do so. So, for now, I'll chalk this one up to the comic book industry being what it is with my eyebrow of curiosity and caution raised high.
Issue #16 is a great diving in point for anyone interested in learning more about Misty Knight's history. Not only does it offer a concise summary of her past affiliations with a variety of superhero team-ups, but it touches on her relationship with Danny Rand, proves that her investigative skills are top notch, proves that she can do with either her bionic arm or her organic one, and gives her plenty of scumbags to beat up on in the process.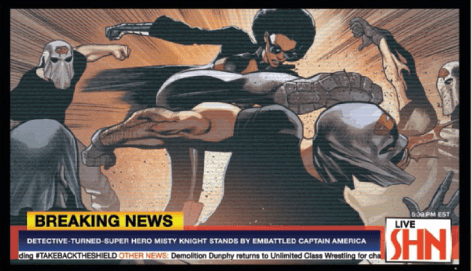 Marvel? GET THIS WOMAN HER OWN COMIC BOOK SERIES. [Preferably, written by a woman of color.]
8.5 broken scumbag noses out of 10
Are you following Black Nerd Problems on Twitter, Facebook, Tumblr or Google+?