Writer: Jeff Lemire / Artist: Andrea Sorrentino / Image Comics
WE ARE ALL JUST SOFT INSTRUMENTS
A wonderful asymmetry/curious imbalance exists between the parallel narratives of Father Fred and Norton. There are moments in Gideon Falls where we see one's faith falter and another's conviction become stronger under exceedingly similar conditions. Where uncertainty leads others to be uncertain, certainty convinces some of things they never would have imagined.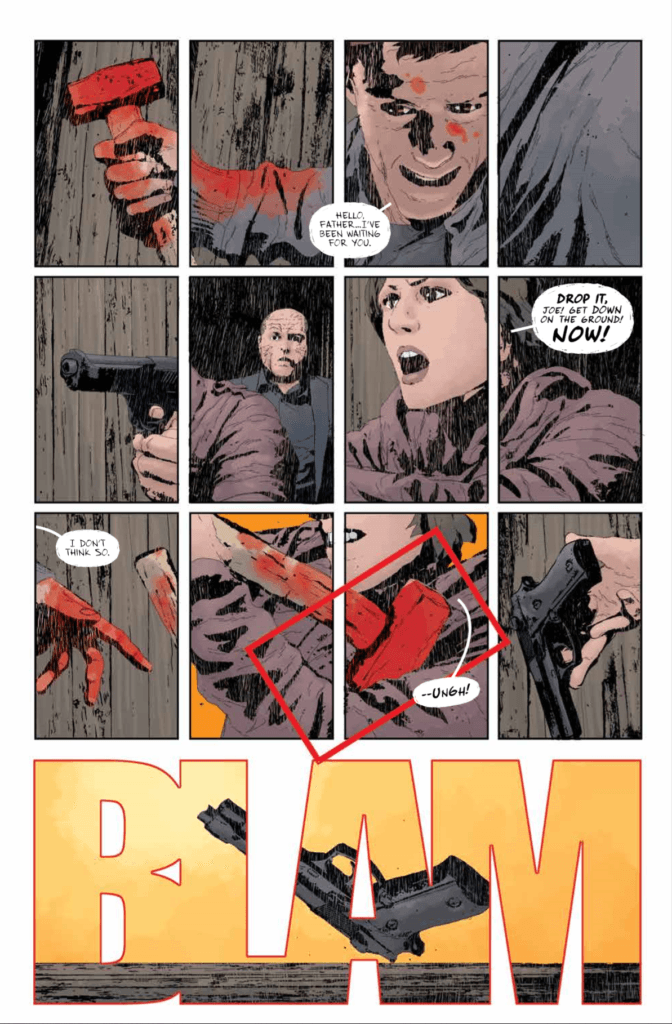 Lemire's decision to linger on the ever-changing determination of his cast is half of the reason Gideon Falls reads as brilliantly as it does. The characters are reluctant, inertially bound to their prior concepts. It is a slow, painful breaking. Every realization of the exact nature of the situation is treated as a pyrrhic victory, tainted with an overwhelming sense of futility. The fear Lemire generates is one that whispers to our fatigue and dread. Sorrentino's artwork manifests this fear in a showcase of utter brilliance.
I will forgo my usual praise about the brilliant use of the color red, instead focusing on the imaginative paneling of Sorrentino. The frames within frames call forward sinister details in the ways actions and characters are viewed. Sorrentino contorts the shape of the regular rectangular panels that twist our insides. Set pieces blend and warp on a dime's notice. Visual hints belie what's going to appear on the next page. The combined narrative is an utterly surreal experience that continues to draw you in, only appropriate given the nature of the story.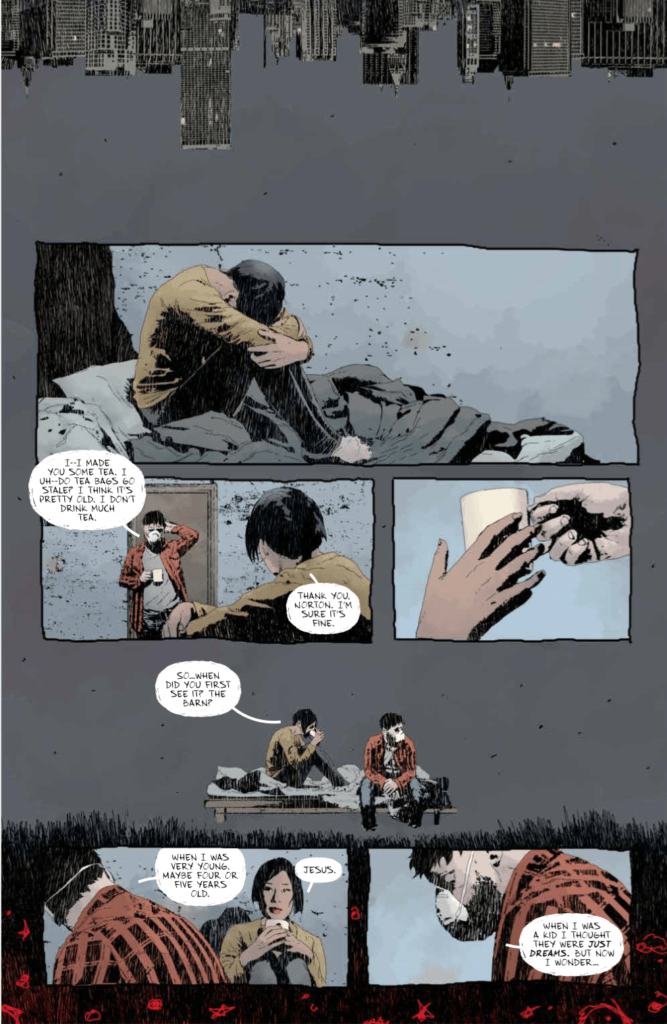 As we near the end of the first arc, Gideon Falls reminds us that we are always grasping for an understanding in a chaotic world where senseless things happen. It reminds us of loneliness, of desperately wanting someone to understand what we are experiencing and the internalized dread we carry. Lemire and Sorrentino just decided to give it an actual form and name in the form of the Black Barn. My god, if all of this isn't making a horror fan out of me.
9.3 "Knives and Other Sharp Objects" out of 10
Want to get Black Nerd Problems updates sent directly to you? Sign up here!
Are you following Black Nerd Problems on Twitter, Facebook, Tumblr or Google+?