Writer: Robert Venditti / Artist: Rafa Sandoval / DC Comics
For all intents and purposes, even though I grew up on him, I should be sick of looking at Hal Jordan. I mean, come on… he's a white guy whose superpower is being arrogant and tougher than every villain he faces. However, the operative word there is "should" because amazingly enough, I'm not tired of him at all. Hal Jordan and the Green Lantern Corps is a fun, amazing ensemble sci-fi book that mostly gets its characters, but still, never fails to stick the landing when it comes to "the Greatest Green Lantern of All" (aside from John Stewart).
Issue #28 continues the "Fall of the Gods" story arc where the Corps is facing off against a mysterious villain endowed with the ability to make it rain Jack Kirby invented characters at his enemies. Okay, I'm kidding. That is not the plot but the actual plot definitely seems to be an homage to Kirby from space golems to team-ups with Orion to this issue where Hal Jordan has to find Highfather and protect him from… I shit you not… Omega Beams scouring the universe to assassinate him. If I didn't know anything else about this book, that premise alone would be worth my three bucks. Hal seems to be learning more about the upper limits of his self-made Lantern ring. He receives an unexpected visitor at simultaneously the worst and best time that makes for a pretty heartfelt moment on its own.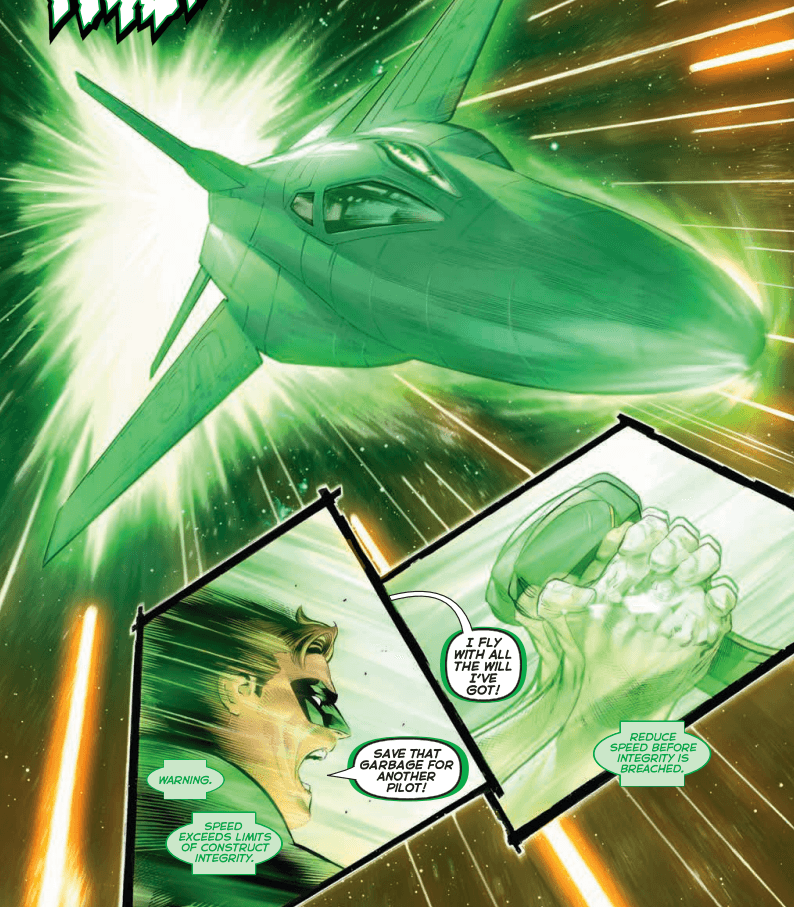 The story is pretty cool but this week, Rafa Sandoval is, by leaps and bounds, the real MVP. Sandoval excels in grandiose sci-fi moments but in this case, manages to be very intimate and, at one point, emotional with his characters via detailed and expressive faces.
Bottom Line: This book, much like its titular character, approaches everything in such a "kick ass first, take names later" way, it's nice to see that even in tense, high stakes moments, Robert Venditti finds a way to stop get a little emotional… even if it is in a big green fighter jet.
8 Top Gun References out of 10
Reading Hal Jordan and the Green Lantern Corps? Find BNP's other reviews of the series here.
Are you following Black Nerd Problems on Twitter, Facebook, Tumblr or Google+?