(W) Matt Fraction & Annie Wu / (a) David Aja
It's the final showdown between Madam Masque and Kate Bishop. This is all of the glory. Fraction and Wu do a lot of switching between being in the present day and past as we find Kate Bishop recounting her story to authorities. From last issue we know Kate was set up as it looks like she killed her beat reporter friend Harold. What unfolds is pure motion picture shit that plays like a theater play with the parts mixed around. Kate gets her detective on and figures a way into Masque's compound as well as getting access to data to incriminate her. Although Kate also discovers some data she wasn't aware of putting her at odds with someone very close to "home" as we see when we get Kate's end of the phone conversation toward the end of the issue.
The highlight of the book has to be the art with Aja showing Kate as a bad ass, scenes where she is trying to figure out her next move, the phone call from what appears to be one of her teammates on the Young Avengers. As well as Kate in some great do or die action sequences. The ending unfolds quite nicely with a lot of questions left in the air but there is one answer we got. Kate Bishop is heading back to New York…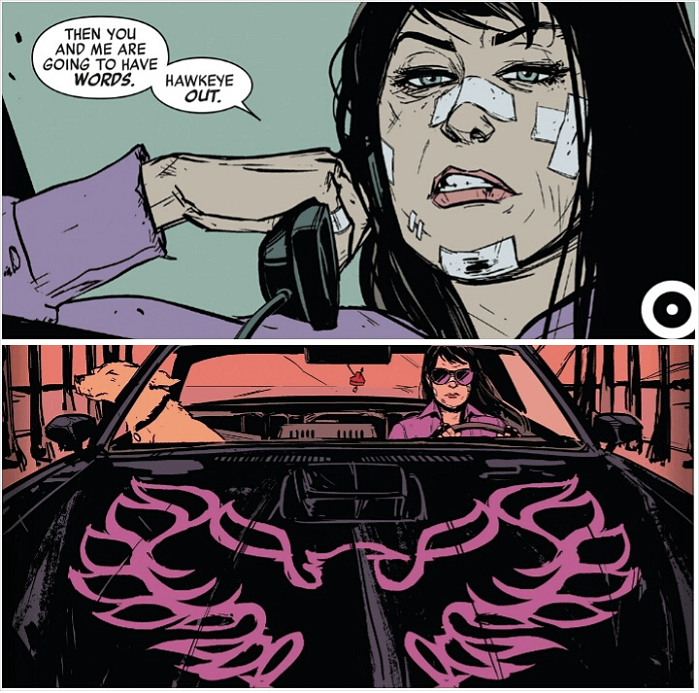 with a freaking vengence.