Writer: Natasha Alterici / Artists: Natasha Alterici, Rachel Deering / Cover: Tess Fowler, Tamra Bonvillain / Vault Comics
I found something new that you just might like! Heathen is a new comic series from Vault by Natasha Alterici (she's both writer and lead artist). She's got Rachel Deering on letters and Tess Fowler and Tamra Bonvillian on the cover, which I knew without looking at the names, as this cover is 100% characteristic of their style. Together, they produce an original story that is reminiscent of other Viking-themed comics like the famous Northlanders by Brian Wood (Wood is currently tearing it up in Briggs Land), but also 100% original.
The story opens simply. A woman sits alone, watching the sunrise over the ocean, telling a mythical tale to a scrawny horse. The tale is about the Valkyries, and the most famous Valkyrie of all is Brynhild, the Valkyrie who disobeyed Odin. For her crime Brynhild sits alone in a circle of fire, waiting for a warrior brave enough to break through the flames and marry her.
It quickly becomes apparent that the woman, Aydis, intends to be that warrior. She's been exiled from her home for an unforgivable crime: being attracted to another woman. A crime she refuses to regret.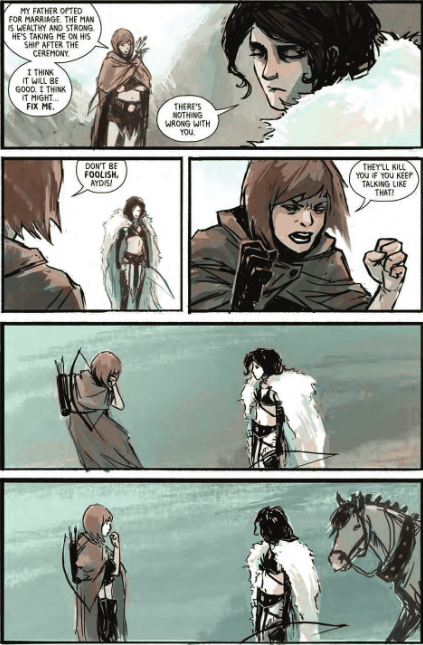 This is a perfect example of what makes this comic work. The images are sparse line-work on a tinted background. It evokes a sense of loneliness and emptiness while also allowing the slender figures to pop. There are many panels with no words at all, further emphasizing the silence of Aydis' life, and how what is unsaid is as loud as what is. This silence and the purposeful use of whitespace make this comic stand out among the lushly-illustrated, wordy comics coming out from other authors and publishers.
Aydis goes on to stand face-to-horns against a rampaging bull, one who is not quite what he seems. The bull, really a god in disguise, informs Aydis that she's on a quest that interests the gods in particular. This sets the stage for Aydis to begin her mythic quest from the most traditional of positions — the exiled warrior who is noticed by the divine. The fact that she's a woman pursuing another woman adds a new layer to the tale. This isn't the same old myth.
The comic has taken a complicated path to get to the public — first as a self-published Kickstarter, then with publisher Heavy Metal, and now finally with Vault — little wonder after all that time in development that the story is tight and the art unique. This is some of the good stuff that is hiding in plain sight in creator-owned comics. If you like Motor Crush or Gamora then Heathen will be perfect for you. Give this one a try and thank us later.
8.5 Unregretted Kisses out of 10
Are you following Black Nerd Problems on Twitter, Facebook, Tumblr or Google+?