Writer: Steve Niles / Artist: Marcelo Frusin / Image
Kick-Ass returns with a new creative team who must have some aggression they need to work through, because this issue is wild and action-packed! Steve Niles and Marcelo Frusin take on the daunting task of picking up where legends Mark Millar and John Romita Jr. left off. Kick-Ass is now a single black mother and Beast Mode veteran who has wiped the local gang clean off the face of this Earth hood, so now she's got the juice. This new run shows us if she's gonna keep that same energy, or take it to the next level.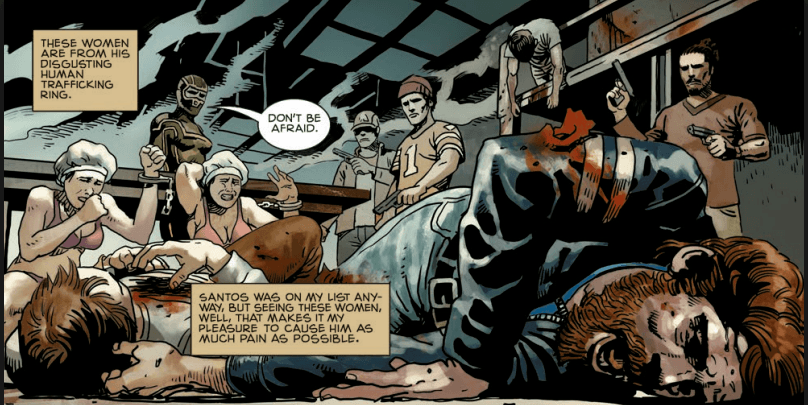 Hundreds of mothers have wept at their son's funerals as a result of Patience Lee becoming the goon squad street sweeper. Unfortunately, the acquisition of power that mighty doesn't come without its consequences. Patience has caused irreparable damage to her sister's family, and she has no way to come clean without everything blowing up in her face. A new development in the Maurice life support saga, however, could find Patience going down in sister-in-law history as the most cutthroat gal in the land.
Not gonna lie, I expected a bit more pop in Niles' first issue. Regardless, he does a good job of taking over and making this story all his own. Kick-Ass continues to take down gangs and show all stubborn tough guys who don't want to accept Patience Lee as their lord and savior why you don't fux with a U.S. Army veteran who's got plenty to lose. Her and Hoops' gang are ridin' round and gettin' it. In putting an end to human trafficking, they're catching countless bodies; all while saving girls and women at every drug ring stop. The bad news? She's making plenty of enemies as she becomes the real deal Robin Hood. By the final turn of the page, Kick-Ass is left in a familiar yet dire situation. We'll see how the Night Stalker makes her way out of this one.
As expected, the artwork takes a bit of a step down compared to the Lawds work put in by Romita Jr. Luckily, Frusin brings a certain level of grit and grime to the table that helps you appreciate this Pablo Escobar-ish side of the story. We're building toward a big showdown between Kick-Ass and the soon-to-be-released prison prom king, Violencia. Enjoy the carnage until then.
6 Unacceptable Answers out of 10
Reading Kick-Ass? Find BNP's other reviews here.
Are you following Black Nerd Problems on Twitter, Facebook,Instagram, Tumblr, YouTube or Google+?