Writer: Rob Williams / Artist: Simon Fraser / Image Comics
Issue #3 of Kingsman: Red Diamond does a decent job of moving the plot forward but is less than stellar in the excitement department. Luckily, Williams and Fraser ground our Y2K type tale in real-world consequences. We see a few moments that remind us why this series became such a powerhouse.
This issue picks up where we left off. Eggsy failing (which he's done a lot of lately) to stop Ingod, Red Diamond's gorilla paw henchman, from snapping the neck of Alias, the only hacker with the Mr. Robot skills to stop this global threat from turning into a worldwide nightmare.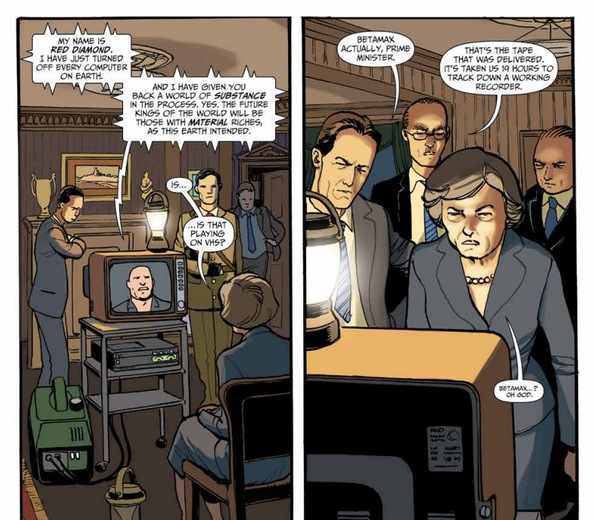 But even MI6 can't do it all. The majority of this issue focuses on the very real possibility that someone with enough skill and resources, could, in fact, cripple the global economy and overall sanity of the people. The tail end of the issue leaves us with a somewhat predictable cliffhanger, but one that is dire for our story nonetheless.
Really not feelin' Simon Fraser's artwork in this series. I get that Secret Service Kingsman has had a straightforward approach to their art, but it's a little weak. He has his moments, but I guess it's kinda hard to live up to Dave Gibbons. The homie Rob Williams though! He works in some well-timed jokes and inappropriately appropriate humor as the world burns around our heroes. Speaking of heroes, Eggy's South African agent mate Kwaito, is the fuckin' truth. She's like Misty Knight meets Beyoncé's Foxy Cleopatra with a dash of 007 Halle Berry.
As long as the impressive storyline continues, I'll keep looking forward to the next issue's details and handful of panels, where Fraser is given the room to put in that Frank Miller work.
6 New Kings and Queens out of 10
Reading Kingsman: The Red Diamond? Find BNP's other reviews of the series here.
Are you following Black Nerd Problems on Twitter, Facebook, Tumblr or Google+?