Can we talk about Steven Universe: Future for a second? One thing the series has always excelled at is representing people of many different backgrounds and normalizing them. The show has featured queer relationships, mental health issues, and so much more, but in this episode, they've taken a huge step in television — they introduced their first non-binary character.
"Little Graduation"
Picking up where the made-for-TV movie left off, Steven Universe: Future showcases the daily life of now 16-year-old Steven Universe and his growth through adolescence. In the universe (pun intended) of Steven, love is love. It doesn't matter who you are, if you love someone then you love them with everything you got. Many times, but not always, that love has been regulated to the Crystal Gems, alien beings composed of different types of gems that project a humanoid-ish body. That means if you really wanted to be a jerk, one could argue that, "Well these are alien beings with seemingly one gender. It's not a real lesbian relationship." Naw fam, that wedding between Ruby and Sapphire was LGBTQ+ FANTASTIC. Not ashamed to admit it had my grown-ass crying because you really felt the love between them and that's when SU is at it's best. But the show made another huge step recently, their first human, I repeat, HUMAN non-binary character.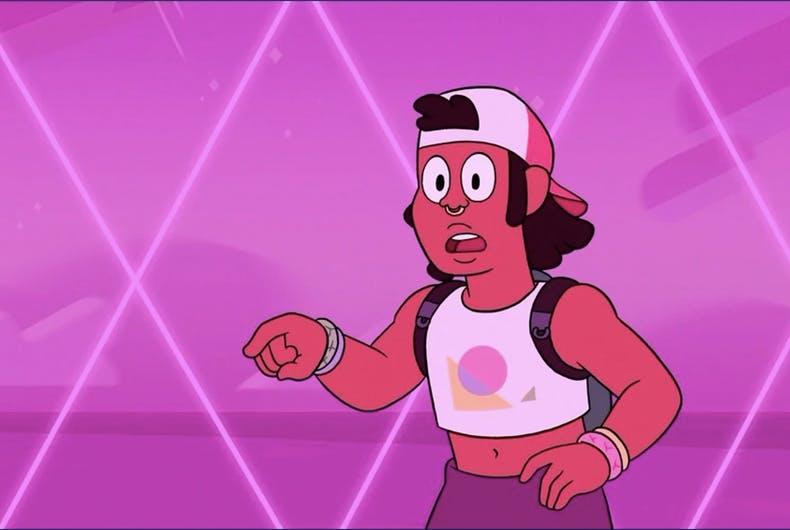 In episode nine, "Little Graduation," Steven is dealing with the world and his friends changing and growing without him. He discovers that a couple he always rooted for and even tried to help, Sadie and Lars, have split. You can tell there's a bit of awkwardness between the two but the friendship is still there. Sadie has even moved on with a new partner and the way they talk about it is so great, so simple and so great. Right from the jump her partner is referred to as, well, her "partner." They always use the "they" pronoun but they never call attention to it. That person is just who they are and that's that. Even when they are introduced, Shep, voiced by transgender actress Indya Moore, is just any ol' person who is now dating Sadie. And Shep is unapologetic in who they are, brown skin, septum nose ring, fat locs under a backwards-turned cap. They stylin'.
Look, there's nothing wrong with celebrating with fanfare when we get characters of different backgrounds and sexualities in the shows we love. But what Steven Universe excels at is displaying and normalizing these different forms of love without making a big deal of it. Love is love and within this world, people are people and that's it. It doesn't matter how one sees themselves, they're still deserving of love. And we need more of this! When we show it more often and normalize it then we can show how we are all deserving of love.
Indya Moore plays sex worker Angel Evangelista in Pose, Goddess in Queen & Slim and is in the upcoming Escape Room 2 out in November. Having them join the voice cast of Steven Universe: Future is just a great addition.
Want to get Black Nerd Problems updates sent directly to you? Sign up here.
Follow us on Twitter, Facebook and Instagram.