As you may recall, back in October BNP went to Geek Girl Con in Seattle, WA. While there we had the chance to meet and chat with Sammus, aka, Enongo Lumumba-Kasongo, an amazing lyricist and beat stylist with a hard nerd edge, from Ithaca, NY. In addition to 4 discs and numerous singles, Sammus is also an accomplished educator and activist, pursuing her PhD at Cornell University. With a full schedule like that, we were lucky to grab a few minutes with her and talk video games, hip hop, and activism. Her new record, Pieces in Space, is available for pre-order now.
Black Nerd Problems: We have about the nerdiest audience out there. So they'll want to know why you picked Sammus as your stage name? And after that: Which Metroid game is your fave and why?
Sammus: Hi fellow nerds! My stage name is a reference to Samus Aran, the main character from the Nintendo video game franchise Metroid. In the video game, Samus traverses the cavernous world of Zebes in search of the evil Mother Brain while covered head-to-toe in an armor suit. When you beat the game, the armor suit comes off and you discover that Samus is a woman. As a kid that was a pretty remarkable moment although I didn't necessarily know what to do with that sentiment at the time. When I grew up and started making beats, I found that men kept asking me who had helped me to make my beats or whether I had even made them at all (something that happened as recently as last week). So I took on the moniker Sammus (adding an extra "M" so Nintendo doesn't sue me) because I identified with Samus as a woman who pushes back against traditional gender norms. I also really like retro games so it made sense.
I like Super Metroid the best — it's challenging and the pacing is good. Plus the soundtrack is bomb!
BNP: Listening to your songs (like "Games & Cartoons"), you name-drop video games like some folks name-drop clubs they've been too. It sounds like you've played every game out there. What's your current, kick back and chill fave?
Sammus: My current fave is probably Pokémon Go. I'm Team Valor. My favorite kick back game is a version of Super Metroid that was modded for me by a friend to have a black Samus. And my favorite chill fave is probably Sonic the Hedgehog 2. I can play that game with my eyes closed at this point because I've played it so many times. When I need a stress reliever and I need to feel like I'm good at something, that's my go-to.
BNP: You weave these references in with great beats and tight rhymes. Give me some of your rap/hip hop influences?
Sammus: My biggest hip hop influence of all-time is definitely Kanye West. I don't necessarily agree with everything he has to say but he was the first rap artist who made me feel like I could have a place in hip hop. The openness with which he talked about his insecurities and dreams on College Dropout was inspiring to an insecure nerdy black kid like myself. Lyrically I also really admire the work of Yasiin Bey (formerly Mos Def), Madvillain, Jean Grae, Open Mike Eagle, Milo, and Homeboy Sandman. These are rappers who push me to want to be a better MC. In terms of production, I would again say that Kanye West is at the top of my list. He inspired me to first want to chop up samples and speed them up in weird ways. I also love the production style of artists like Madvillain, Jonwayne, Pharrell Williams, and Ryan Leslie.
BNP: How'd you get connected with GeekGirlCon? This isn't your first time here, is it? What makes this a fun convention to play and work?
Sammus: This was my second time attending GGC. The first time I attended GGC was in 2014 as a performer alongside The Doubleclicks and Thundering Asteroids. I was connected to GGC through my friend and fellow rapper Shubzilla who has helped to organize GGC for several years (I believe since its inception). We had found each other through the power of the internet and connected over our status as two of the only women making nerdcore rap music at the time. Shubzilla encouraged me to apply as a performer in 2014 and even helped set up a benefit concert before the convention featuring me and her among other artists. GGC is one of my absolute favorite conventions to attend because it prominently features women and girls who are doing amazing things. I love seeing little girls owning their geek and nerd identities through cosplay and their engagement with some of the gaming opportunities and panels. As a performer it's a dream come true because everybody is so generous and excited. As someone who makes a lot of references to games and cartoons in her music I'm not always sure how my songs will be received in new spaces — so I can take comfort in performing in front of people who are just as geeky and nerdy as I am.
BNP: In your song 1080p you frankly deal with issues of isolation from being at college and having a tough break-up. It is clearly from personal experience. Can we talk about how you worked that into a story/song? Was writing it part of your therapy?
Sammus: I would definitely say that writing "1080p" was a form of therapy. When I wrote that song I was really going through it — dealing with the end of a relationship, anxiety about being a failure in my PhD program, and chronic sinus issues. I followed the advice of my therapist to write down the things I would say out loud if I could, and that's what comprised the first verse. It took several months before I wrote the second verse because I had to get on the other side of my depression. After a few months of continuing to seek therapy, healing by myself, and finding solace in my music I was in a good space to write about my emotional journey. I then sat down to write the second verse of the song. Throughout the whole experience I'd kept a voicemail from my mom that I listened to periodically to feel better about things. I decided to include that as the sort of chorus because it was so much a part of my recovery.
BNP: In the midst of all this music making, you're also a PhD candidate at Cornell? How does academia blend or clash with your music/artistic career?
Sammus: Yes I am a sixth-year PhD student in the Science & Technology Studies Department at Cornell. More often than not my obligations as a student clash with my desire to make music. For example, this semester I'm taking a class, which has prevented me from booking gigs that are too far out of town. But sometimes there's overlap — because I study the politics of studio spaces I've found that I've had access to certain research sites because of my status as a rapper and producer. Additionally I sometimes have the opportunity to both discuss my research and perform when being invited to conferences.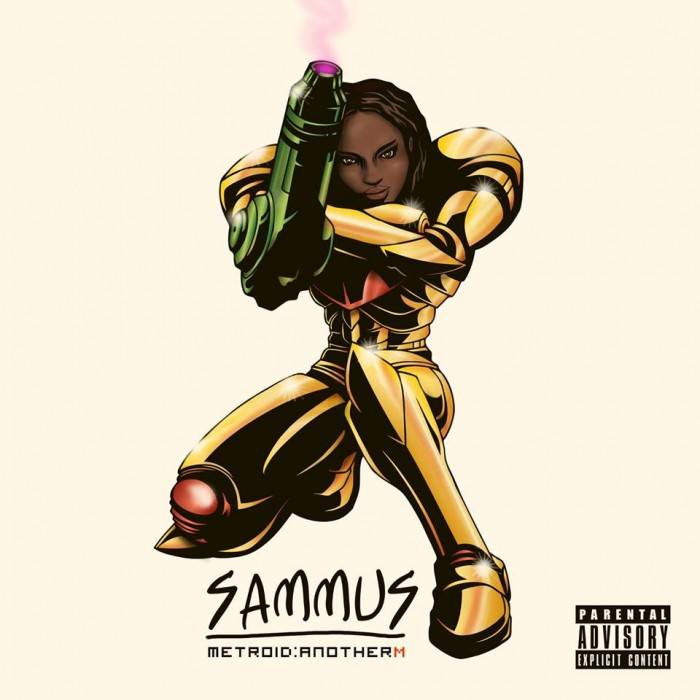 BNP: You mentioned that you attended The National Convening for the Movement for Black Lives in Cleveland in July. I know that some of that work has influenced your songs, like Three Fifths. What was one big take away from that event for you?
Sammus: The Movement for Black Lives Convening was such an important experience for me. One of the biggest take aways for me was a reminder that black people experience different degrees of oppression. This was something I understood on some levels but it was made crystal clear through personal conversations, panel discussions, and issues that were brought to the organizers by many trans and non-binary attendees. The experience crystallized the importance of centering the lives of those who are most vulnerable — black people who are economically insecure, LGBT black people, disabled black people, for example. I really internalized the idea that we can never be free until each and every black person is free to live as their best self.
BNP: What's your next project? Tell us about the new album that's available for pre-order: Pieces in Space.
Sammus: My next project is a 12-track LP called Pieces in Space out 10/28 on Don Giovanni Records and NuBlack Music Group. I'm so excited about this album and I hope that everybody who can pre-order it does so! I've been working on it for almost two years and every song is a sincere expression of who I am. It's available on vinyl, cd, and digitally, as well as part of a pre-order package that includes a limited edition T-shirt, a book with all the lyrics and explanations, a pin, and a sticker. You can pre-order it on my website.
We're listening to this album right now in the office. Give it a listen on your favorite music service and keep supporting Black creatives as we all try to live our best lives.
Are you following Black Nerd Problems on Twitter, Facebook, Tumblr or Google+?